Red Velvet Cake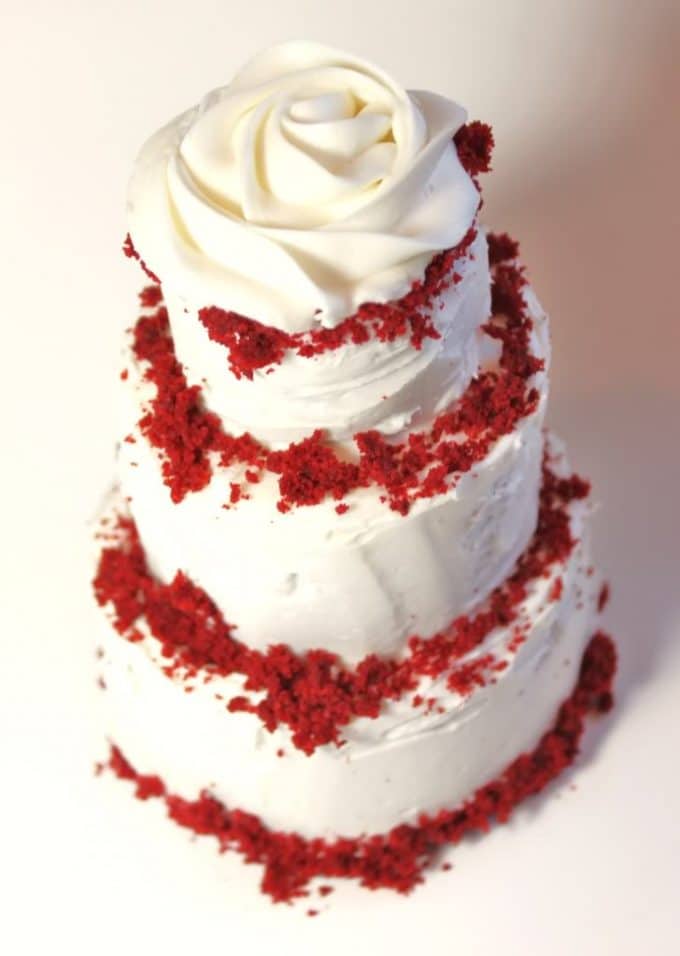 I think the main reason I love it, is the color.
I really love red.
Is that a shock?
I didn't think so.
I do really love the wonderful taste of red velvet, but I like to taste the cocoa, it can't be hiding.
Don't even get me going on cream cheese.
Really, Cream…good!
Cheese…good!
Now I sound like Joey from Friends. Custard good, jam good, beef good! It still cracks me up! Here is the link if you need a laugh, I had to watch it again.


I do have something to share about cream cheese, I hope I don't forget.


First I wanted to share with you the recipe I used. After looking at multiple Red Velvet Cake Recipes, I could not find one that screamed it was the one, so I combined ideas from each and made this.
I added way more cocoa than the other had after I tested the batter I knew it wasn't quite right. I stopped when the batter tasted GREAT, and it worked this cake tastes moist and delicious. I will be making this one over and over again. It really is the best red velvet cake I've had.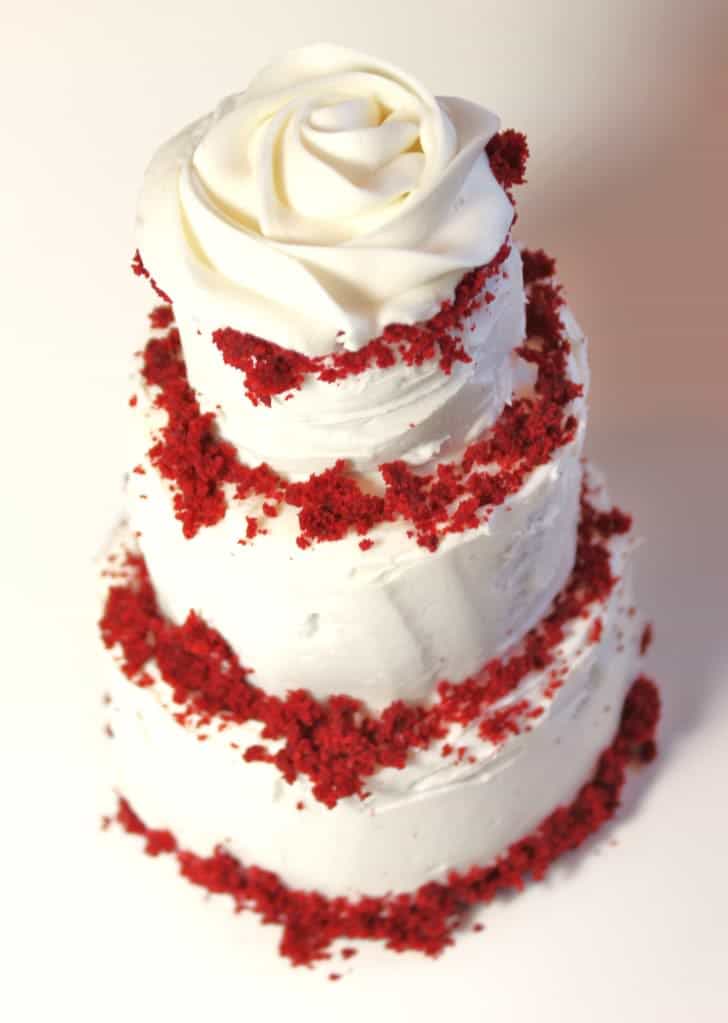 Red Velvet Cake Recipe
Printable Red Velvet Cake Recipe
2 1/2 cups flour
1 teaspoon salt
4 Tablespoons Dutch Cocoa
3 large eggs (room temperature)
2 teaspoons vanilla extract
1 cup buttermilk (I use dry buttermilk)
2 Tablespoons Americolor super-red coloring
1 teaspoon vinegar
1 teaspoon baking soda
In a stand mixer beat butter, add sugar and cream together until smooth. Add the eggs one at a time, mixing in after each addition. Scrape sides add vanilla and mix until incorporated.
Mix flour cocoa and salt together, in a separate bowl mix buttermilk with food coloring. Then add buttermilk mixture along alternating with flour mixture to butter and sugar. Alternating in three additions. Begin and end with flour mixture. Mix vinegar and baking soda let it fizz then add to batter bowl and blend in.


Separate batter into cake pans that have been greased and floured. Any size, just adjust your baking time accordingly.


Bake at 350 unless using darker pans then bake at 325.
The cakes I made were 4×2 3×2 and 2×2. the smaller sized baked for 18 minutes and the 4×2 baked for just over 30 minutes. Test your cake to be sure you do not overbake it. It will them taste dry.


about Buttermilk
This is the dry buttermilk I've been using for years. It's great.
No need to purchase buttermilk for a specific recipe. I always have it on hand. It makes pasta sauces creamy as well.
Eggs
room temperature eggs incorporate more evenly into the batter and create a less dry cake. Place eggs in a glass or bowl with warm water for a few minutes. When you hold an egg and gently shake it you can feel if it's still cold inside. This method is great if you forget to take them out early. Which ALWAYS happens to me, I am not a good planner.
Cream Cheese
I love Cream Cheese Frosting!
I would use 1/2 cup cream cheese with 1/2 cup butter. Mixed with 4 cups powdered sugar and three tablespoons milk. (You can double this if you are filling the cake as well)
Printable Cream Cheese Frosting Recipe
I used cream cheese frosting on some other items I baked this day too, so on my cake, the sides were first coated with cream cheese frosting ( I then ran out 🙁 so I gave the second coat of the sides of the cake with buttercream frosting and the rose is made with the cream cheese frosting. I would have preferred cream cheese frosting on all of it, but there goes that good planning gene I don't have. I should have chilled the cakes and waited patiently, but didn't. I think they would have iced smoother.
Here is a video on How to frost a rose.