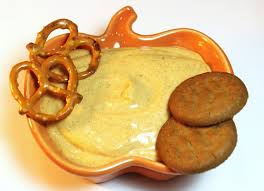 This delicious pumpkin dip goes well with pretzels and ginger snaps.
The possibilities are endless.
 It's great on bananas and even
The more I make it the more we find items we like it on

8 oz canned pumpkin
4 oz cream cheese (1/3 less fat cream cheese can be used)
1/2 cup sour cream ( light sour cream can be used)
1 cup powdered sugar
1tsp pumpkin pie spice
I've made this for parties and prepared 4 times the amount and it gets devoured every time.This could replace the chocolate fountain!
Imagine, marshmallows, strawberries, cake, cookies, all dipped into this delicious pumpkin dip.
As well as chocolate.
Yes, you can have pumpkin covered chocolate!