Inspired by a delicious churro with all the cinnamon sugar goodness. These vanilla cupcakes have cinnamon added, are topped with a creamy cinnamon frosting, and added caramel sauce that is held in place without running down all drippy by some cinnamon and sugar… the same great taste you may have enjoyed as a kid…toast with butter, cinnamon, and sugar. Yeah, it's like that… and a churro, rolled in one!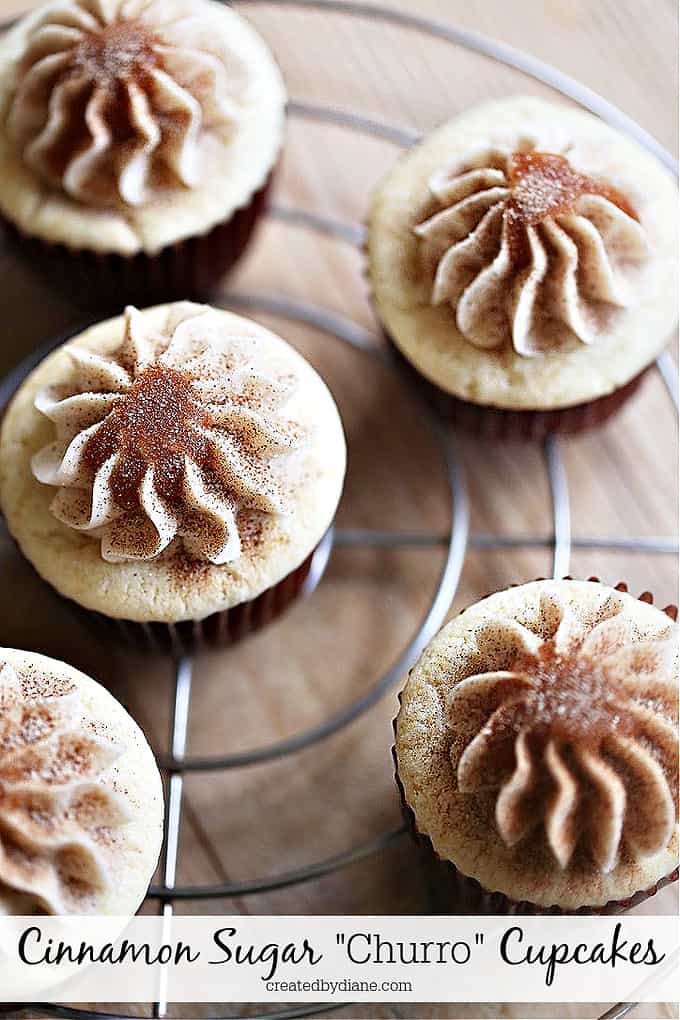 This recipe is outstanding!
One bite in and it was in agreement that they reminded everyone of a churro… and a caramel filled churro at that!
If you're more of a chocolate fan, you can always make hot fudge sauce.
This recipe for cinnamon sour cream cupcakes, these tender cupcakes topped with cinnamon sour cream frosting and caramel.
These cupcakes are great served after a Mexican meal which is one of my favorites to serve to company and to meal prep for the week, be sure to check it out.
Sour cream is a main item in both the cupcake and the frosting, it makes the flavor rich and creamy without being fussy and complicated. It really allows the flavor to go above delicious, it's not overly sweet, which is just a perfect flavor combination.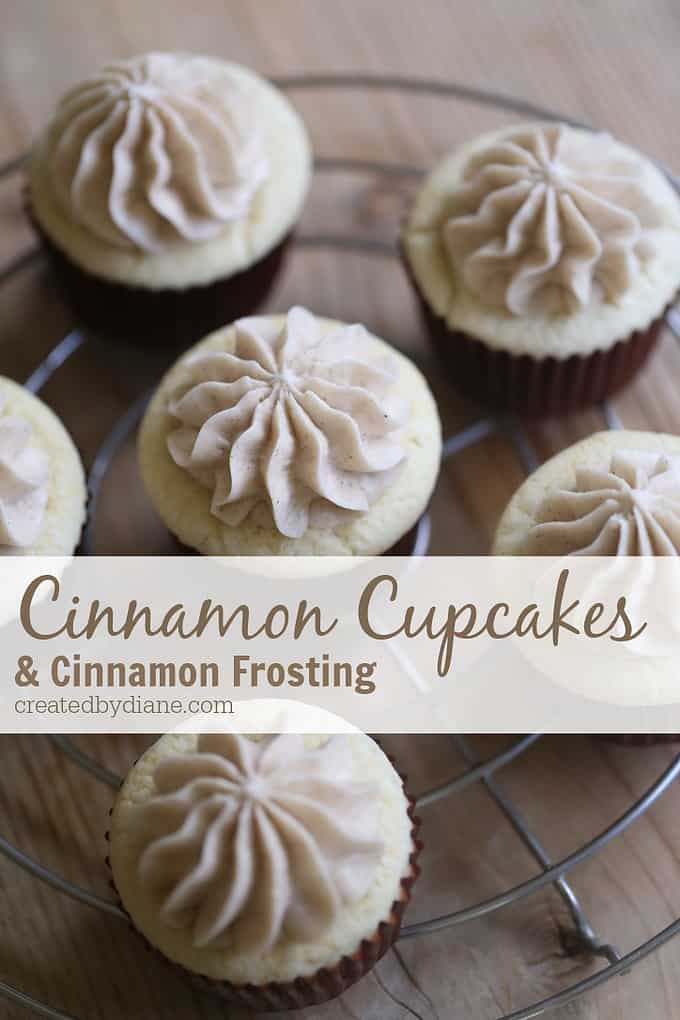 I LOVE the piping tip I used #857 it's so fun and you can let the frosting come to a point or add caramel or another sauce to the top. I sprinkled cinnamon and sugar on the top of the caramel and magically it seized it a bit, which allowed it to set up in place immediately, so it the caramel didn't run all over the cupcakes making them a complete mess, which made me love this recipe even more.
These cinnamon cupcakes are beyond delicious!
You can opt to add the caramel to fill the cupcakes by using a cupcake corer or knife or the back of a piping tip to hollow out some of the cupcakes and fill them with a couple of teaspoons of caramel. 
Enjoy these cinnamon sugar cupcakes any way you'd like, they'll be fantastic.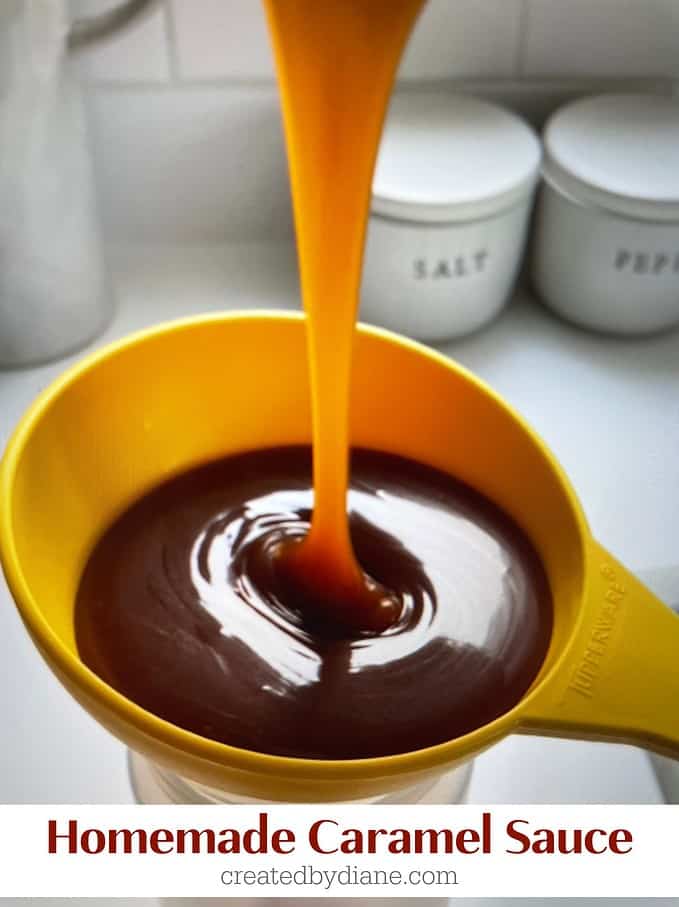 This is the caramel I made to top the cupcakes with this is a simple and delicious recipe. Then I made a mix of cinnamon and sugar and put it in a shaker, and topped the frosted cupcakes with caramel and it seized it so it wouldn't run down the cupcakes.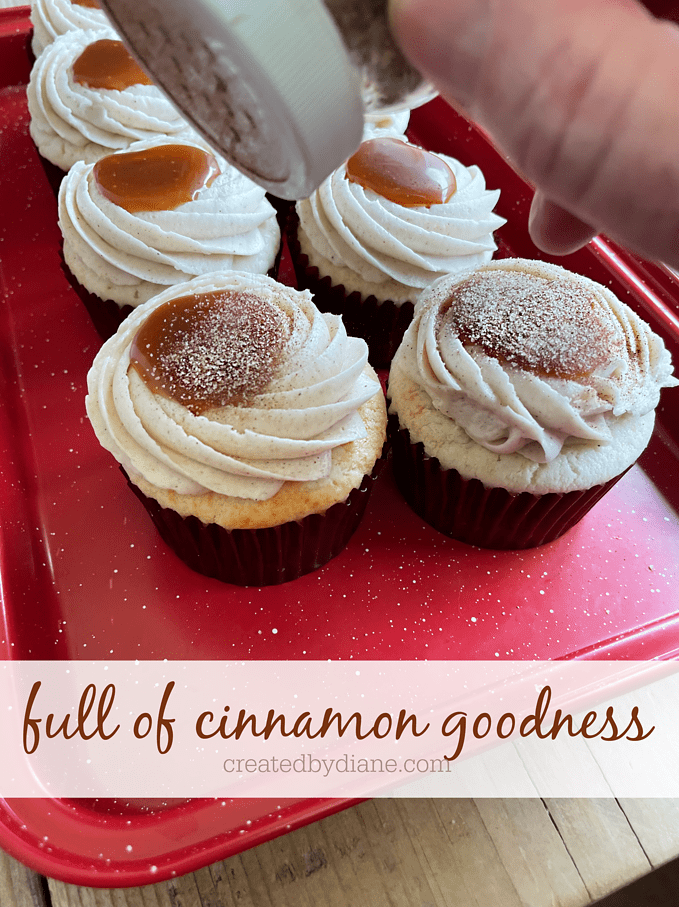 This cinnamon cupcake recipe starts with a cake mix, keeping it simple but adding items to make the cake mix more fantastic!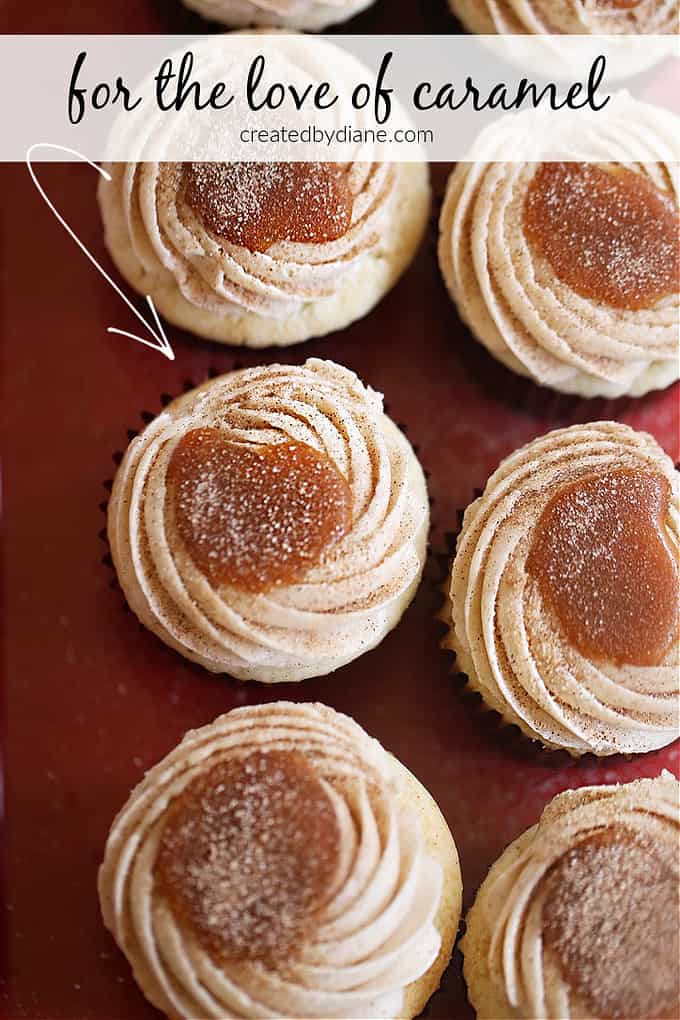 These churro cupcakes are undeniably the best flavor combination, simple to make, and receive rave reviews!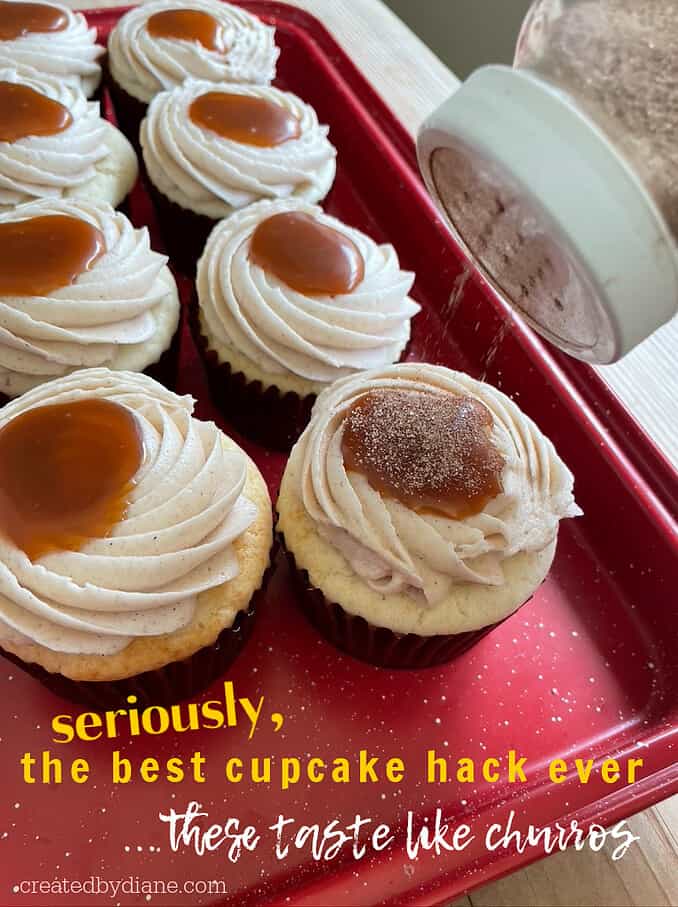 You'd never guess these cupcakes begin with a cake mix…  and the cinnamon sugar mix is nothing short of genius!
There are three components to this recipe, be sure to print all three recipes! (cupcake, frosting, filling)
>> Print the caramel sauce recipe HERE.
>> Cinnamon Frosting: use this Sour Cream Frosting Recipe and add a 1/2-1 teaspoon of cinnamon
Cinnamon Sugar Churro Cupcakes
tender vanilla and cinnamon flavored cupcakes topped with a delicious cinnamon frosting with caramel that holds in place with additional cinnamon sugar sprinkled on top.
Author:
Diane Schmidt, Created by Diane
Recipe type:
cupcakes, cake, frosting
Ingredients
1 box white cake mix (Duncan Hines) do not follow the directions on the package
1 cup flour
1 cup granulated sugar
1/8 teaspoon salt
1 1/4 cups water
4 egg whites, from large eggs (use the egg yolks for another recipe like lemon curd)
4 oz (½ cup) butter, melted
1 cup sour cream
2 tablespoons oil (I use avocado oil, vegetable or canola would work as well)
2 teaspoons vanilla extract
1 teaspoon cinnamon
Instructions
Prepare the cupcake pans with liners. I use glassine liners as they release from the cupcakes easily.
Preheat oven to 325°
In a large mixer bowl add the cake mix, flour, sugar, and salt, and mix well.
Add in the water, egg whites, melted butter, sour cream, oil, vanilla, and cinnamon.
Mix in low to combine, then turn the speed to medium to mix completely for 1 minute,
Turn off and scrape down the sides and the bottom completely and mix for another 30 seconds or until well mixed, can increase to medium-high speed for the last 30 seconds.
Place 3 tablespoons of batter into each cupcake liner.
Bake for 18 minutes, and test with a toothpick, when the toothpick comes out clean with no wet batter, remove from the oven.
Allow cupcakes to cool for 10 minutes in the pan, then remove from the pan and allow to cool completely on a cooling rack.
If you prefer fluffy cupcakes no need to refrigerate them, if you prefer the cupcakes to be denser than fluffy, refrigerate them, and the result will have a more homemade texture.
Make the frosting and caramel, those recipe links are in the post