This Chicken in Wine Sauce is creamy and comforting, and it's perfect any night of the week.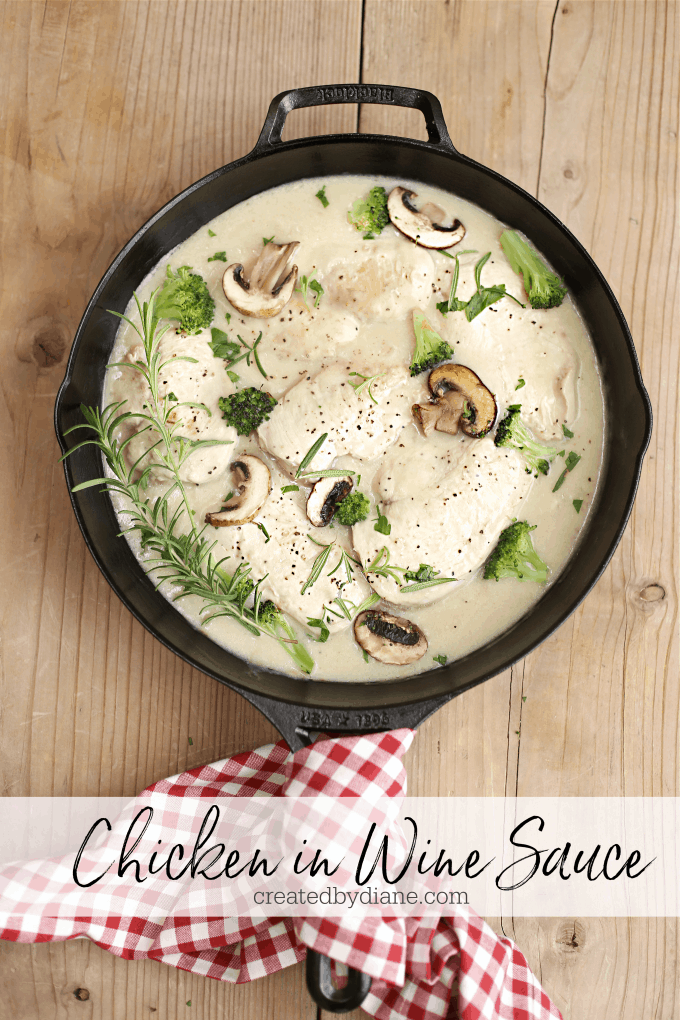 I love this dish for many reasons, one is that it has a small number of ingredients and simple instructions that anyone can follow. It doesn't matter if you're an old pro at cooking, or if this is your first attempt, this recipe is for you. 
White wine is what makes this dish come alive and the flavors sing together. Wine is a popular choice in pasta dishes such as this Pasta with Chicken in Lemon Wine Sauce. In fact, white wine plays an active part in many sauces, such as my Lemon Wine Brown Butter Sauce which is fabulous paired with pork chops. I also love it with Chicken Parmesan Meatballs, it's the key sauce for my Chicken Francasie Recipe which if I haven't mentioned lately is my absolute number one favorite dinner… really of all time. This Chicken inCreamy Wine Sauce is much simpler takes only minutes to prepare.
You can pair this dish with pasta or rice or add some great sauteed kale with garlic as a low carb option.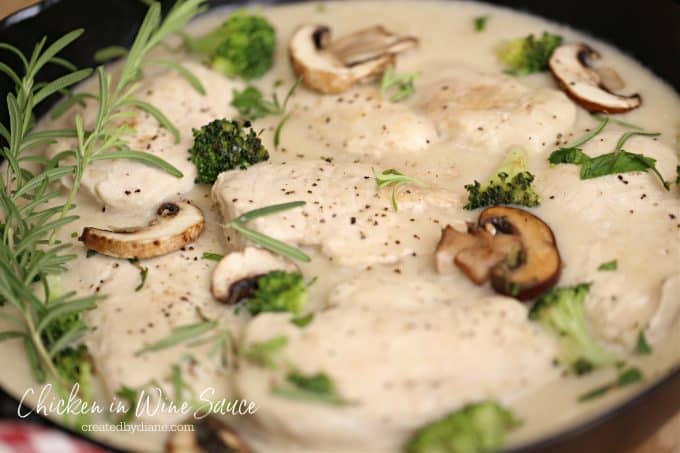 So what makes wine so important in this dish?…
Well simply put, the alcohol from wine helps release flavor molecules in foods and dissolves fats. This allows ingredients to reveal their own distinct flavors in ways that other liquids (water/broth) or fats (butter/olive oil) don't.
Of course, I have to mention the cream, the other vital element of this dish. It's smooth and silky, warming you all the way down to your soul with each and every bite. 
And this dish is simple to prepare and I find it is made more so by mixing your wine, broth, and cornstarch ahead of time. Once you have done this, whisk the mixture until smooth.
It's also nice to prep your mushrooms ahead of time too, this makes everything go like clockwork!
Let's get cooking:
Heat your skillet, and add in the oil. Once your skillet is hot, place the chicken in it and sear both sides. * I like using a cast-iron skillet for this as it creates an excellent sear to the meat and is good at maintaining a constant, even temperature.
Be sure to use thin cut chicken breasts, this will ensure the chicken cooks quickly, evenly. Do not overcrowd your pan, it's better to make two batches. If you're chicken is thick, slice it thinner. Carefully place your hand on top of the chicken breast and slice it through the center with a sharp knife to create two filets of chicken.
The first thing you'll do is brown the chicken. You skillet should be really hot, add a little oil and turn the chiekn over once the fist side is browned. 
When the other side is browned, add in your sliced mushrooms and a small amount of broccoli (or cook broccoli, kale or other vegetable in a separate pan) then turn your temperature down to medium-low.
Add in your pre-mixed sauce and bring it to a simmer.
Next add in your cream and mix, turning your chicken to coat evenly.
Cover the skillet and turn on low, cooking until the chicken is done or has an internal temperature of 165°.
Finally add your rosemary, salt, and pepper.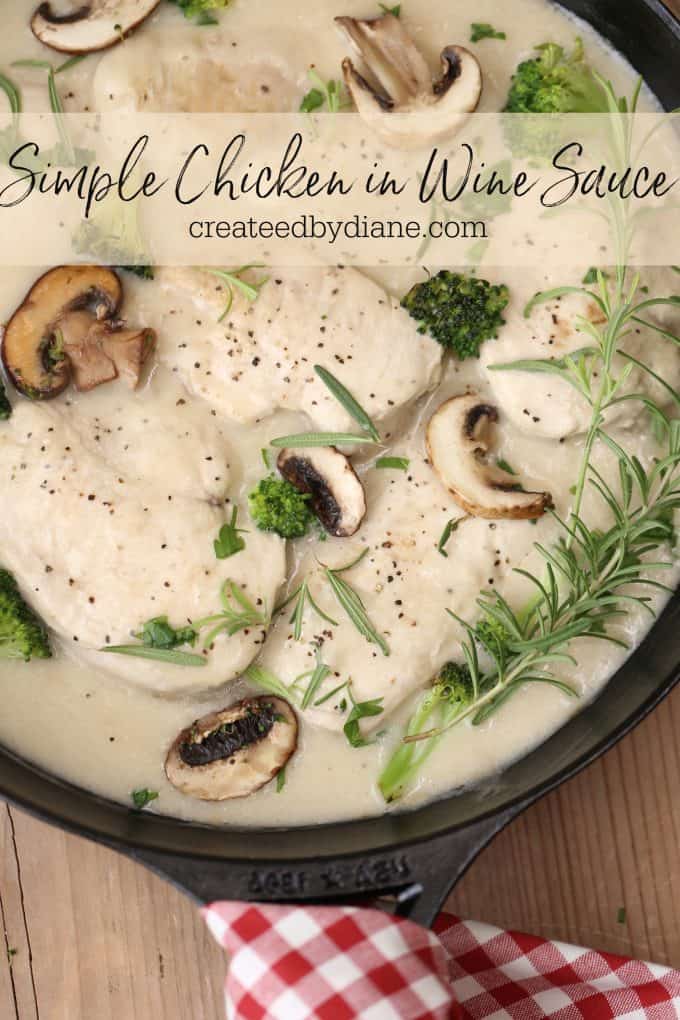 If you thinly slice your chicken it will cook quicker, which is great if you're in a time crunch. Likewise, the thicker the cut, the longer it will take to cook.
Here are a few questions that are commonly asked about this type of dish. 
Can I replace the white wine with something else?
The wine adds such a great layer of flavor, it's a shame to replace it. That being said, I've been out too! You can easily just substitute chicken broth in place of the white wine, or use some lemon juice with chicken broth for a nice combo.
Could I use pork chops for this recipe in place of chicken?
Yes! In fact, it's a delicious alternative, here is my post on pork chops made this way. It's my moms all time favorite recipe and we were talking about how delicious it would be with chicken so I decided to make it with chicken and share it so no matter what protein you want to use you could enjoy a simple delicious meal.
I don't have cream on hand, what could be used in place of it?
This can be done easily. I recommend using whole or 2% milk, however. Combine 1/4 cup of melted butter with 3/4 cup of milk and mix to make 1 cup of heavy cream. If you're using low-fat milk, use 1 tablespoon of flour to help thicken.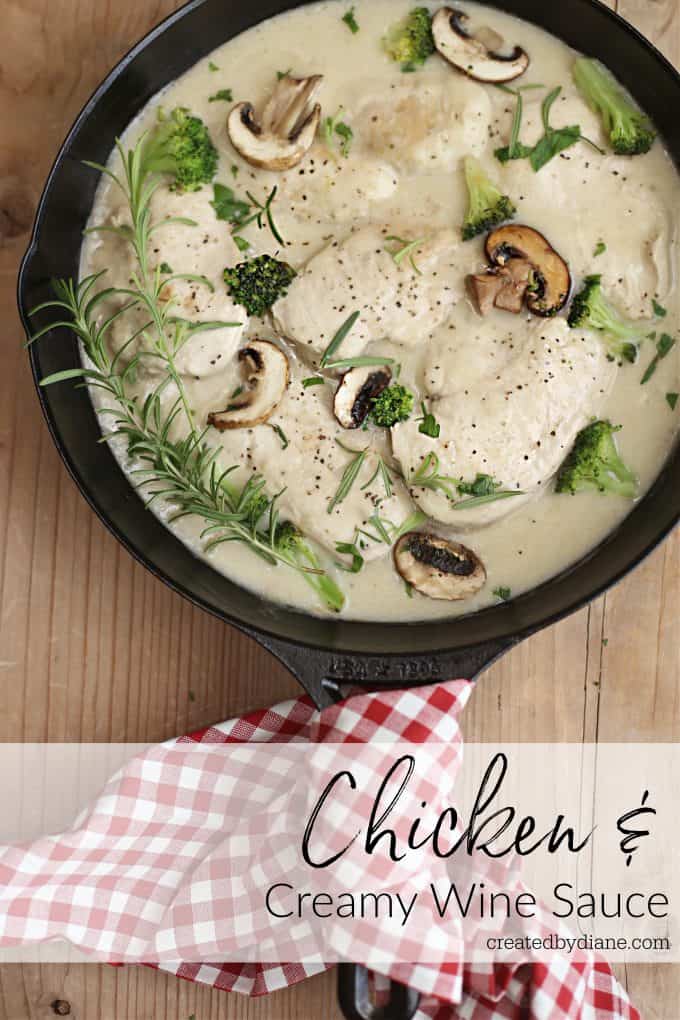 Chicken in Wine Sauce
Tender cooked chicken in a delicious sauce that will be enjoyed any night of the week.
Author:
Diane Schmidt, Created by Diane
Ingredients
1 tablespoon oil (I use avocado oil)
1 1/2 lb thinly sliced chicken breasts (filet regular chicken breasts thin)
1/4 cup white wine (Chardonnay)
1/2 cup chicken broth
1 teaspoon cornstarch
1/4 cup heavy cream
4-6 oz mushrooms, sliced in half (I use baby portabella)
1 sprig rosemary about 4" (fresh or 1/2 teaspoon dried) whole or chopped
Salt and Pepper to taste
add broccoli or another green vegetable to round out the meal
Instructions
Prepare the sauce so it's ready to go when you're ready to add it, in a 1 cup measuring cup add wine, chicken broth, and cornstarch and whisk until smooth.
Heat skillet, I use cast iron as I like how it sears the chicken, add in the oil and place the chicken in skillet.
Allow the chicken to brown on each side.
Add in sliced mushrooms.
Turn the temperature to medium-low, then add in the sauce and bring it to a simmer.
Add in the cream and turn the chicken over to coat evenly.
Add in the broccoli, cover with a lid, turn on low and cook until the chicken has an internal temperature of 165°.
Then add rosemary, salt, and pepper.
The thinly sliced chicken will cook quickly, if you use thicker chicken it'll take a little longer to cook.