Grab up some fresh cranberries and make this tasty chicken recipe!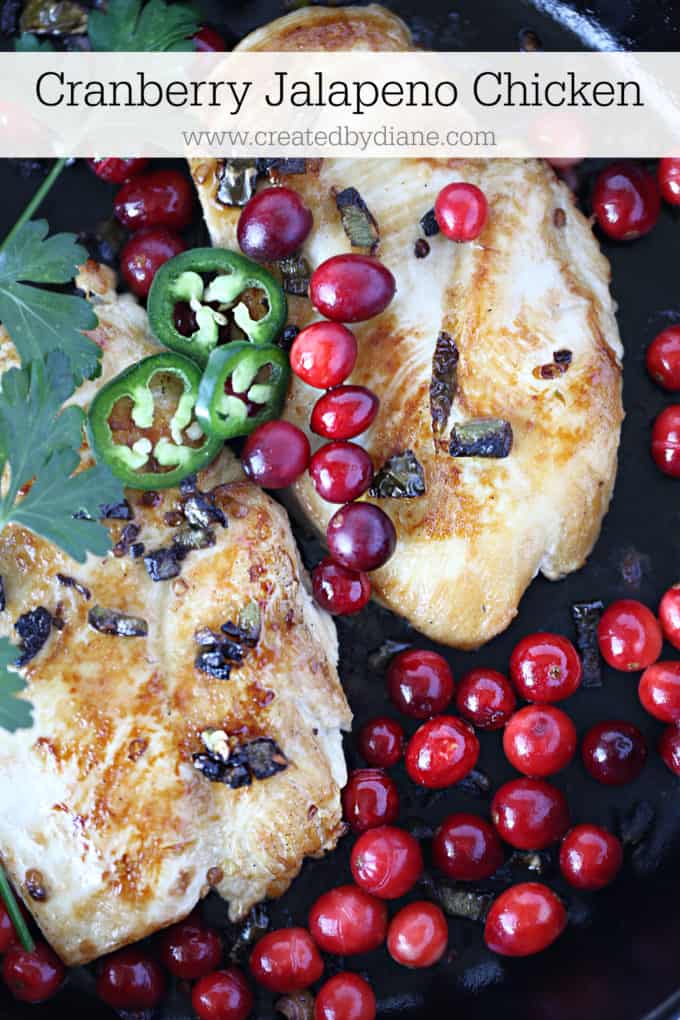 While it's cranberry season there is no better time to make all things CRANBERRY!
This dish is a little spicy and a little sweet and a little tart and FULL of flavor,
so many reasons to love it…
Simple ingredients 
quick and easy
super tasty
looks gorgeous
and it another item to your list of recipes for no more boring chicken.
Do you have such a list? It helps to mix things up, don't you think? We all need options and if you're like me chicken is a go-to item when making dinner. 
I love the combination of jalapeno and cranberries in this recipe as well as in these other great, flavorful recipes…
I have a Jalapeno Cranberry Sauce recipe a Cranberry Cornbread recipe and Cranberry Jalapeno Brussels Sprouts recipe already posted.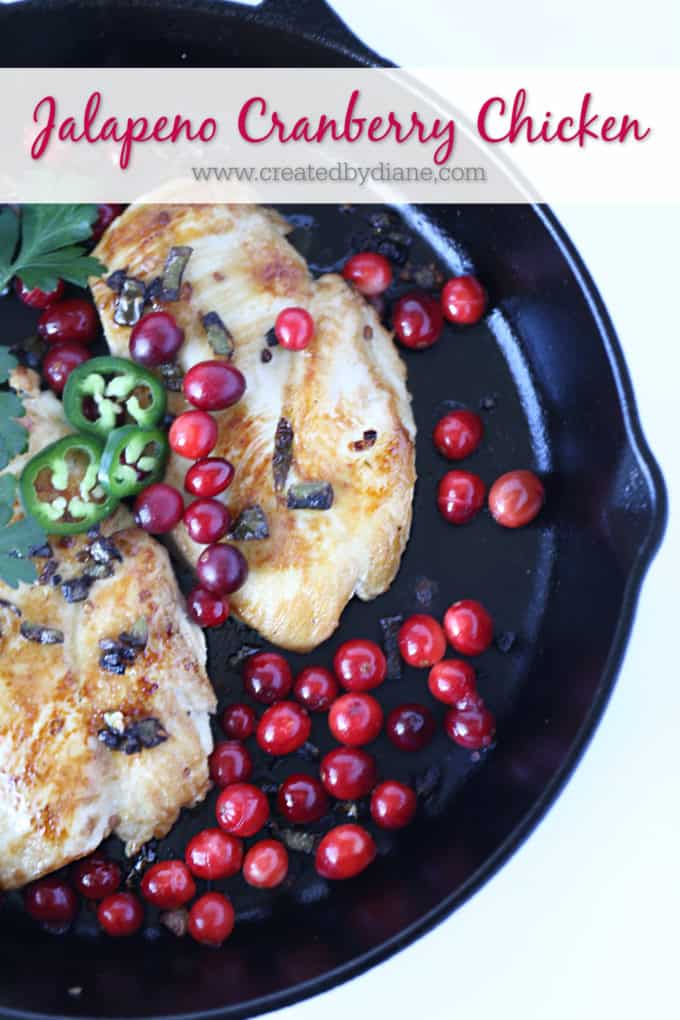 Be sure to pick up some extra cranberries:
the next time your shopping and don't forget they freeze great too
if you want to enjoy some cranberries long after the season ends you'll have tucked away safely in the freezer.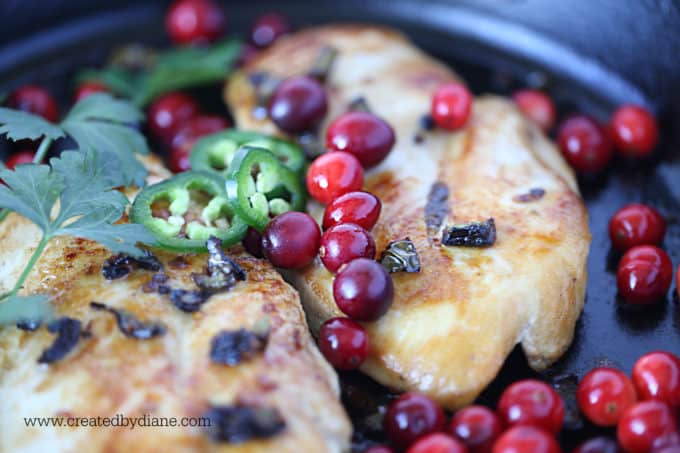 Other great flavor options for this dish is to add rosemary, garlic, onions, or mushrooms feel free to add them into this dish.
I love cooking in a Cast Iron Skillet and am so glad I have the lid for it that fits well, you'll be using a skillet and lid to cook this recipe.
Jalapeno Cranberry Chicken
Slightly sweet, spicy and tangy is a winning combination in this easy chicken dish.
Ingredients
2 boneless skinless chicken breasts
1 cup fresh cranberries
1 jalapeno, diced
2-4 tablespoons water
1 tablespoon oil
salt and pepper to taste
Instructions
If your chicken breasts are really thick, carefully cut them thinner by fileting them.
Over high heat, heat skillet. I use a cast-iron skillet that holds good heat, sears the food nicely.
Add the oil and stir in the jalapeno.
Add the chicken.
Brown the chicken on each side, once the browning is done, add a couple of tablespoons of water and put a lid on the pan, turn the heat to medium.
The steam will help cook the chicken quickly and allow it to stay tender.
After 5 minutes add the cranberries to the pan around the chicken.
Depending on how thick your chicken is will determine how long it'll take to cook it, use a thermometer to ensure the internal temperature of the chicken reaches 165°. The cranberries will be soft if pressed.
Then remove the pan from the heat add salt and pepper to taste and serve.
Notes
If you're looking to make a sauce for the chicken you can add a cup of cranberry juice or chicken broth with 2 teaspoons cornstarch to the pan at the end of cooking and bring the sauce to a low boil to thicken.