Instant Pot Jalapeno Bacon Mac and Cheese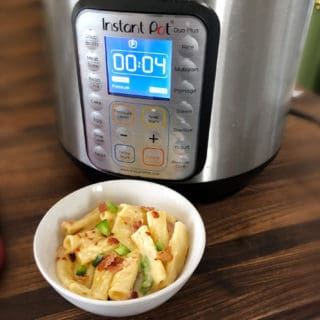 1 lb pasta (I used rigatoni the instructions said to cook pasta 9-10 minutes) I cooked in instant pot for 4 minutes.
1 jalapeno pepper, diced (if you prefer mild, remove rib and seeds)
5 sliced cooked bacon, chopped (or more if preferred)
2 tablespoons butter
2 tablespoons flour
9-10 minutes, I cooked in the instant pot for 4 minutes)
2 cups milk/cream (I use a combination of whole milk and cream typically 1 1/2 cups whole milk and 1/2 cup cream)
2 cups cheddar cheese
In the pot of the instant pot place pasta, cover with warm tap water.
Cook on high pressure for half the time of the pasta package minus 1 minute. The package of rigatoni said to cook for 9-10 minutes, so I cooked it for 4 minutes.
Release the pressure when the timer goes off.
Drain pasta in a strainer.
Place the pot back in the instant pot and turn the saute feature on (without the pasta in the pot)
Add butter and jalapeno, saute, Add chopped bacon, and cook until crisp.
Add in flour and stir until combined. Slowly add in milk mixture and stir until creamy.
Stir in cheese until combined.
Place pasta into pot and stir.
It's ready to serve, top with additional bacon and jalapeno.
Recipe by
Created by Diane
at https://www.createdby-diane.com/2019/06/instant-pot-jalapeno-bacon-mac-and-cheese.html