Instant Pot Curry is just about the most amazing, warm, comforting flavor and it's made quickly and easily in the instant pot for everyone to enjoy! This recipe is keto and low carb friendly, if you want to add something rice is a natural side to add-in. This peanut butter curry can be adapted to use almond butter or leave it out completely if desired.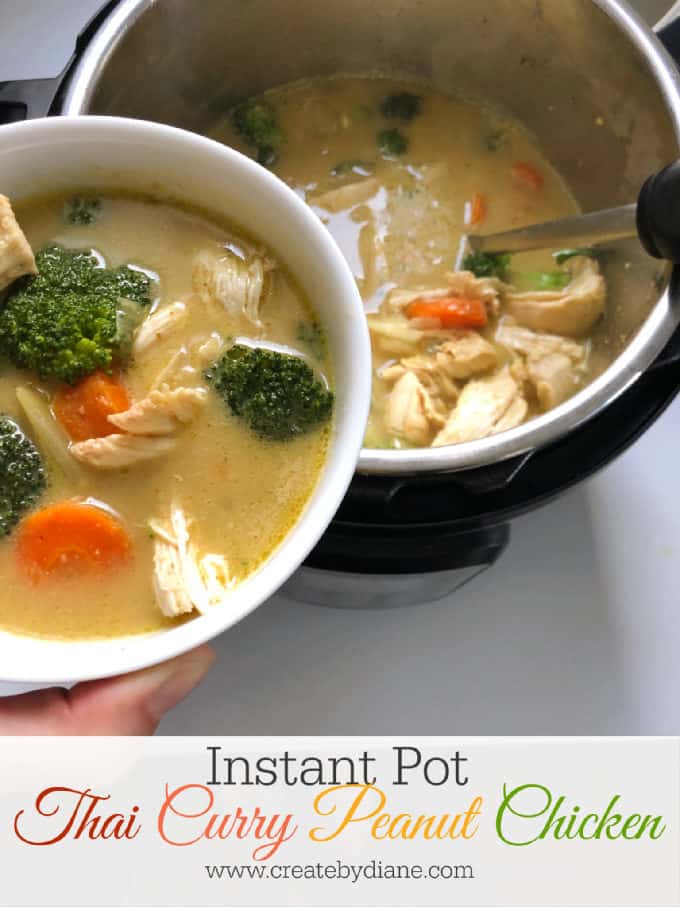 I'm all about quick meals and have used a pressure cooker for years, the "new" version is a stand-alone unit, no need to monitor the pressure on the stove like the "old" version.
I love how fast and delicious things cook in the pressure cooker.
A few years ago we started eating more curry, oh it's so yummy,
and completely customizable to your taste.
Spicy, sweet, and OMG peanut, my husband recently order the peanut version and it was SO yummy, I knew I had to make it at home. 
And thought why not put it all in the pressure cooker and let it do its MAGIC!  
I can't rave over this creamy coconut chicken curry recipe enough, it's so delicious.
Other Instant Pot recipes: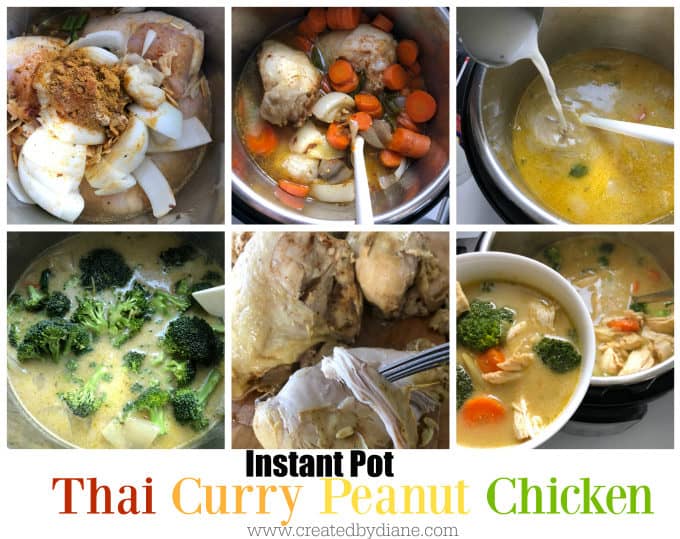 If you like things spicy, add more peppers, harissa, chili paste, crushed red pepper. If you like peanut butter, add it, if you don't prefer it leave it out, it's still delicious.
You can add any vegetable you prefer as well. Celery and potatoes are yummy. 
If you enjoy rice, serve it over rice, if you eat low carb add some diced cauliflower.
I add broccoli after the chicken, onion, and carrots are finished cooking as it's cooks so quickly it only takes the time to cook it that it takes to shred the chicken.
I add a little cornstarch slurry to thicken the broth a bit and then it's ready to be served.
It's ready in under 30 minutes.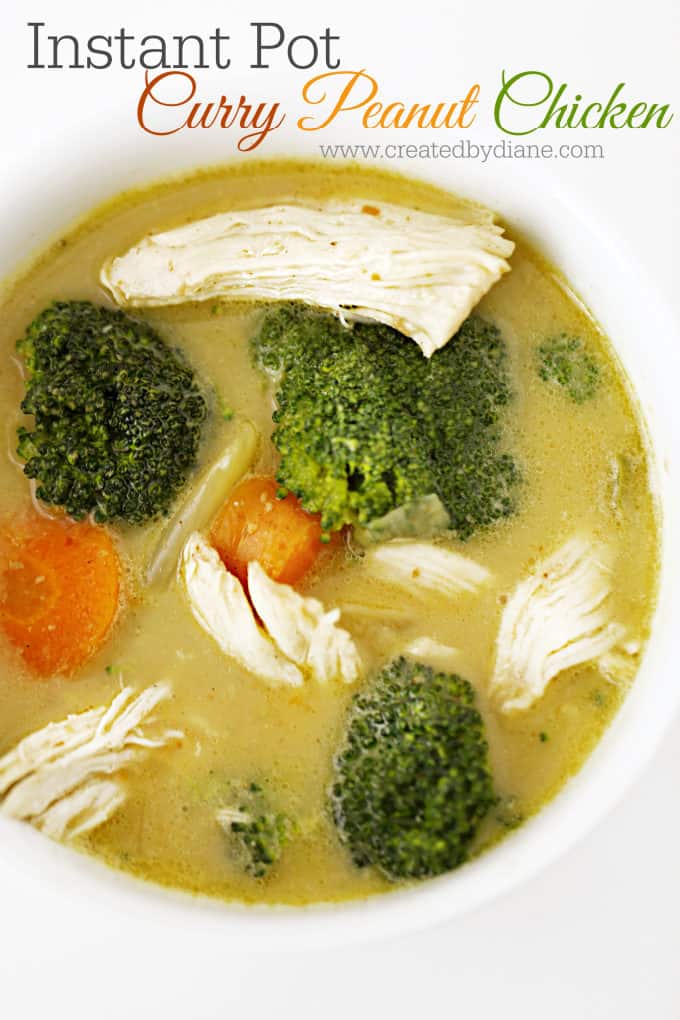 You can use any variety of chicken, boneless, skinless, thighs, etc. If you're using the same amount of chicken as I did the timing will be the same, if you use more than a pound less than I did, you can reduce the time by 2 minutes if it's boneless.
3 things to remember when making this:
if you like peanut flavor add the peanut butter if you don't prefer it leave it out
if you like things spicy add some Thai chilis, Asian chili oil, jalapeno, crushed red chili flakes and spice it up I like medium spice so my recipes tend to reflect that amount of spice, but I find most people say they like it mild, but then have a bowl of my food and say oh… I kinda like it and then start preferring things a little spicier than they used to, it's all that you get used to. if you prefer no spice, leave out the spicy stuff.
fresh herbs are always a good idea, so add some cilantro or Thai basil to change things up. I just planted some Thai basil and LOVE the flavor.
Customize your curry with your favorite veggies:
eggplant, cauliflower, cabbage, sweet potatoes, tomatoes are all delicious in curry.
Other great items to add to this are, lime juice and cilantro!
THIS is the Instant Pot I have, and love and use it all the time!
Instant Pot Curry Peanut Chicken
Ingredients
4 split chicken breasts (with bones and skin) you can also use boneless skinless adjust timing
3 carrots, cut into large slivers
1 onion, cut into large chunks
1 jalapeno, diced
1 tablespoon curry powder
1/4 teaspoon cumin
1/4 teaspoon crushed red pepper
1 1/2 cups chicken stock (or 1 1/2 cups water and 1 tablespoon chicken flavor, you can add as much chicken flavor as you like if you are using chicken stock)
1 can coconut milk
1 tablespoon peanut butter
1/2 cup water
1 tablespoon cornstarch
3 cups broccoli florets
Instructions
Place chicken, in instant pot, add chicken stock (or water and chicken bouillon)
Add onion, carrot, jalapeno, along with curry, cumin, crushed red pepper and set the timer for cooking for 10 minutes on high pressure.
Allow the pressure to come down by opening valve to release for a couple of minutes while you gather the other items needed.
Release pressure.
Remove chicken.
Turn temperature to "saute" mode and once the liquid comes to a boil add coconut milk, peanut butter and mix the water and cornstarch creating a slurry and stir it and the sauce will start to thicken a bit.
Add in broccoli and stir.
Debone and shred the chicken with two forks (while the broccoli cooks)
Then add the chicken back to the pot and stir, then serve.
Serve over rice, or add diced cauliflower when you add the broccoli if you eat low carb, or eat on its own. It's delicious no matter how you serve it.
Notes
If you use boneless skinless chicken breasts (about 2lbs) set the time for 6 minutes, 3lbs of chicken 8 minutes. If you cut the chicken up smaller before cooking reduce the time by a minute or two so it's not tough. Test the temperature of the chicken with a thermometer, you can always put the lid back on the pot and allow it to cook another minute without setting more time and actually turning it on, the "warm" feature will keep the liquid that the chicken is in really hot. If your chicken is frozen add 2-5 minutes. If you have really thick chicken and can't cut it because it's frozen it may take a couple more minutes. Just wait 2-5 minutes to release pressure. You can always allow for a natural pressure release without pressing the steam release and letting out all the steam quickly. The time for the pot to release pressure naturally is about 10 minutes, which will ensure the chicken is cooked fully.