At the end of a long day, there's nothing better than this simple skillet curry chicken!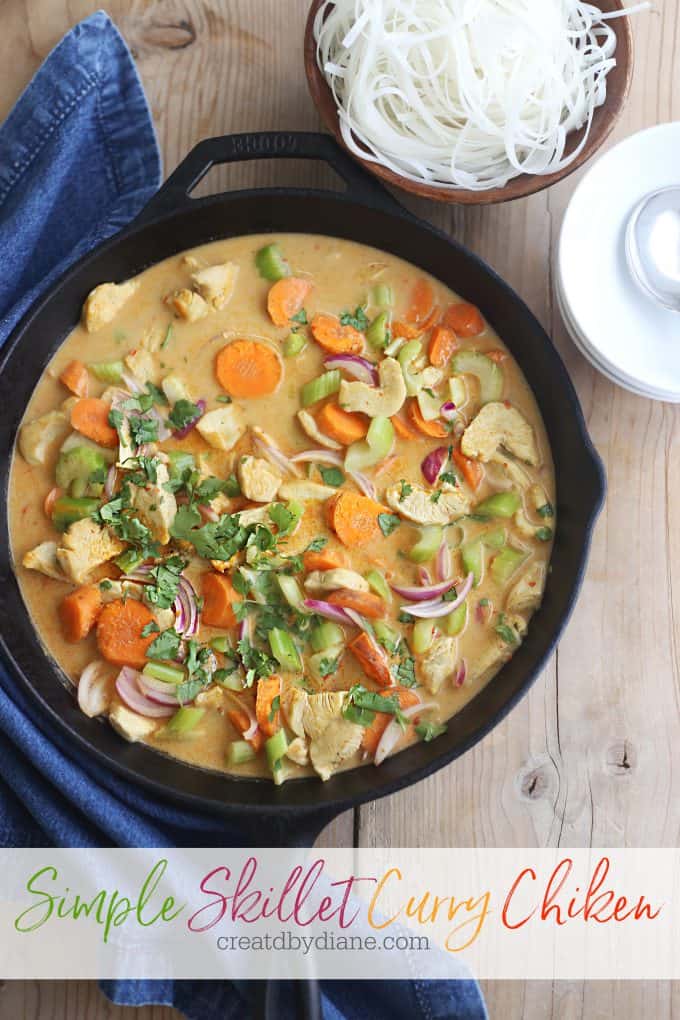 With a little heat and a little sweet, this curry dish is one of my favorites to make!
The sweetness comes from the coconut milk with its naturally slightly sweet flavor, but if you want to add a bit more for your sweet tooth, you can easily add in pineapple!
This takes the salty/sweet flavor up a notch and really knocks this dish out of the park. And I think this is why I love curry so much, there are so many ways you can play around with ingredients to bring out new and fresh flavors each time.
Curry spice is so flavorful with cumin, mustard seeds, coriander, garam masala, and chili, with turmeric giving it the bright yellow/orange color. It in itself has a spicy-sweet flavor and lends itself well to chicken, pork, salmon, and even shrimp. This dish that I'm going to show you could be made with any of those proteins, or for a vegetarian/vegan option just load it up with vegetables! Curry is one of the most adaptable dishes out there when it comes to ingredients, as long as you have the spice you can truly create it differently each day.
Over the years I've experimented with curries of all kinds and one of my favorites is a Thai dish I made called Thai Curry Chicken. And if you enjoy Asian flavors, I have plenty of Asian-inspired dishes to explore such as Instant Pot Curry Peanut Chicken, or Chicken Pho.
Now, if you're ready and your appetite is sufficiently tempted, I'm going to walk you through how easy this Curry Chicken Skillet is!

I like to prepare all my ingredients first so that the cooking goes smoothly.
So to begin, chop your carrot, onion, and celery. 
Then slice or chop your chicken pieces. 
Finally, mix together your sauce in a measuring cup. This is your broth, coconut milk, and harissa.
 Set all these aside and get your skillet heated to medium-high heat.
Now saute your vegetables until they start to soften.
Add your chicken pieces and allow them to brown, but not fully cooked yet. 
Mix your sauce into the pan and stir until incorporated. Turn heat to medium-low and simmer until the chicken's internal temp reaches 165°.
Cut off heat and stir in lime juice and cilantro.
Serve over noodles or rice. Or eat by itself or with cooked cauliflower or stir-fried cauliflower rice for a low-carb option!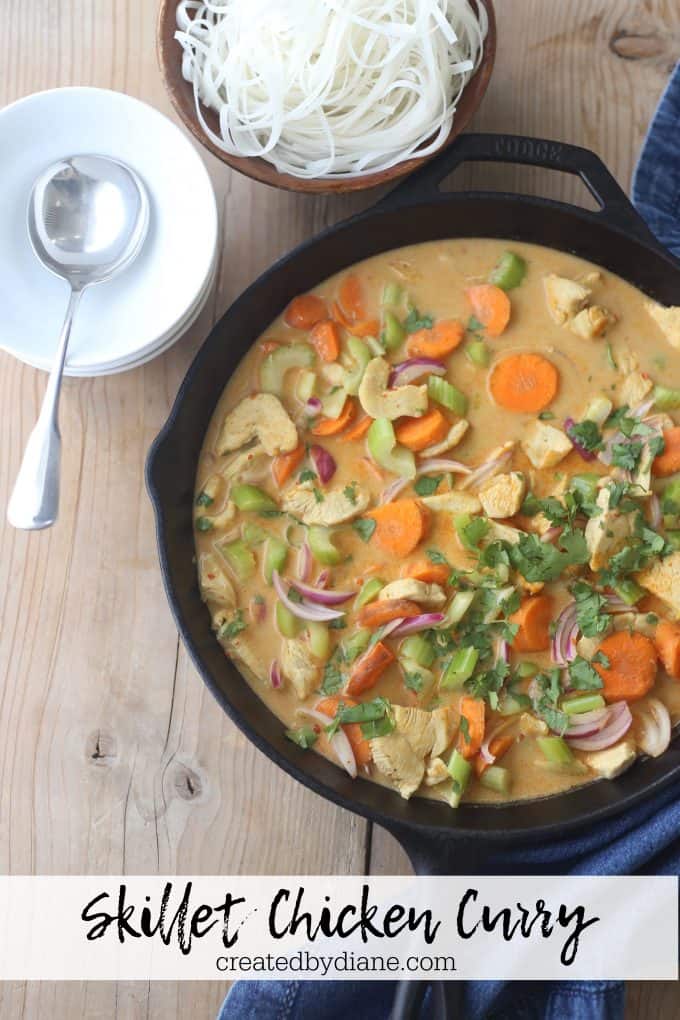 I don't have harissa, what can I use in place of it?
If you don't have harissa, you can instead use Sriracha.
If I use shrimp, should I brown it like the chicken?
You can, or you can add it in with your sauce and simmer until the shrimp begin to turn pink and curl.
What other protein can I add to this?
Salmon is so delicious and great to add in and it cooks quickly, shrimp, rotisserie chicken or cubed boneless pork chops, will all cook and be tender if you simmer them in the sauce don't bring it to a hard boil the proteins will become tough.
Can I use another kind of milk besides coconut?
You could, though so much flavor comes from the coconut milk that I usually don't suggest it. However, if you don't like the coconut flavor, yes you could substitute it with regular milk, or cream.
I don't like spicy foods, what can I do instead?
The coconut milk is sweet, so if your harissa is a little spicier than you'd prefer it usually mellows out once it's all mixed. Add in a cup of diced pineapple for added sweetness.
I don't have rice noodles what else can I serve this with?
You can serve it with cooked rice, eat it by itself for a low carb meal, saute cabbage for a low carb side option or serve it with pasta, spaghetti would be a fine replacement.
Which Curry do you use?
I use a dry curry, there are many varieties they have pastes and dry curries. I most often this curry it's my current favorite, they have hot which is what I use or mild. I've tried many varieties of curry… on one jar, the first ingredient was coriander, it was kind of tasteless. Another curry powder I did like did not actually have curry powder but was made with turmeric, mustard, ginger, cumin and coriander, pimento, red pepper, and fenugreek. I do have one with curry, turmeric, chili, coriander, cumin seeds, cinnamon, cloves, bay leaves, allspice, and salt and that one tastes good too. So read the labels! Find one you LOVE it makes all the difference.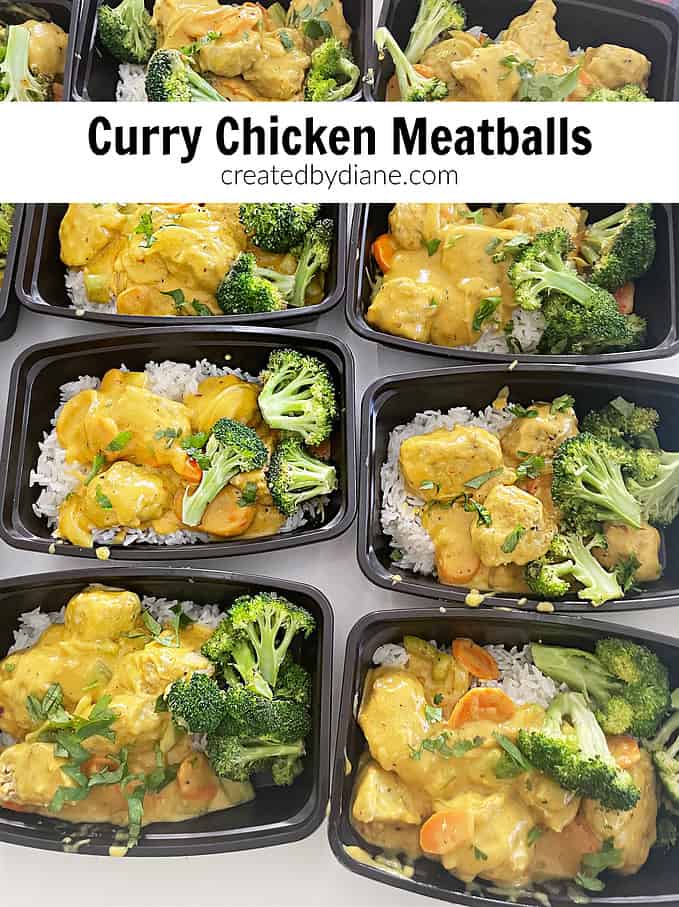 Another really great option for this recipe is to make Chicken Meatballs, bake or pan-cook them, then add them to the sauce. So delicious! Great for meal prep as well.
Simple Chicken Curry
This quick and simple curry recipe can be made with chicken, salmon, shrimp, or pork for the perfect weeknight meal.
Author:
Diane Schmidt, Created by Diane
Ingredients
1/2 red onion, sliced
1 celery stalk, chopped
2 carrots, chopped
1 1/2 lbs boneless skinless chicken breast, cut into small thin pieces
1 cup chicken broth
1/2 cup coconut milk
2 teaspoons curry
1/2-1 teaspoon harissa
2 tablespoon chopped cilantro
1/2 lime, juiced
Instructions
In a skillet saute the carrot, onion, and celery.
Then add in the chicken.
Mix the sauce, chicken broth, coconut milk, curry, and harissa.
Pour the sauce into the skillet and turn it onto medium-low, simmering until the chicken is cooked to 165°.
Add lime juice and chopped cilantro and serve over rice noodles or rice or eat by itself it's delicious any way you serve it.