Celebrating of any kind is no small gesture… but sometimes you only need a small batch to do the celebrating with, these fun sprinkle filled cupcakes are the perfect celebratory necessity!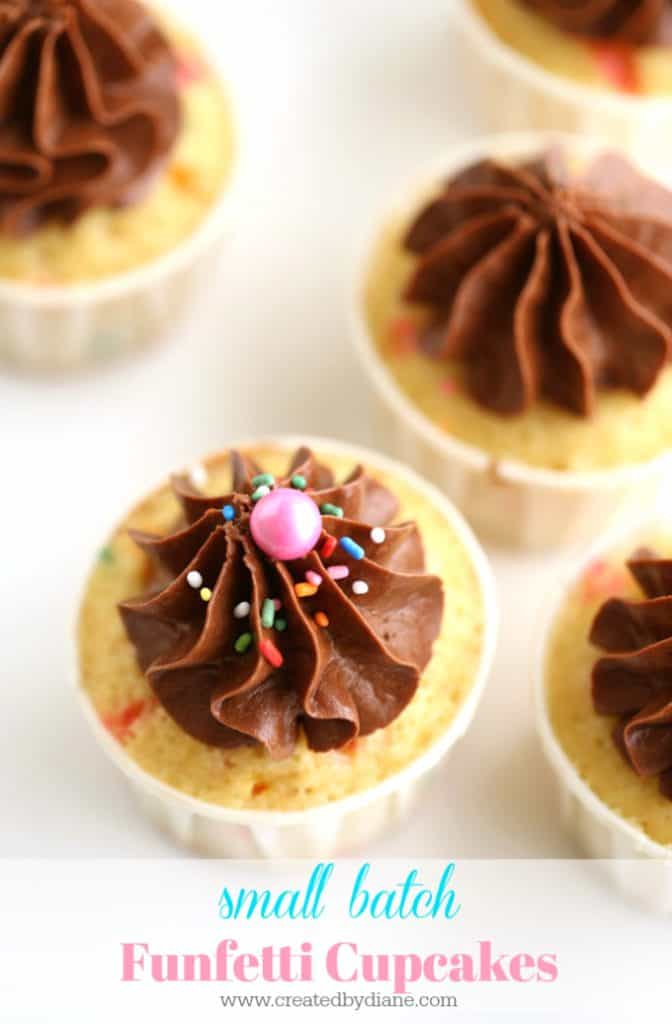 In this recipe, you'll be able to make 6 cupcakes with chocolate frosting.
Now that means you can make them anytime and not have a whole counter full of sweets tempting you for days.
Six is often the perfect amount of cupcakes many times, and if you eat all 6 yourself I won't tell.
If you need 12 just double the recipe.
These aren't just any cupcakes, they are so CUTE, they are full of great vanilla flavor, and colorful sprinkles.
The chocolate frosting is so creamy and yummy you'll be tempted to eat it all off a spoon!
If  you are looking for more cupcake recipe look here and at these:
now for some sprinkles…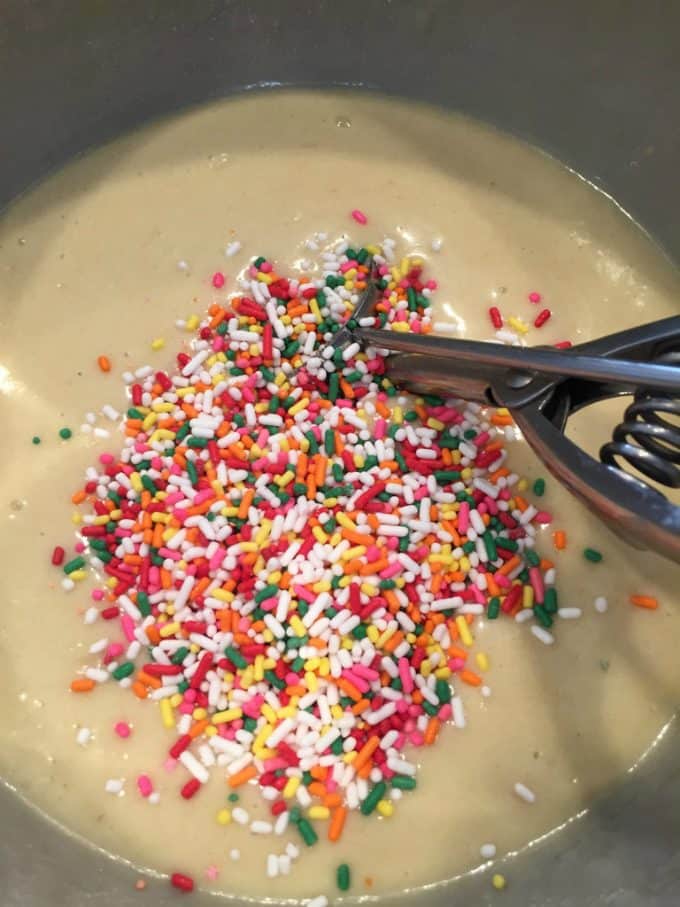 Now for the fun part, add in some rainbow sprinkles.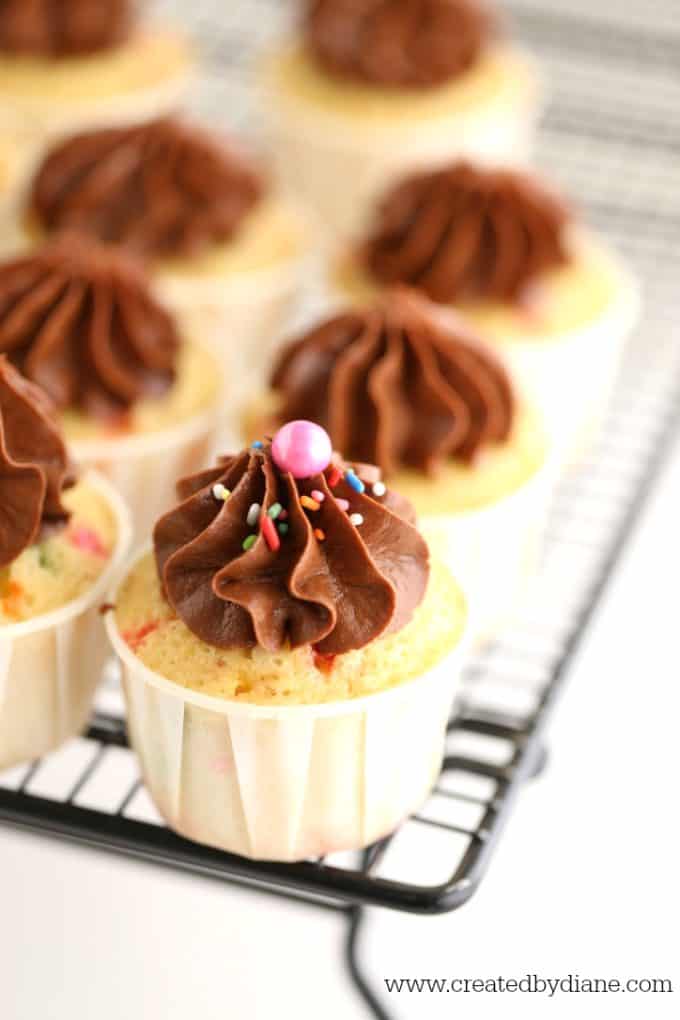 I used unwaxed fruit and nut cups for the cupcake liners,
these are not piled high with frosting, just enough of rich delicious chocolate frosting to make these the perfect fun dessert.
Topped with some rainbow sprinkles and a sixlet candy on top.
Now to change these up you can customize them with any color of sprinkles you like, red and blue for some patriotic celebrating, maybe it's someone's birthday and they love green, go ahead and add in green sprinkles top them with green candies and sprinkles! I bet they would love them!
Small Batch Funfetti Cupcakes
Ingredients
½ cup sugar
1 eggs
¾ cup flour
¼ cup milk
2 tablespoons butter, melted
1 tablespoons oil
1 teaspoon baking powder
1 teaspoons vanilla bean paste (or vanilla extract)
3 tablespoons rainbow sprinkles
Instructions
Preheat oven to 375°
In a large bowl whisk sugar with eggs.
Add in flour, milk, butter, oil, baking powder and vanilla until it's all smooth and well blended.
Add in the sprinkles.
Place 3 tablespoons of batter into each of the cupcake liners.
Bake for 18-20 minutes or until toothpick comes out clean.
Cool cupcakes for 5 minutes in the pan, then remove cupcakes and place on a cooling rack to cool completely before frosting.
small batch chocolate frosting
Ingredients
6 tablespoons butter
1¼ cups powdered sugar
1/4 cup chocolate chips melted (I use 60% cacao chips)
1/4 cup unsweetened cocoa (I use dutch process cocoa)
1/4 teaspoons vanilla extract
1 tablespoon heavy cream
1 tablespoon rainbow sprinkles
6 sixlet candies
Instructions
In a large bowl with a mixer or whisk, cream butter until smooth.
Add in powdered sugar, melted chocolate, cocoa, vanilla, and heavy cream (or milk)
Place frosting in a piping bag with a star tip and pipe a dollop in the center of the cupcakes,
decorate with rainbow sprinkles and a sixlet candy on top.
Notes
If you want a vanilla buttercream frosting, leave out the melted chocolate and the cocoa. This will spread nicely over 6 cupcakes If you want the frosting to pile high, double the ingredients for a double batch.