I have always loved York Peppermint Patties, they are cool and minty with a layer of rich chocolate. I made my favorite chocolate cake recipe into chocolate cupcakes and added mint extract and then frosted them with mint flavored buttercream and rolled the edges in crushed candy canes, they are cool and minty and "pretty in pink".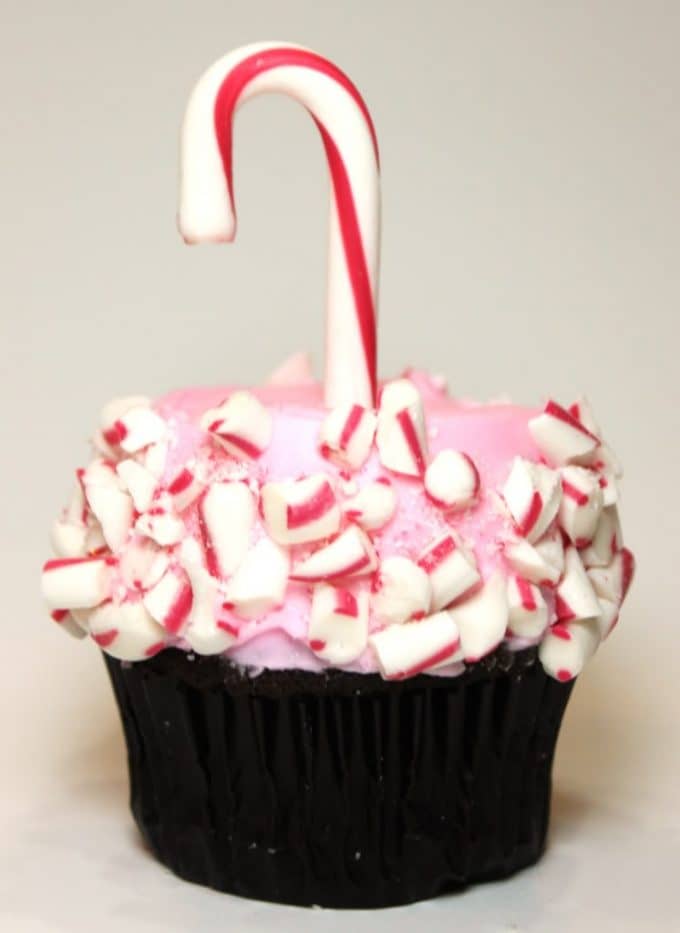 I just love candy canes they remind me of being a child and always remember getting when sitting on Santa's lap.
I buy them every year in hope that someone will come Christmas Caroling. Some years we actually have carolers. I've even anticipated them one year and bought a bunch of Santa Hats for the kids who came to carol. They were surprised! My kids thought it was so great. Now that my kids are getting older maybe they will venture out and do some caroling to neighbors. I always enjoyed doing it as a kid!
Now you know what to do when you find a broken candy cane, and if you don't have any broken up pieces, just chop them with a knife like I did.
Chocolate (peppermint) Cake Recipe
1 cup unsweetened cocoa
2 cups boiling water
2 3/4 cups sifted flour
2 tsp. baking soda
1/2 tsp. salt
1/2 tsp. baking powder
1 cup butter
2 1/2 cups sugar
4 eggs
1 tsp. vanilla extract
1 1/2 tsp. peppermint extract
Preheat oven 350 degrees
In medium bowl combine cocoa with water mixing with wire whisk until smooth. Cool completely. Sift flour with baking soda, salt, and baking powder.
In large bowl beat on high, butter, sugar, eggs, and vanilla until light about 5 minutes.
On low speed beat in flour mixture and cocoa mixture Do not over beat. Pour into cupcake lined pan. Bake about 20 minutes. Do not over bake as they will become dry.
Buttercream Recipe
2 cups shortening
(often I use all butter, or half butter half shortening. I planned on making the icing white and didn't want the yellow color, so I used all shortening this time, but then decided to make it pink 🙂
6 cups powdered sugar
1 teaspoon peppermint extract
2-4 Tablespoons milk
Beat butter in with medium until fluffy then add sugar along with milk and extract.
food coloring used: Americolor Soft Pink