A fun twist on classic chocolate chip cookies, the addition of snowcaps candy.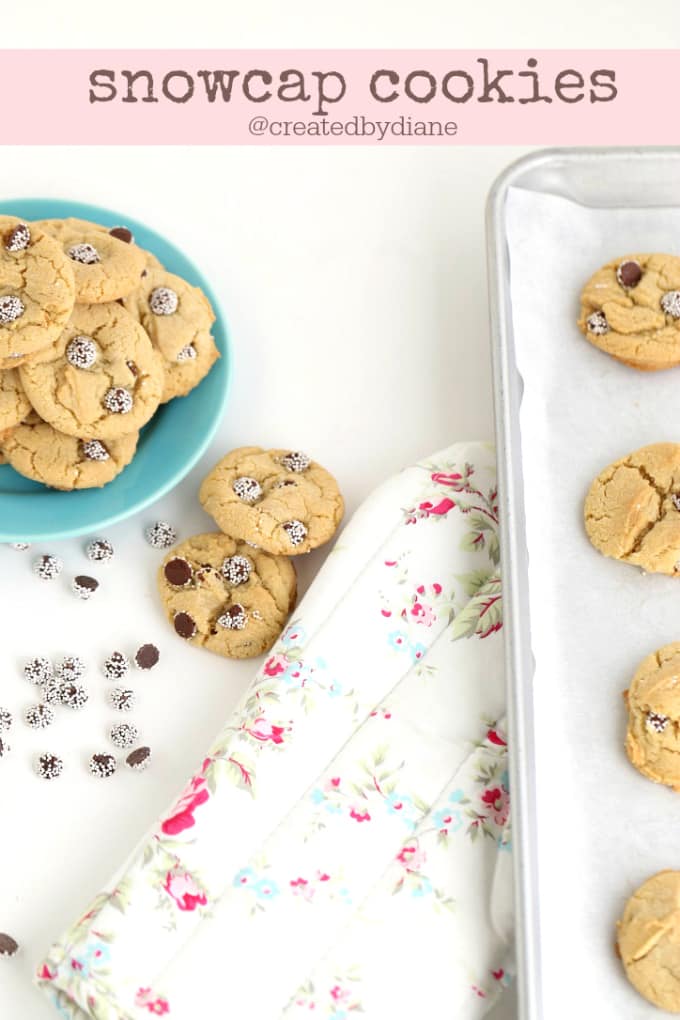 Tell me I'm not the only one who LOVED Snocaps at the movies as a kid.
Ok, even if they weren't YOUR favorite,
you may just love these cookies… the nonpareils give the chocolate chips an extra crunch and make these cookies taste amazing.
the nonpareils give the chocolate chips an extra crunch and make these cookies taste amazing.
I love that they are smaller, bite-sized cookies, that means they are super-cute on top of the cuteness from the snowcaps, would mean they are CUTE, CUTE, CUTE!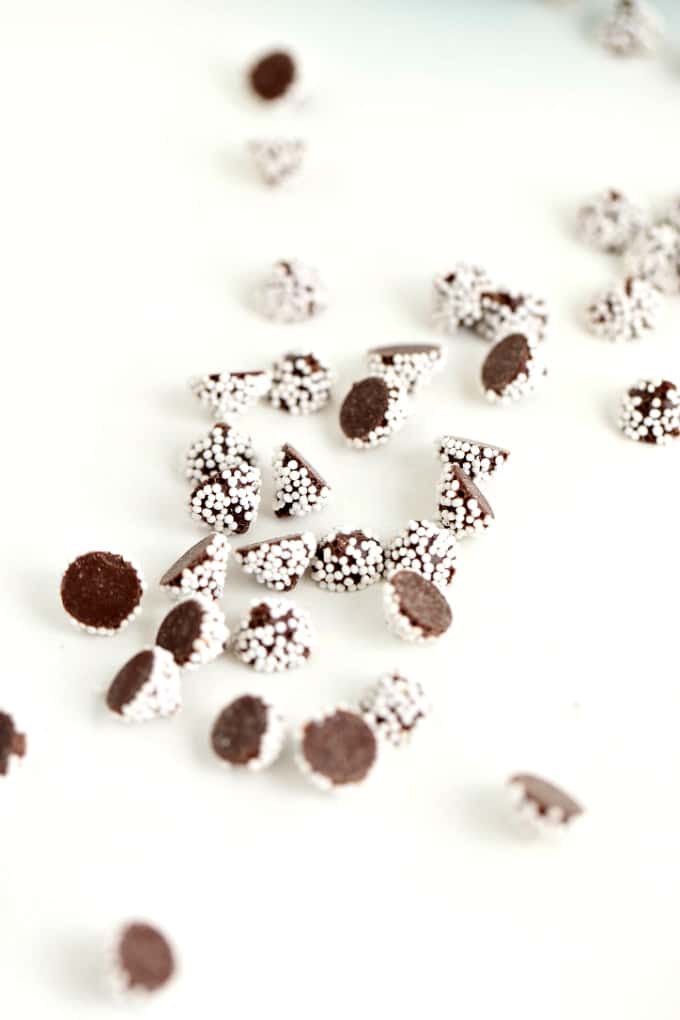 Aren't they just the cutest!
They really are like dressed up chocolate chips.
And if you like nonpareils as much as I do, take a look at these sprinkle cookies I made and if you love chocolate here are some really fun chocolate sprinkle cookies.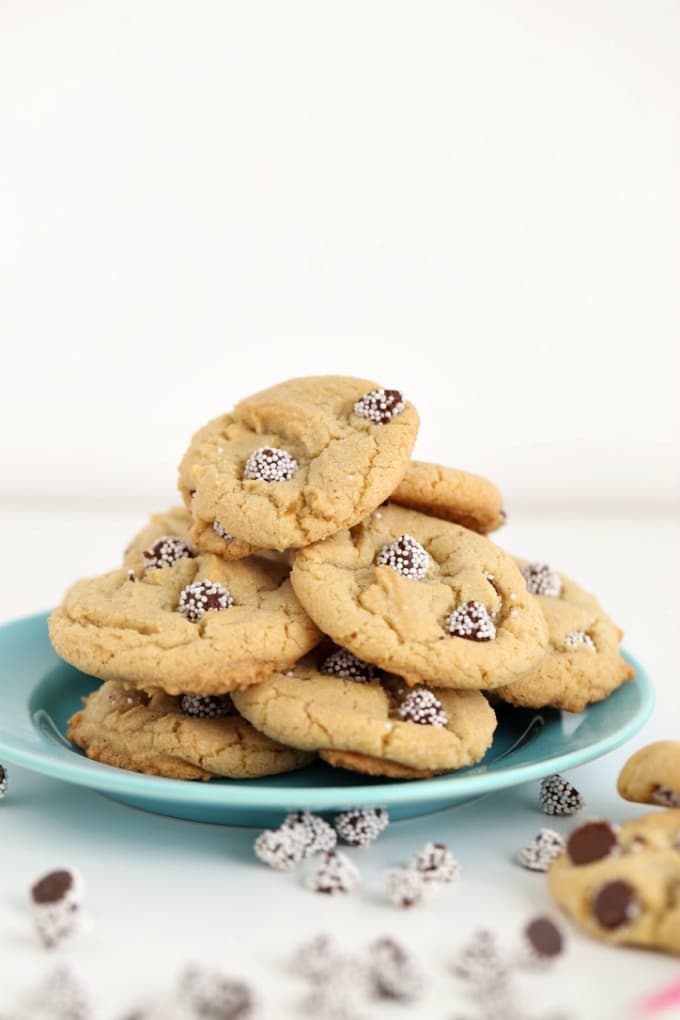 This cookie dough bakes up soft and chewy with a crisp edge.
If you have time, put them on a plate…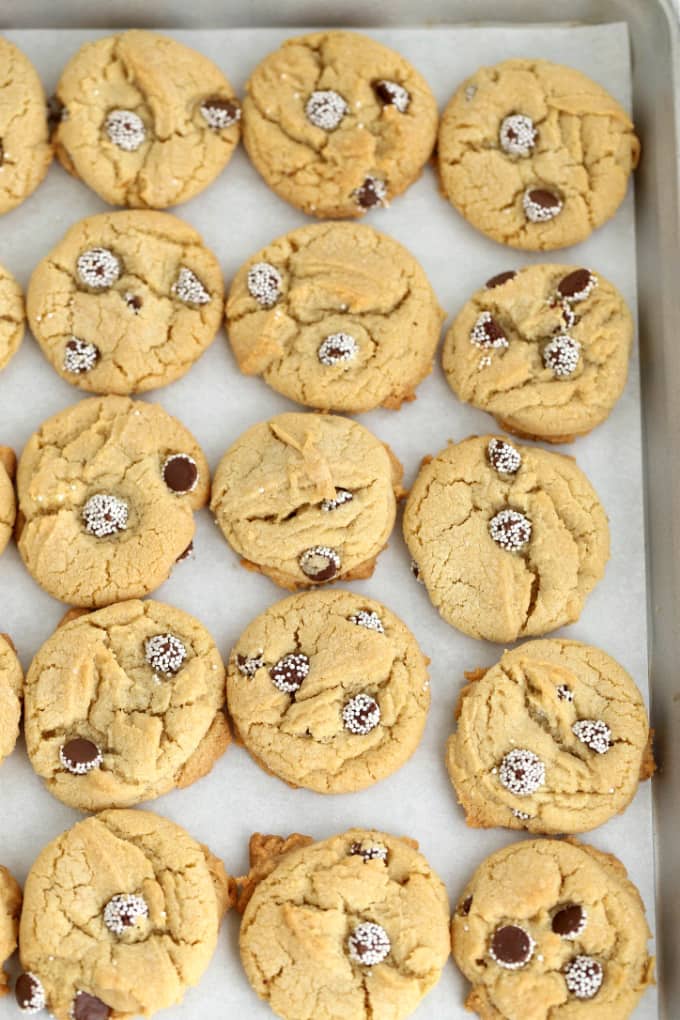 I could barely get them combined onto a baking sheet before each one was devoured.
This is a small batch, and I love recipes like that when I'm looking to have some cookies around….
but not cookies for days.
Cookies for days are delicious don't get me wrong, but swim season is coming soon 😉
Snowcap Cookies
Ingredients
1 cup butter, melted and cooled
1 1/4 cup brown sugar
1/2 cup sugar
1 egg + 1 egg yolk
1 teaspoon vanilla bean paste (or vanilla extract)
2 3/4 cups flour
2 teaspoons cornstarch
1 teaspoon baking soda
1 teaspoon salt
1 cup snowcaps candy + 1/4 cup (about 10oz bag snowcaps)
Instructions
In large mixer bowl combine butter with sugars and mix on medium until fully combined.
Add in egg and egg yolk, and vanilla.
Mix in flour, cornstarch, baking soda, and salt.
Mix in 1 cup snowcaps.
With 1 tablespoon scoop place, cookie dough onto parchment lined bakings sheets and press a couple of snowcaps into the tops of each cookie.
Bake at 350 degrees for 10-12 minutes.
The bottoms should be firm, the centers slightly soft, they will firm up as the cookies cool on the baking sheets.
These cookies are crispy and chewy and the texture of the snowcaps is great if you want to replace the snowcaps with chocolate chips is fine too.