Cheesecake just crossed the line into super easy and delicious (without cool whip or some other lack luster ingredients).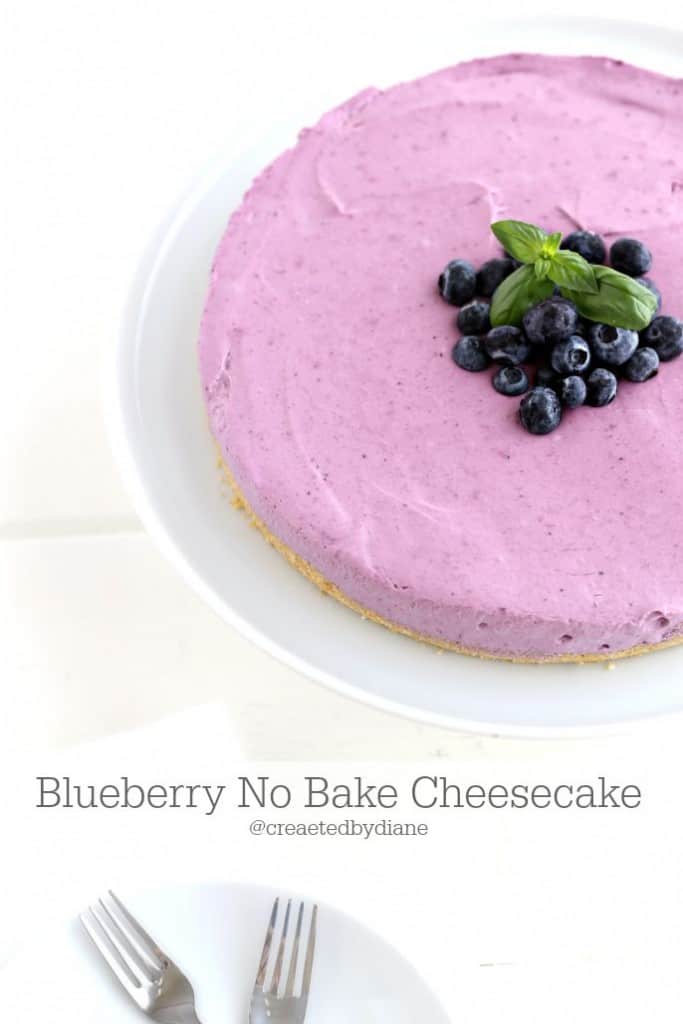 Blueberry No Bake Cheesecake
Don't forget to Share this post on facebook or pin it on Pinterst.
Follow created by Diane on Pinterest to see some delicious recipes!
Nothing screams deliciousness better than a cheesecake,
and one look at this and that gorgeous color and well….
if you're anything like me and love blueberries,
you'll NEED to make this!
Now don't shy away. This is the EASIEST Cheesecake I've ever made!!!
It's super creamy and delicious and doesn't have any cool whip, or gelatin in it, none of that "weird" stuff here.
Just all the yummy deliciousness you'd expect in a fantastic dessert.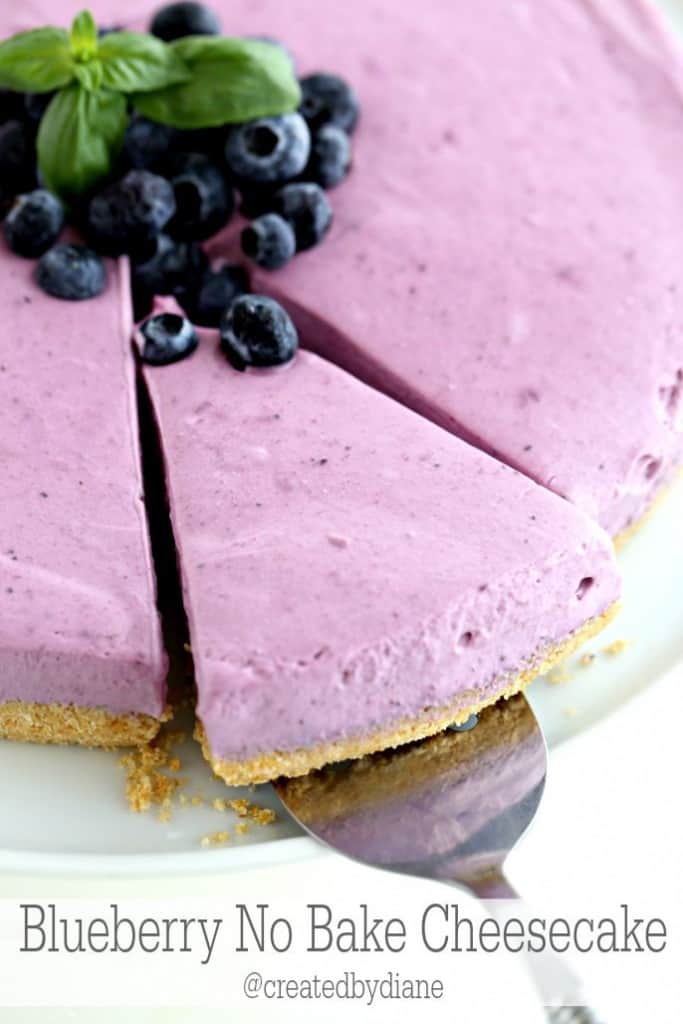 I just love graham cracker crust, but I don't add additional sugar, I think it becomes overly sweet.
The cheesecake has a delicious flavor, be sure to use great quality ingredients, great tasting blueberries are what makes this taste so delicious.
I will mention also, use great tasting vanilla extract whenever you use vanilla. Often desserts don't turn out the way you want them to because of the quality of the vanilla. Inexpensive vanilla has a very different taste than a quality vanilla.  Desserts should be irresistible in every bite. Make that happen by purchasing quality.
Easy Blueberry No Bake Cheesecake
Ingredients
1 cup blueberries plus 1/4 cup for garnish
2 8oz packages cream cheese (room temperature)
2/3 cup sugar
1 1/2 teaspoons vanilla extract
3/4 cup heavy cream (keep the cream cold until you are ready to use it)
1 cup graham crackers
3 tablespoons butter
mint or basil for garnish
Instructions
Place 1 cup blueberries into a small saucepan (with nothing else) heat it over medium heat and cook blueberries for 3-4 minutes.
Take the blueberries off the stove and put them in a strainer (a metal strainer that has a fine mesh)
Prepare the graham cracker crust next.
With a pastry cutter or fork, mix the graham cracker crumbs with butter and press into a springform pan.
Place the springform pan with graham cracker crust into the fridge.
Press the blueberries with the back of a spoon or use a berry press strainer.
Allow pressed berries to cool, place them in the fridge or over ice water in another bowl to quick chill them.
In a large mixer bowl, beat the cream cheese, until it's smooth and creamy
Add in the sugar and mix it well so the sugar is fully incorporated
Next add in the heavy cream and vanilla
on low mix in the pressed blueberries (that have been chilled)
Spread the mixture into the chilled crust.
Place the filled pan into the fridge to chill completely. At least 6 hours or overnight,
Top with extra blueberries and basil or mint.
Now get in the kitchen and make some cheesecake!