One bite and you will fall in love with the lemony deliciousness of these cream cheese cookies.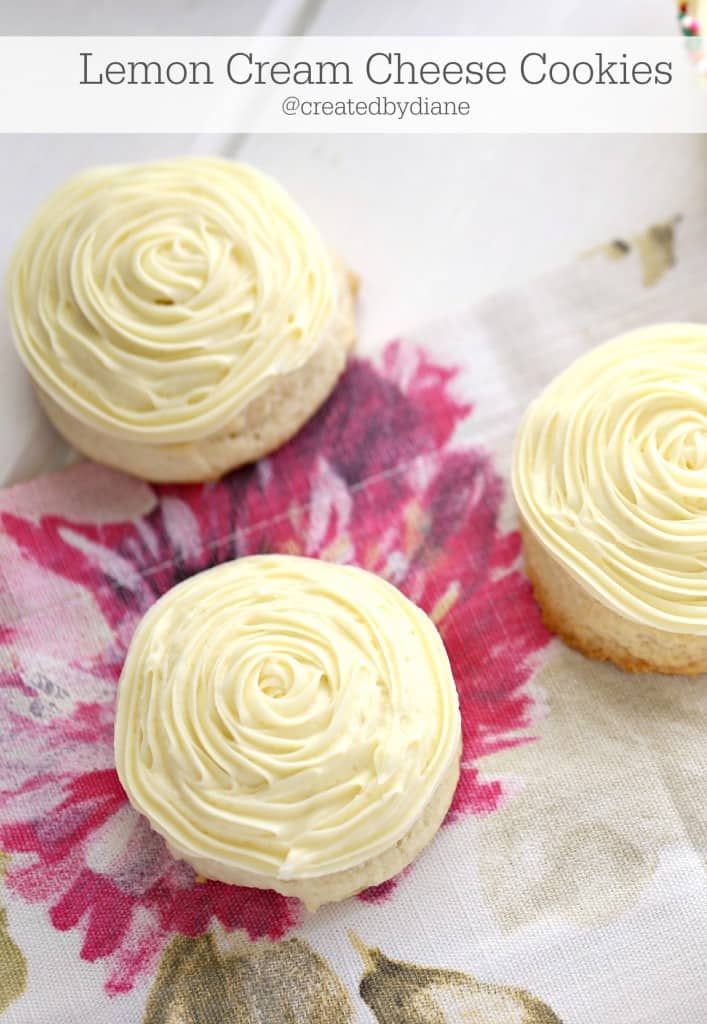 Cream Cheese makes everything better: I can hear my mom saying it now.
And she's right, especially in this case.
Cream Cheese Frosting is always a huge favorite in our house and when it's kicked up with a delicious lemon flavor, well… it's irresistible to all.
Add that to these Lemon Cream Cheese Cookies and it's a winner from every angle!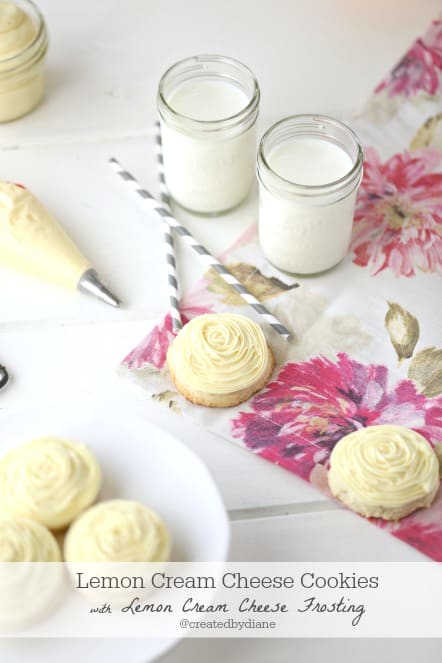 These cookies are so fun, you can frost the tops of them or the bottoms, they remind me of toy tops when they are frosted on the bottoms and you can rim the edges with sprinkles.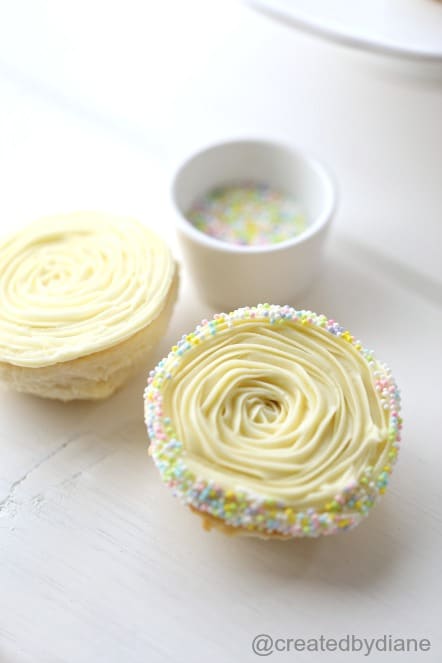 It's easier to edge the bottom of the cookies in sprinkles that it is the tops, just place the sprinkles in your hand or a large dish and roll the edge into the sprinkles after frosting the cookies and the sprinkles will press into the frosting nicely.
Ever wonder where all our delicious dairy products come from? I love all things dairy, milk, butter, cream, yogurt, cheese….and of course ice cream!
The Dairy Good Cookbook uses 113 great-tasting, easy-to-make recipes to shape a story worth celebrating – that of American's dairy farmers who work hard to bring us delicious and versatile dairy foods!
The Dairy Good Cookbook reconnects people with the people who produce their food.
This book from dairy farmers and those who bring dairy products from around the world to your table to share wholesome dairy ingredients.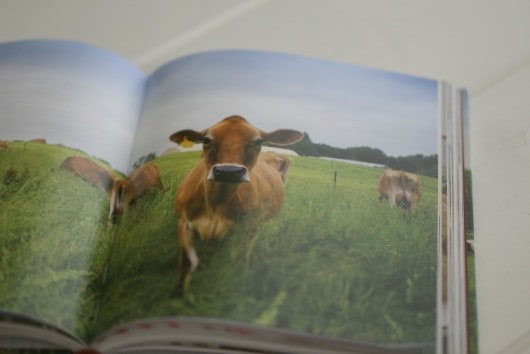 This is more than a cookbook, it's full of gorgeous photos of dairy cows and profiles of farmers as they share their secret (and not so secret) stories, traditions and family recipes that have been passed down through generations.
The photos of the cows have me wishing I were right alongside of them, they are so peaceful and just look like they are enjoying the day.
There are so many delicious looking recipes in this book, and if I had to choose one to start with it may just have to be this Bourbon Sweet Potato Cheesecake. The name alone has me drooling and one glance at that photo…perfection!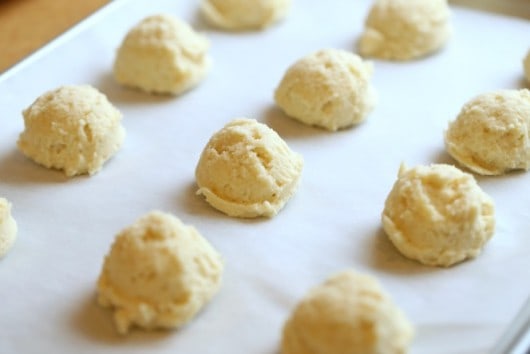 One of my family's favorites: cookies and these cream cheese cookies bake up beautifully. I use a 3 tablespoon scoop, which results in large cookies. Some days it's go big or go home! Being able to head on down to my local grocery store to grab all our dairy favorites so easily has me feel so thankful for all the dairy families out there. Their hard work and dedications have us spoiled. Working on a farm is not easy and it often takes the whole family to get everything done. I was reading about the Lourenzo family from Tillamook, Oregon and hearing that their kids have chores and that they don't always want to do them reminds me of my own kids. But that is what is so special about families, we may not like doing things but we do them anyway, for the good of the family. The Lourenzoes have Jersey cows and milk 450 of them every day; the milk from Jersey cows is generally higher in butterfat and protein, which can be made into cheese. I LOVE cheese and I bet I'd love living on a dairy farm, as long as I had lots of help!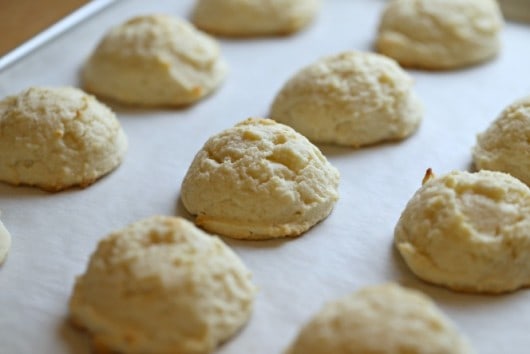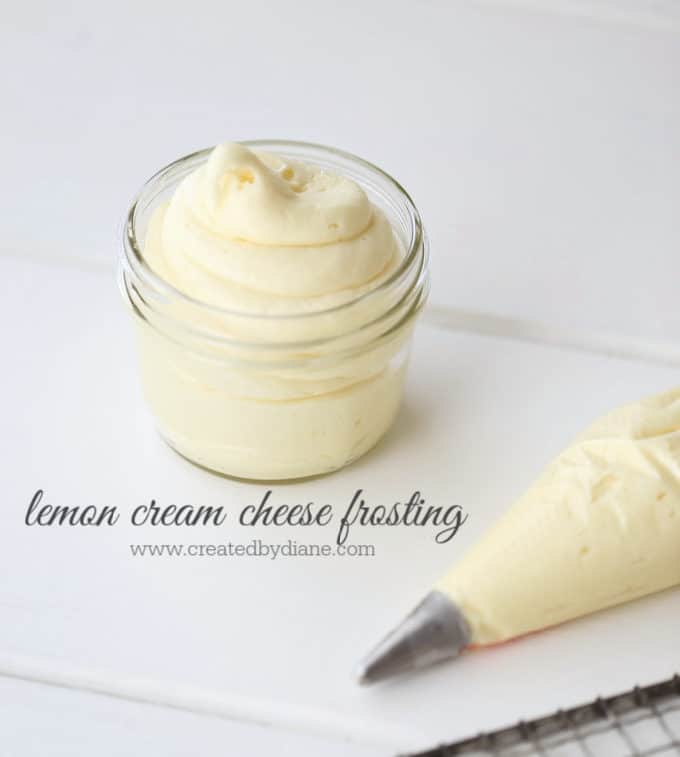 KEEP scrolling and be sure to print the lemon cream cheese frosting recipe too
Lemon Cream Cheese Cookies
Ingredients
1 cup unsalted butter (room temperature, not soft)
1 cup sugar
4 oz cream cheese (room temperature, not soft)
1 teaspoon butter vanilla baking emulsion (vanilla extract can be substituted but you'll be missing on some of the buttery flavor)
1 1/2 teaspoon lemon baking emulsion
1 egg
1 teaspoon baking powder
1/2 teaspoon salt
2 1/4 cups flour
Instructions
In mixer bowl, beat butter until it is light in color and smooth
Add in the cream cheese and mix until it's combined and smooth
Now add in the sugar and beat until all incorporated
Next, add in the flavorings and egg and mix on medium until combined
Lastly add in the baking powder, salt, and flour and mix on medium until the dough is well mixed.
Place 3 tablespoon sized scoops on parchment lined baking sheet and bake in a preheated oven at 325 degrees for 20-22 minutes, test a cookie with a toothpick to be sure it's not too moist inside if the cookies need another minute or two keep an eye on them, they should have a golden bottom and be pale in color on top.
This will result in a toasted outside and a creamy buttery inside.
Allow cookies to cool on baking sheet before transferring them.
Notes
Baking emulsions have less alcohol that extracts and the flavor does not bake away when they are heated. I prefer them and find the flavor difference is worth searching for the best flavorings when making homemade baked goods.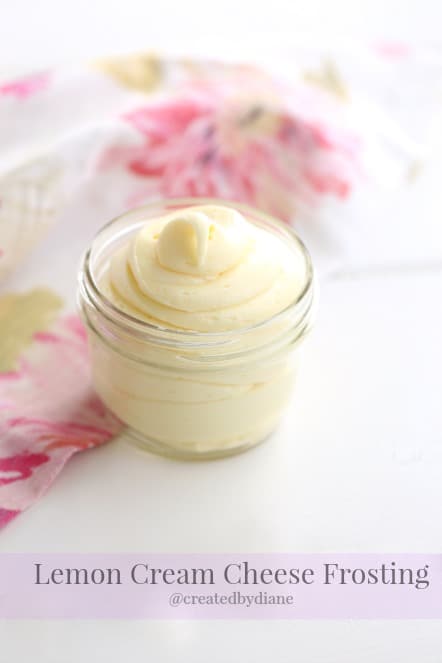 This frosting is so creamy and delicious and is perfect on so many things, this recipe will cover these cookies and BONUS, you will have plenty if you want to make another batch of cookies, use it to top some cupcakes, dip some cookies into it or just eat it off a spoon, (not that I would know ANYONE who would do such a thing)
Lemon Cream Cheese Frosting
Ingredients
1/2 cup unsalted butter (room temperature)
4 oz cream cheese (room temperature)
4 1/2 cups powdered sugar
2 tablespoon heavy cream (this is what makes for a super creamy whipped consistency)
1 teaspoon lemon baking emulsion (extract can be substituted)
1 drop egg yellow coloring
Instructions
In mixer bowl beat butter and cream cheese until smooth
Add in sugar, heavy cream and flavor and coloring and mix on high until it's smooth creamy.
Notes
I frosted the Lemon Cream Cheese Cookies with a #25 frosting tip