This is not your ordinary coleslaw recipe, and summer is upon us and it is the BEST time to try a NEW RECIPE……so go ahead and try this one. This recipe is KICKED up with great flavor and will be devoured.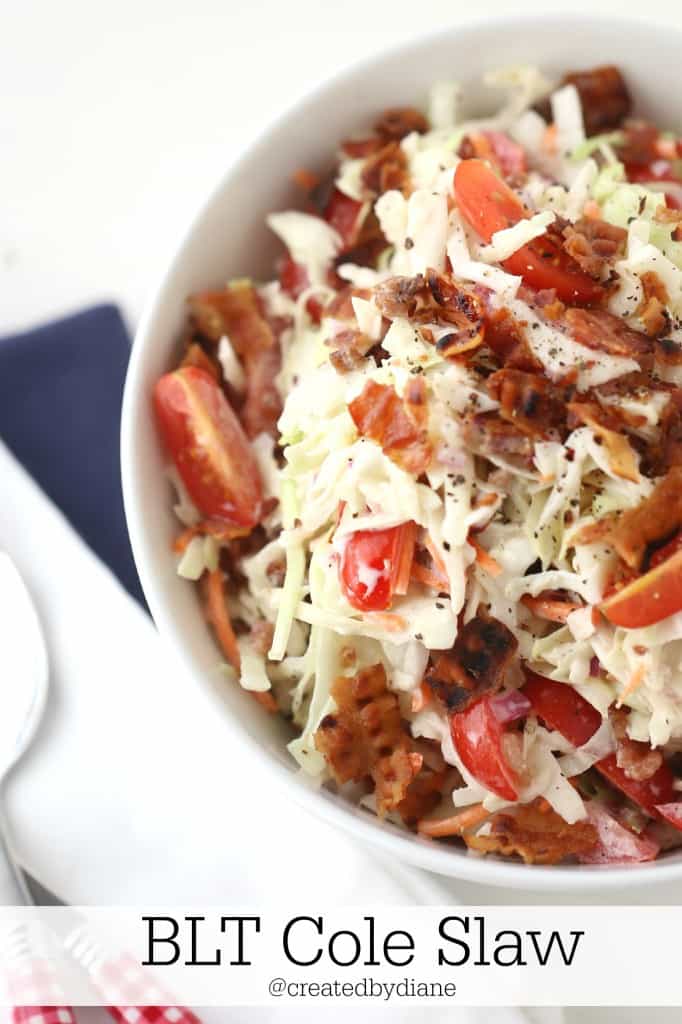 This coleslaw has the fantastic flavor of a BLT,
and it is not to be reckoned with!
This will be a HIT at your next BBQ, cookout, picnic or middle of the week hamburger night!
I do love that pre-cooked bacon is readily available in stores, it will make this even faster to whip up. But if you aren't in a hurry and want to cook bacon, this great post on how to bake bacon is sure to help.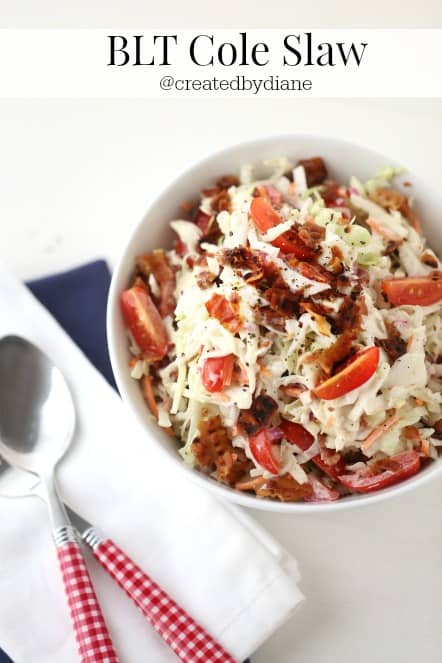 This will EASILY become everyone's favorite side dish this summer. It's easy to make and tastes OUT of this WORLD DELICIOUS!!!
This can be made ahead of time for a cookout or BBQ, just give the bacon and tomato a quick toss when serving to keep the bacon crunchy.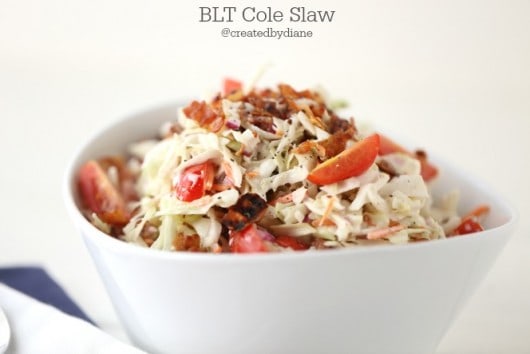 This is perfect with hot dogs, burgers, ribs, and chicken…those are all the favorites of summertime eats and below I'm sharing my Super SIMPLE Summertime Menu that you can whip up in 30 minutes to serve a crowd.
Perfect for impromptu get-togethers, last minute cookouts and a great menu to invite your neighbors over to hang out and enjoy the long days of summer with.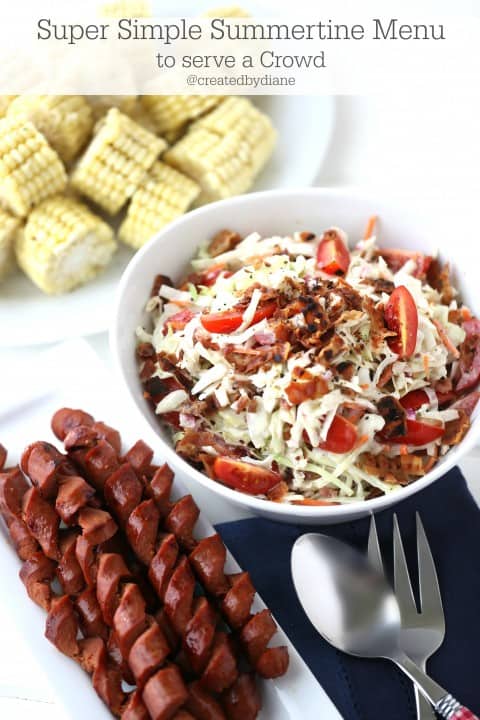 We have a lot of impromptu entertaining at my home, and this is just PERFECT for those times.
I spiral sliced hot dogs and cut corn on the cob into small bite-sized pieces and served this all alongside this delicious BLT COLE SLAW along with slices of watermelon.
No summer menu is faster or easier to feed a crowd in under 30 minutes.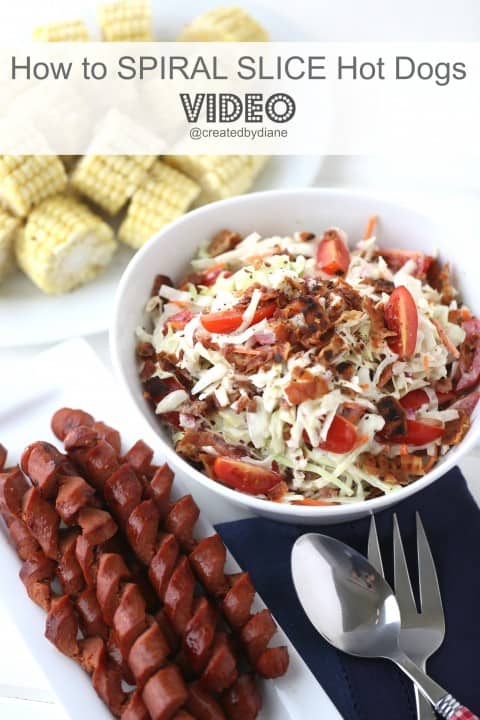 Here is a quick video of Spiral Slicing Hot Dogs
Follow Created by Diane on YOUTUBE to see more VIDEOS
Be sure to check out my post on Homemade Mayo if you'll be making the mayo from scratch as I do. You can use store-bought mayo, but homemade tastes best!
BLT Cole Slaw
Ingredients
1 lb Package coleslaw mix (or 1 head cabbage shaved, 1/4 cup purple cabbage shave and one carrot grated)
1/4 cup diced red onion
8 slices cooked bacon or 1-1 1/2 cups chopped cooked bacon
12 grape tomatoes cut into quarters
1/4 cup mayo (Homemade Mayo Recipe Here)
2 tablespoon plain yogurt (buttermilk or milk will work well too)
1/4 cup sugar
1/3 cup white vinegar
2 tablespoon lemon juice (fresh squeezed)
1/4 teaspoon Salt
1/8 teaspoon Back pepper (fresh cracked is best)
Instructions
Mix all ingredients together (except bacon and tomato) and blend until the "sauce" coats all the cabbage and onion well.
Then stir in tomatoes and bacon, leaving some bacon to top the dish off with for garnish.
Chill for 30 minutes for great flavor.
If you are making this ahead of time to bring to a party, you can leave the tomato and bacon on top and toss that in at the last minute for the bacon to stay crisp and the tomatoes not to lose their juice.