February is Potato Lovers Month and it just so happens that I LOVE potatoes.  I bet your family will LOVE this fun and delicious dish, full of hearts for all the loves in your life!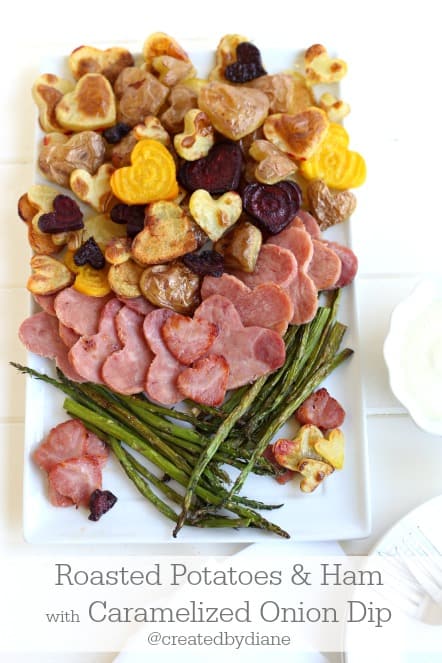 No matter how you slice them, cut them, peel them, bake them, fry them, grill them…
I LOVE potatoes and I'm  sure I've mentioned it a time or two how much I love potato chips and French Fries, they are so hard for me to resist.
So to bring some fun into this meal,
I cut the potatoes into heart shapes using a couple small cookie cutters,
and the fun didn't stop there.
I cut the ham into hearts too.
Everything is so pretty and colorful, this was an eye catcher of a dish for my family.
They couldn't keep there hands off of it!
One of the things I think I loved about this most was that we all actually stood around the kitchen eating and talking and didn't even make it over to the dinner table,
which isn't all so bad some days.
The kids thought it was as much fun as we did.
It was almost like eating appetizers for dinner, except…
this was a meal, in bite size form.
I think your family will love all the colors and hearts and oh can I just tell you about the caramelized onion dip,
that was a HUGE winner!
Who doesn't like to DIP things, right?
Since the food was so fun, even my picky eater ate more than usual.
I often find when I put a whole plate of food in front of him, it's doesn't go over as well as food, he is able to pick and choose and not have look at it all at once.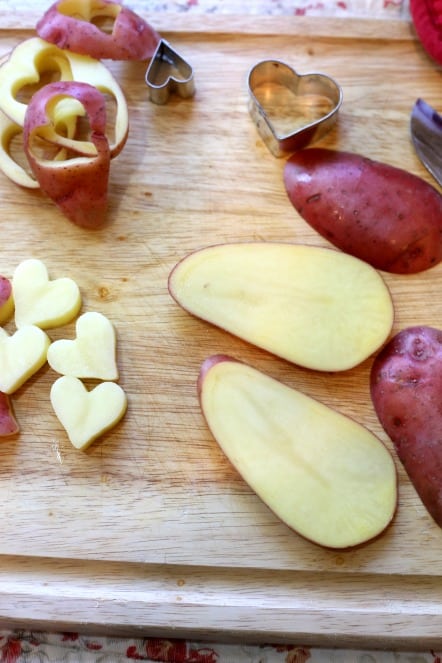 Slice Idaho Red Potatoes about 3/8″ inch thick,
use heart shaped cookie cutters to cut the potatoes into hearts,
slice two red beets and one golden beet 3/8″ thick also and then into hearts as well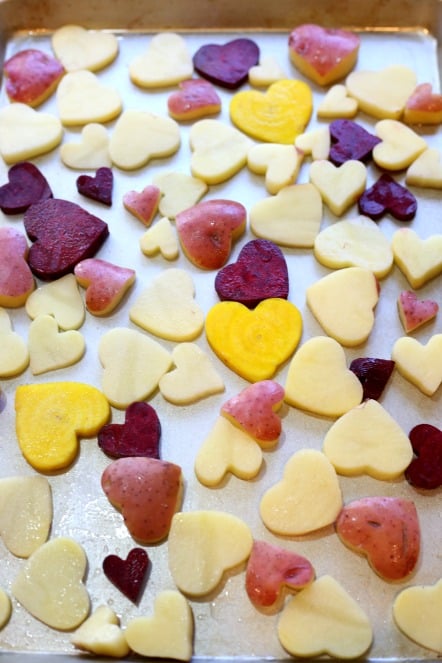 Toss the potatoes and beets into a tablespoon or two of olive oil.
Place the potatoes and beets onto a lightly oiled baking sheet.
Place into preheated 400 degree oven for 20 minutes or until crisp (turning them over with a spatula after 10 minutes)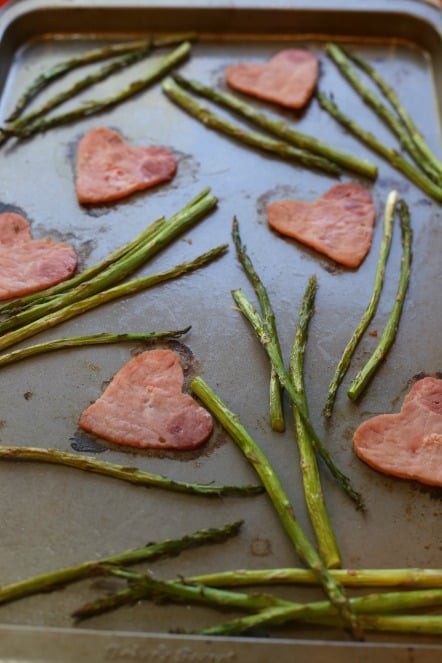 Cut thin sliced ham with heart shaped cookie cutter and place them along with asparagus on a lightly oiled baking sheet to roast with potatoes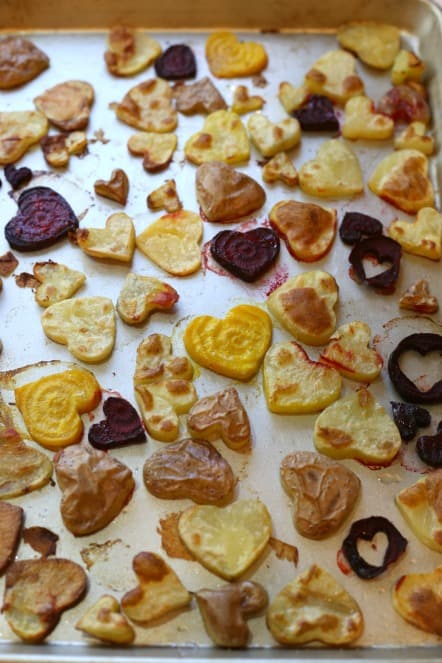 Roasted Potatoes and Ham with Caramelized Onion Dip
Ingredients
2 lbs Idaho® red potatoes
2 red beets
1 golden beet
2 tablespoons olive oil
1/2 pound 1/4" thick sliced cooked ham
1 lb asparagus
Instructions
Preheat oven to 400 degrees
Slice potatoes and beets 3/8" thick then cut with heart cookie cutter*
toss in olive oil
lightly oil baking sheet
place potatoes and beets in a single layer
bake 20 minutes or until crisp, turning them over after 10 minutes.
Cut ham with cookie cutter and place on a lightly oiled baking sheet with asparagus and bake 10 minutes, or until asparagus in tender. (if you are using thick asparagus, place them on one baking sheet, and the ham on another as the ham won't need that long to heat up)
*leftover cuttings from potatoes can be baked on a baking sheet or cut up and used for hash browns.
Now onto the dip, oh how I just love DIP, and this dip has some really great flavor to it. The caramelized onions are the SHOW STOPPER here, they add such great flavor and depth to this that you will want to start dipping everything into it. Click here on how to quickly prepare Caramelized Onions.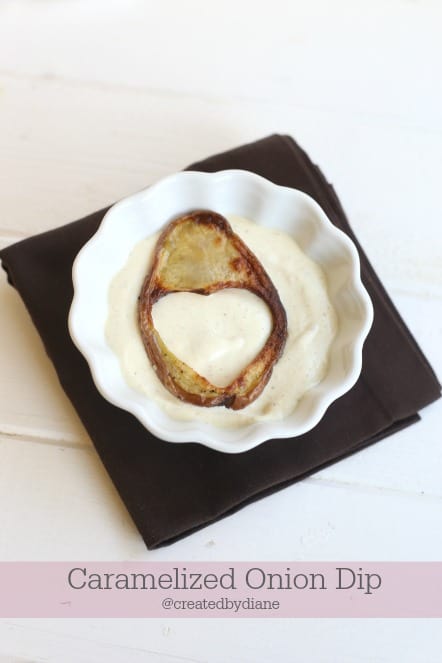 This dip is so great, it's perfect for potatoes and has a tangy sweetness that goes well with ham too. This would also be great to dip sausage or  hot dogs into along with french fries. Oh how I love dipping French Fries into this type of Dip. Take a look at this post on How to BAKE Crispy French Fries.
Caramelized Onion Dip
Ingredients
1 cup sour cream
1/4 cup caramelized onions (how to Caramelize Onions HERE)
1 tablespoon golden brown mustard
1/4 teaspoon horseradish
1/4 teaspoon salt
1/8 teaspoon black pepper
Instructions
In food processor or blender mix sour cream, caramelized onions, mustard, horseradish and salt and pepper until smooth.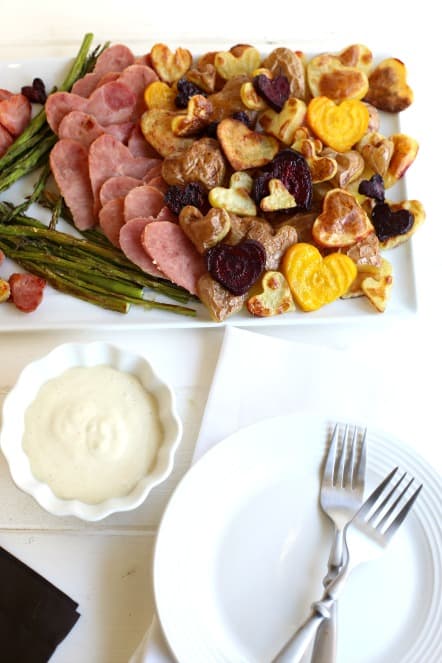 February is Potato LOVERS Month and to celebrate I think this should be at the top of everyone's list to make.
It's great for dinner, as an appetizer tray, perfect for parties and I think you Valentine would LOVE you to make it for them!

I'm partnering with Idaho Potatoes to bring you this post. All opinions are my own. Thank you for supporting Created by Diane and it's sponsors.