If you think breakfast should start off delicious every day. Whip up a batch of these Maple Pancakes and it will become a reality!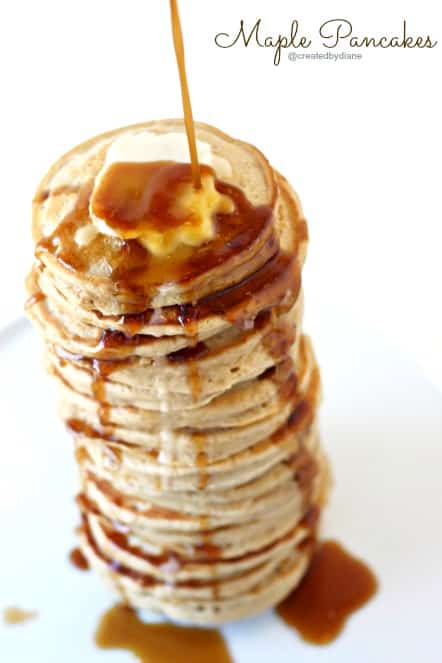 Serving up a stack of hot Maple Pancakes with some warm syrup…like this Coffee Syrup, is  a sure fire way to see lots of smiles at the breakfast table!
I just love how comforting pancake are,
and the aroma of these maple pancakes with brown sugar,
oh my….
that is just pure coziness coming off the griddle!
If you are a true maple lover like me, you may even like these pancakes topped with Wet Walnuts!
I've been known to pile on some vanilla ice cream on top of all that deliciousness too. Some days I just can't help myself.
Other days I eat salad!
But really the days with Maple Pancakes, and Wet Walnuts and ice cream, well those are the days I remember most.
Isn't it funny how even just a hint of maple flavor,
can remind you of a certain time or item….or just remind you of the gorgeous falling leaves this time of year off maple trees.
These pancakes bake up fluffy and delicious!
I use a 3 tablespoon scoop to portion out the batter onto a flat skillet, and this recipe will make 15 pancakes that size.
Bring on "Maple Season" or Fall, what ever you prefer to call it.
Maple Pancakes
Ingredients
2 cups flour
⅓ cup brown sugar
1/2 teaspoon salt
1 tablespoon baking powder
1 egg
2 cups milk
2 tablespoons butter (melted and cooled)
1 teaspoons vanilla extract
1 teaspoon maple extract
Instructions
Mix flour, brown sugar, salt and baking powder in medium bowl
Whisk in egg, milk, butter, vanilla and maple extract
Heat a flat skillet on medium, add 3 tablespoons of batter for each pancake and cook until edges are slightly firm, flip over and cook on other side until completely cooked.
More Maple Recipes you may like: