Beer battered chicken, OMG so delicious!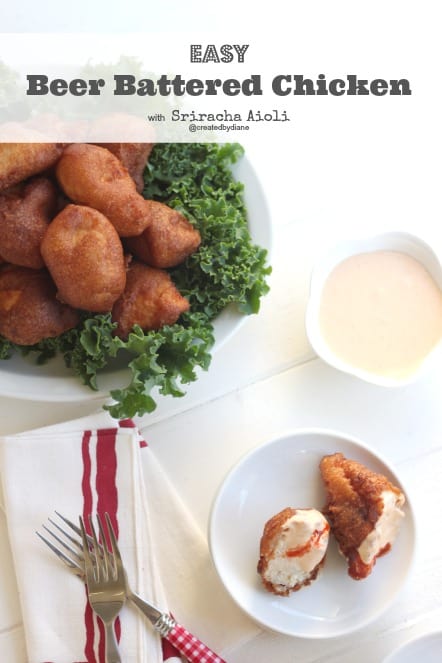 Crispy, crunchy, chicken!
Come on…you know you want some.
One of the best parts about this Beer Battered chicken is how EASY it is to make.
In no time at all, you can serve up this crispy chicken that will get RAVE reviews.
If I told you, you only need three ingredients to make this chicken, would you believe me, or would that come as a surprise?
It surprised everyone around here,
and they couldn't wait to find out how to do it.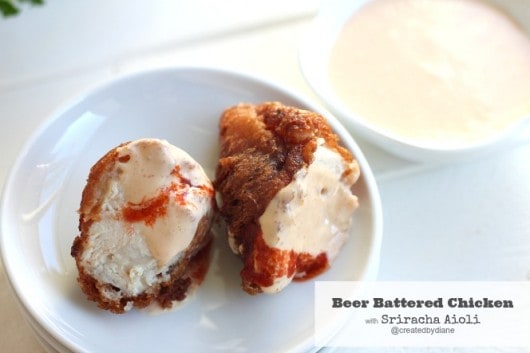 This time of year is great comfort food like this, the weather is cooling off, and the food is warming up!
The Sriracha Aioli is creamy and spicy and a great dipping sauce for this chicken, but believe me this chicken will be great with your favorite sauce too.
Maybe one of these dips will become a new favorite:
Perfect food for game day, parties, as an appetizer or a fun Friday night dinner, your kids will just LOVE if you made these for dinner!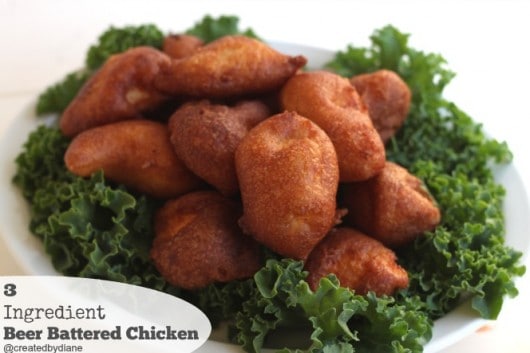 That is a true WINNER!
One of the best parts about this is how EASY it is.
This chicken is crispy and the batter cooks up nicely giving the chicken a really great coating to grab onto the dip when you dunk them in!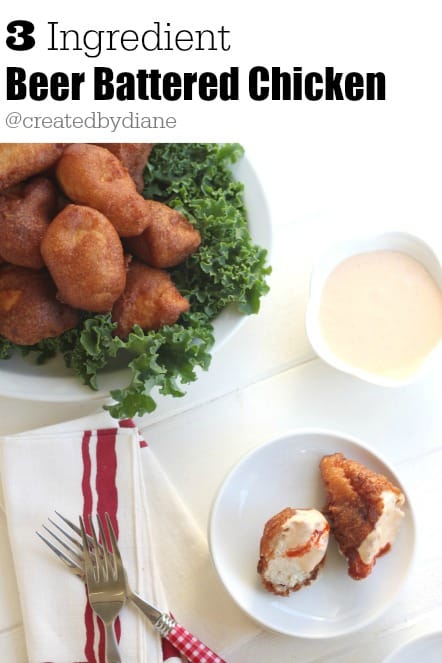 Find more
Beer Battered Chicken
Ingredients
2 1/2 cups pancake mix
12 oz beer (I used Coors light)
4 boneless skinless chicken breasts
Instructions
In medium bowl whisk pancake mix with beer
Cut chicken into 2-3 inch pieces
In a medium pan heat oil to 350 degrees (ideally keep oil between 350 and 375 degrees)
Dip chicken into batter then place a few pieces at a time into the hot oil
Cook until chicken reaches an internal temperature of 165 degrees.
Drain on paper towel to absorb excess oil.
Sriracha Aioli
Ingredients
2/3 cup oil
2 egg yolks
4 tablespoons fresh lime juice
1/2 teaspoon salt
1 teaspoon minced garlic
3 teaspoons sriracha sauce
Instructions
In blender combine oil, egg yolks, lime juice, salt, and garlic.
Blend until thick.
Stir in sriracha