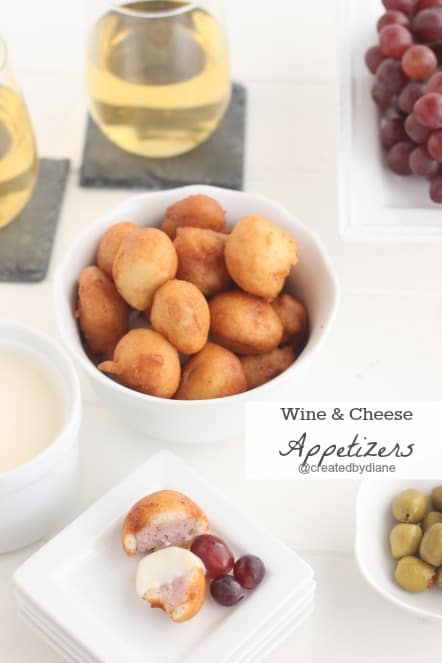 I love appetizers,
is it just me or do you sometimes want to make a whole meal out of them?
I don't think I'm alone.
The next time you are in need of a really great appetizer…
you HAVE to try this.
Was that too pushy? Sorry. I get a little pushy when I LOVE something.
These were loved by all and I've made many batches. They all went very quickly!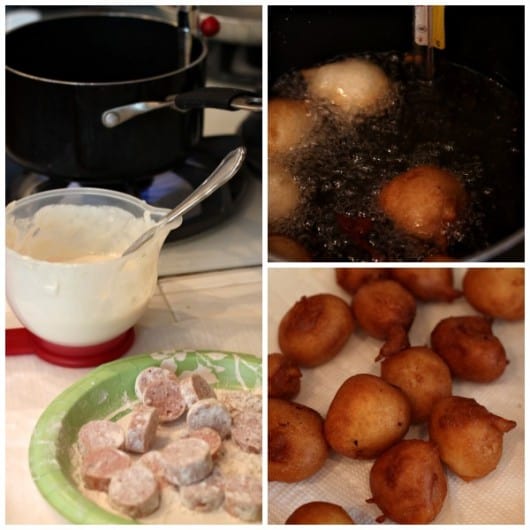 Since sausage is a little slippery I tossed them in a little flour so the batter would stick (when I didn't the batter seemed to slide right off the pieces of sausage) then dip them into the batter and then into the fryer (or pot of hot oil) I think I need a deep fryer…really!
Wine and Cheese Appetizers
Ingredients
2 links Farmer John Wine and Cheese Sausage
1/4 cup flour
1 cup pancake mix
1 cup water
oil for frying
Instructions
cut each sausage link into 10 pieces
heat oil to 350 degrees ( I used a 2 quart saucepan and added three inches of oil
while the oil is heating toss the sliced sausage pieces in flour
when the oil reaches 350 degrees
mix together the pancake mix and water (you'll want it to be a little on the thick side)
dip each piece of sausage in batter and then fry them until they are golden brown and cooked through (about 2 minutes)
don't overcrowd that pan fry a few at a time
drain them on paper towel
serve warm
Now onto the sauce…
oh how I love creamy cheesy sauces
and dipping is always a given when it comes to appetizers, right?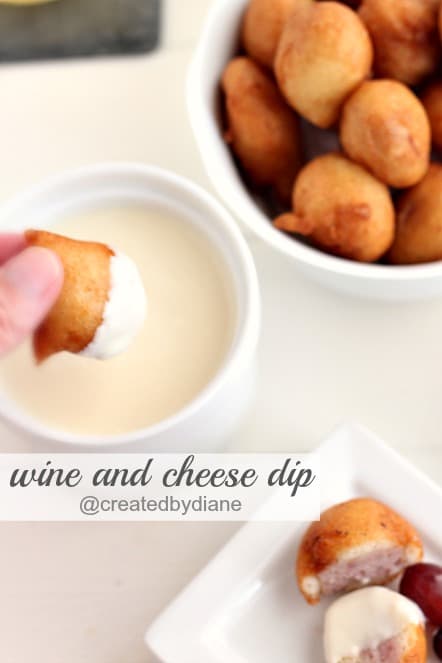 simply heat up some wine, brie and cream cheese with a little olive oil and you will have a sauce that is not only super-delicious on these sausage appetizers, it's delicious on pasta too. I've even been known to slather some of it cold on crusty bread, yes it's THAT good!
The combination of wine and brie together is irresistible.
Don't you just love when two flavors are a perfect pair.
I was surprised to even my fussy eater loved it. He kept grabbing handfuls of the sausage bites, that is one reason I kept having to make more. I can see in the next few years he will be eating me out of the house.  I served the sauce over pasta for him with a vegetable and he loved that too. Which means you don't need to think this will be just for the adults.
Wine and Cheese dip
Ingredients
6 oz white wine (I used chardonnay)
4 oz brie cheese (cut into pieces)
4 oz cream cheese
1 tablespoon olive oil
Instructions
Heat wine, brie and cream cheese along with olive oil over medium heat stirring occasionally until it comes to a boil
strain any of the brie's rind that doesn't cook down
transfer the hot cheese dip to a serving dish
enjoy hot (for dipping items into) or cold (it's smooth and creamy an able to spread on crackers or bread)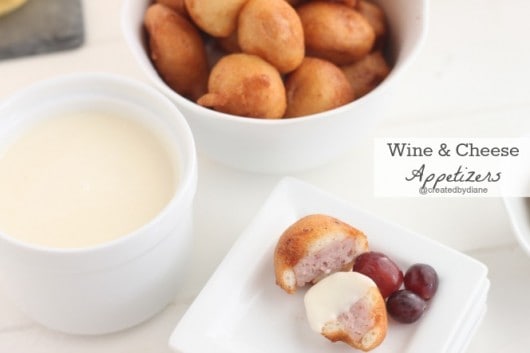 I love that everything I need to make this eye-catching appetizer can be kept on hand. Whether it's game day or you just in need of a great snack, this will be everyone's new favorite!