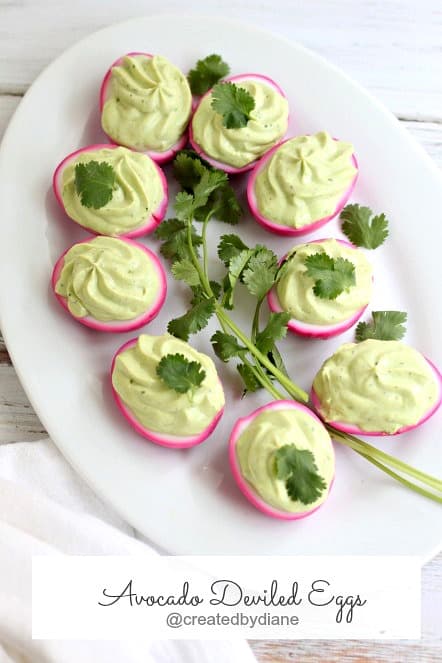 Deviled eggs get an overhaul!
They look oh so pretty in pink and they taste is so creamy and delicious,
you will want to make at least 2 dozen.
So bring deviled eggs back to life at your table and color them up something fancy!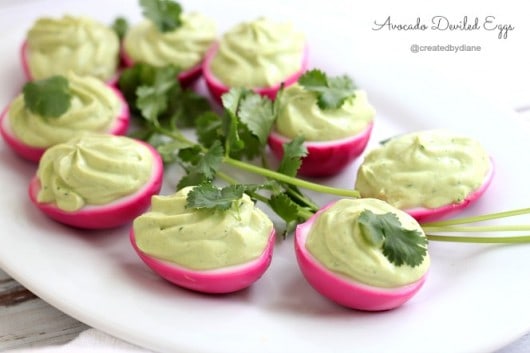 These deviled eggs are not only Beet Dyed Deviled Eggs, but they are made with avocado and lime. Check out that post, there are lots of tips and easy instructions for deviled eggs and you won't want to miss them.
That means they are not only pretty, but pretty tasty too.
The avocado make these deviled eggs really creamy, so they are not only healthier than regular deviled eggs, they are silky smooth and really flavorful.
If your egg yolks don't mix up smooth press the mixture through a fine strainer.
Sometimes fancy is fun, just a few extra steps make these perfect for dinner or a party!

Avocado Deviled Eggs
Ingredients
12 eggs
1/2 medium California Avocado
1/2 cup plain Greek Yogurt
1 tablespoon fresh lime juice
1/2 teaspoon salt
garnish with cilantro
Instructions
Cut eggs in half
Mix yolks with avocado, yogurt, lime and salt
Place mixture in piping bag with a large star tip
Pipe into egg whites and garnish with cilantro
SIGN up to receive email updates along with my free ebook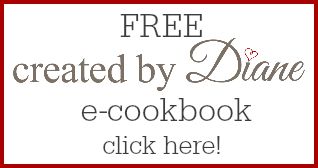 If you LOVE Avocados you will LOVE this post FULL OF AVOCADO RECIPES!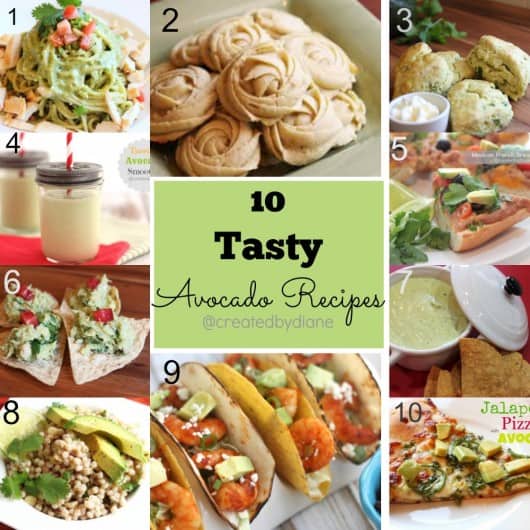 10 TASTY AVOCADO RECIPES << click to get the this post