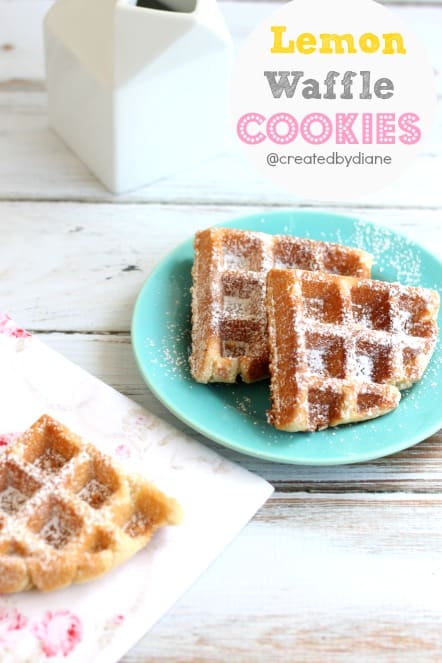 Now there is no reason not to have waffles all day long…
These waffle cookies remind me of fresh made waffles and ice cream at the board boardwalk, I'm not sure why….it must be the sweet smell of them baking or that slightly sweet lemony taste of lemonade I recall getting there too. I have always loved waffles but have always really loved them with ice cream, until making these waffle cookies. I will say the reason all the cookies didn't make it in the photos it I ATE THEM.
I had NO self control, I made three batches….everyone kept eating them as I made them.
I said please save some so I can take photos…I'm sure they get tired of hearing that, but it's not going to change any time soon.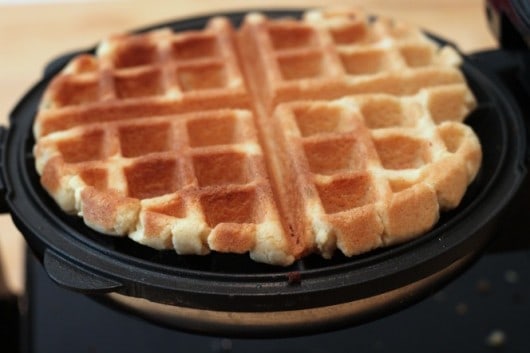 I tried little scoops and placing the dough on each separate area of the waffle iron, that did not work as well as placing one cup of dough and pressing it flat. They cooked better and came off the waffle iron easier.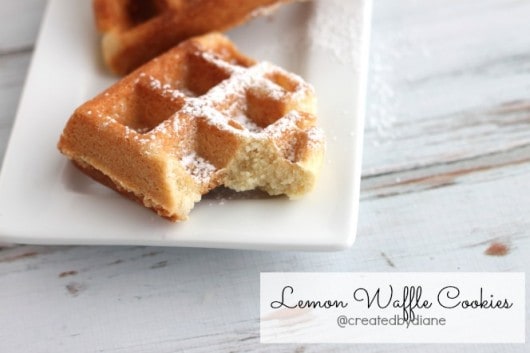 They are lightly crisp outside and chewy inside.
These are firm enough you can pack them up and take them with you in your pocketbook….I know this for sure…they don't crumble, gotta love that about this type of cookie!

Lemon Waffle Cookies
Serves:
12 cookies quarters
Ingredients
½ cup butter melted and cooled
1¼ cup sugar
2 eggs
½ teaspoon lemon extract
½ teaspoon vanilla extract
1¾ cups flour
¼ teaspoon baking powder
Instructions
Heat waffle iron. (I cooked these waffle cookies on the medium heat setting on my waffle iron until they were golden)
In mixer beat sugar and butter until fluffy.
Add in one egg at a time and mix until completely incorporated.
Mix in the lemon and vanilla extracts.
Add in the flour and baking powder and mix until batter is smooth and pulling away from sides of bowl.
Place 1 cup of batter onto heated and oiled waffle iron.
Cook until golden.
Use two wood skewers to remove cookies and allow them to cool.
Top with powdered sugar and serve.
Store left over cookie in an airtight container.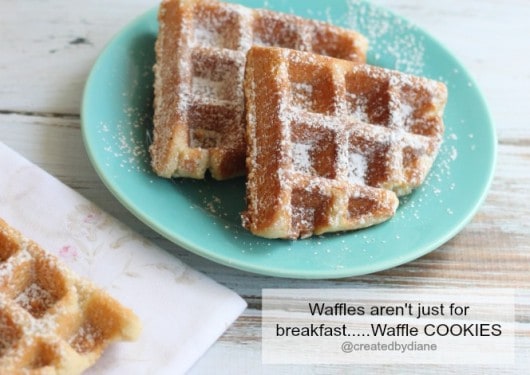 So there you have it waffles are not just for breakfast, not these at least, these are to be enjoyed all day long. Until they are gone and  then you'll need to hurry up and make another batch!