Chicken Kebat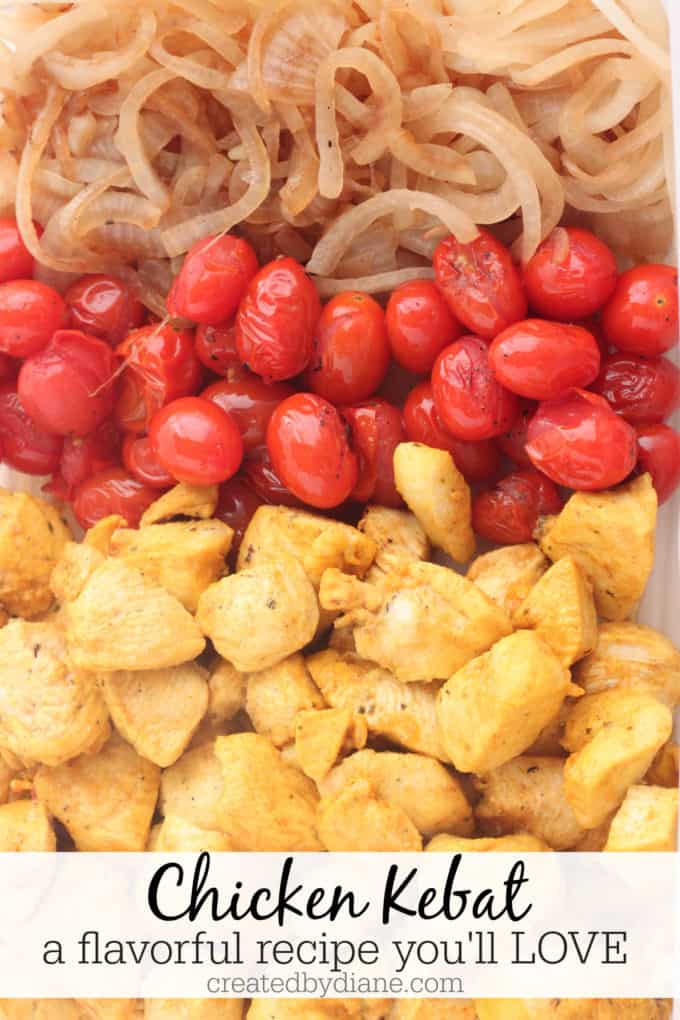 About a year ago my husband and I went to San Francisco for a few days.
We ate at a restaurant and had a delicious chicken dish. It was a Burmese restaurant as soon as I got home I started making this dish.
I've made it at least a dozen times now and well, I don't see me tiring of it anytime soon.I've been trying to replicate ever since.
Chicken Kebat is a combination of chicken with onions, tomatoes, green chilies, and mint.
I'm glad I remembered to take a photo of it this time!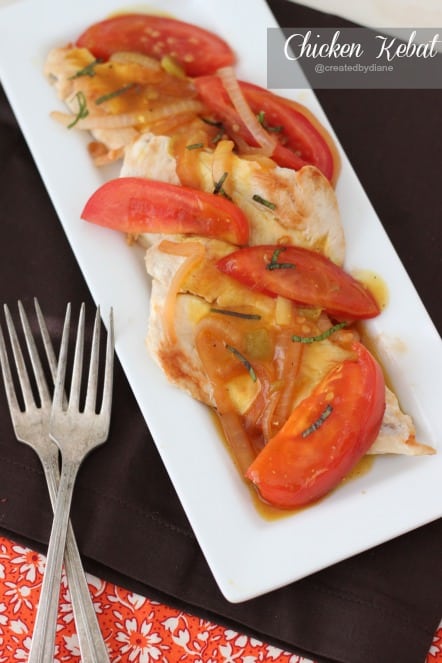 This has become one of my go-to chicken recipes. I like serving it with coconut rice. It goes nicely with this as it's a little spicy.
To tell the truth, I don't think I could tire of coconut rice, I really need to have it MORE often, it's that good.
I just love coconut….. here are a few of my favorites: Grilled Pina Colada Pie, Grilled Pina Colada Pie, Coconut Cut Out Cookies, White Christmas Pie Cookies, and S' more Coconut Cupcakes too.
Here are a few coconut recipes I'm looking forward to trying, Coconut Pancakes, Coconut Rolls, Toasted Coconut Pound Cake, Coconut Chocolate Bars, Coconut Raspberry Lemon Cake, Coconut Limoncello Cupcakes, first on my list to make are these NO Bake Pina Colada Bars and no-bake is even better for hot summer fun recipes.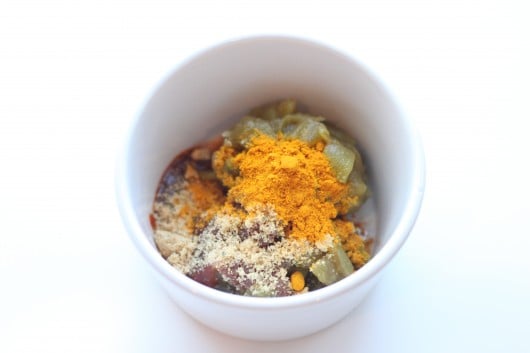 getting all the spices ready first helps to get this dish on the table quickly.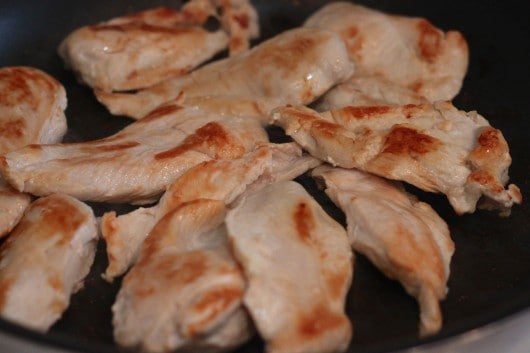 I slice boneless skinless chicken breasts thinner and smaller so they cook quickly.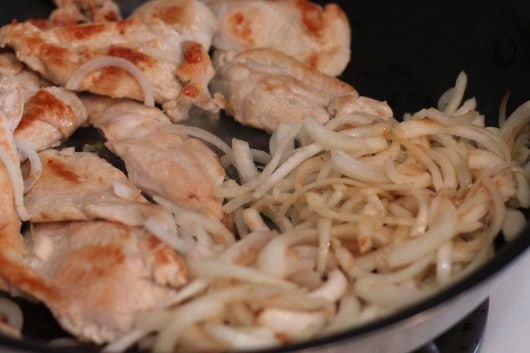 Once the chicken is lightly browned on each side, I add in the onions so they have plenty of time to cook.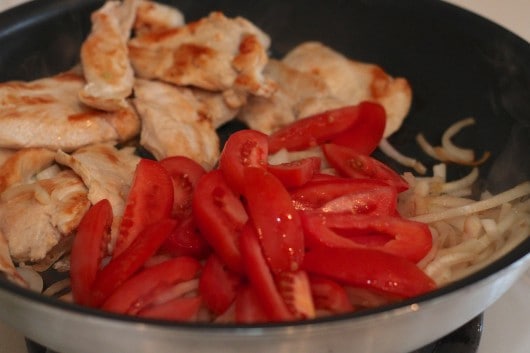 Next, add in the tomatoes.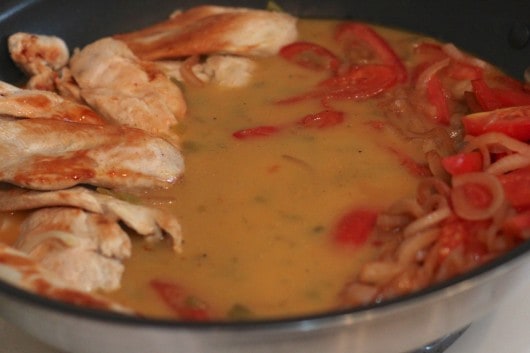 Then pour on the chicken stock and spices and allow the sauce to thicken.
Chicken Kebat
Ingredients
4-5 skinless boneless chicken breasts
1 tablespoon olive oil
1 large onion sliced
1 large tomato (or three Roma/plum tomatoes) cut into wedges
2 tablespoon canned diced green chilies
1 teaspoon Sriracha Hot Chili Sauce
1/8 teaspoon turmeric
1 tablespoon corn starch
1 1/2 cups chicken stock
S&P
8 leaves fresh mint thinly sliced
 
Instructions
In hot skillet, place a tablespoon olive oil, heat chicken on each side until lightly browned on medium heat.
Add sliced onion, cook for a few minutes, until tender.
Add in tomato and cook on medium to medium low heat until softened.
Mix green chilies, sriracha, turmeric, corn starch with chicken stock and whisk it into the center of the pan and cook on medium low until heated through and thickens.
Add mint.
Serve over Coconut Rice. Recipe for Coconut Rice in notes below.
Notes
Coconut Rice: 1 1/2 cups water 1/2 cup coconut milk 1 cup basmati rice Mix water, coconut milk and rice, bring to a boil, cover and cook on low for 15 minutes or until rice is tender and liquid is absorbed.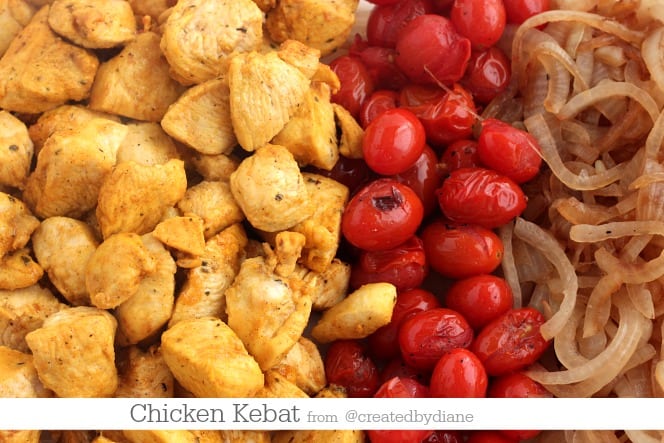 Now this looks so delicious, don't you think?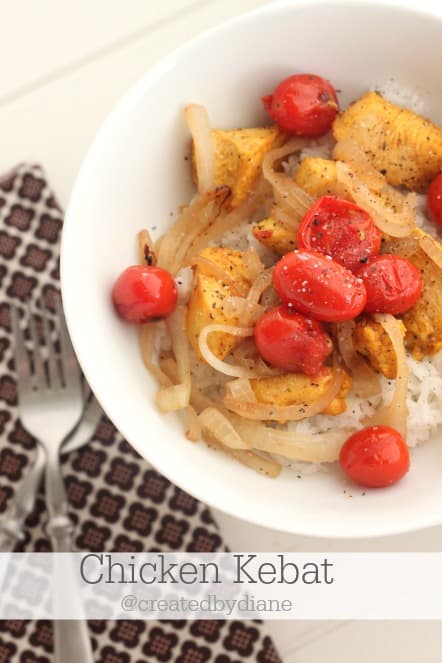 I often serve Chicken Kebat over rice,
but it's so delicious on it's own,
if you are eating low carb you will love it all on it's own!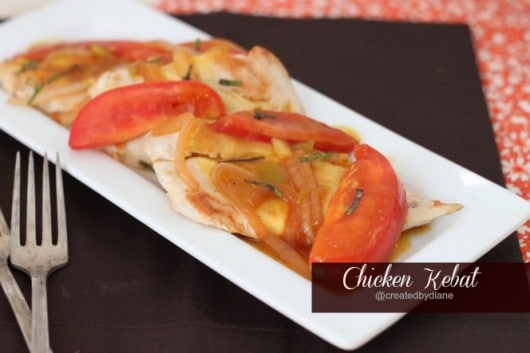 The fresh mint is the best finishing touch on this dish!
This recipe was inspired by Burma Superstar's Chicken Kebat.