Peppermint Mocha Cut Out Cookies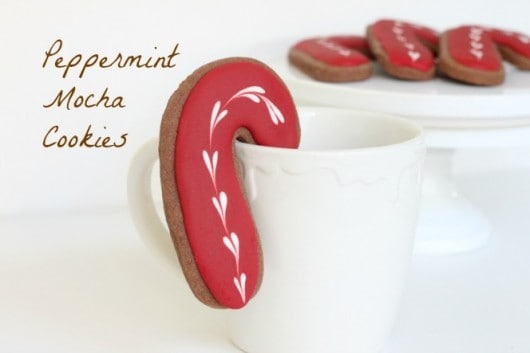 The Holidays just wouldn't be the Holidays with out Candy Canes!
….and well cookies of course.
These Mocha Peppermint Cookies are very festive.
I think if you stuff your pockets full of these, they will help you conquer all your Holiday Craziness.
They will keep your tummy happy and give you a caffeine boost to be able to stay up late and get all the shopping, wrapping, decorating, and the baking completed.
* No real claims to the caffeine boost, I have no idea what type of boost it will give you. They just smell and taste amazing! That I do know.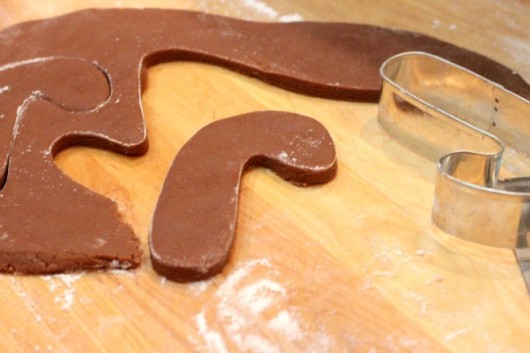 Roll out and cut cookies on floured surface with cookie cutter.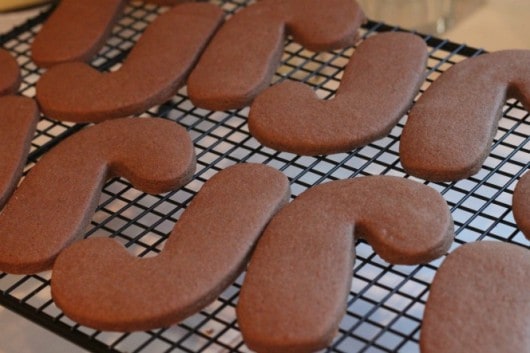 Keep and eye on cookies when baking a couple minutes will burn most cookies, so set your timer ahead of time so you can watch them carefully. Then you'll know how accurate your oven temperature is, and if there are any hot spots in your oven.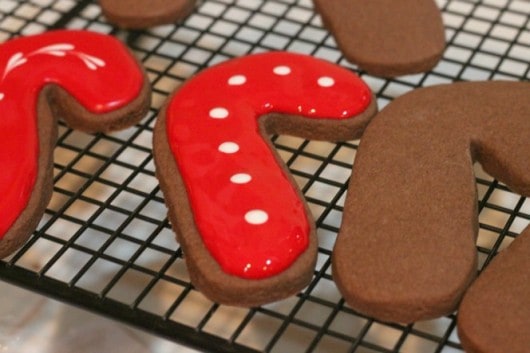 I use royal icing to outline and flood the cookies. When the icing is still wet, place dots in the center of the candy canes,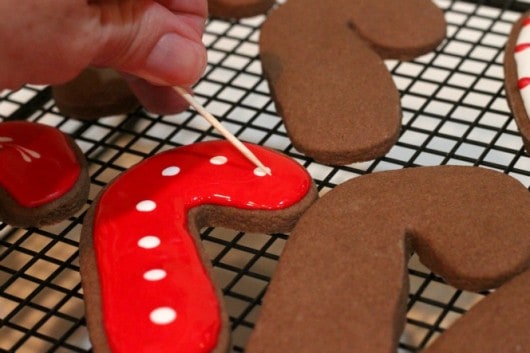 drag a toothpick through the center of each dot in a line following the candy cane shape to create the hearts.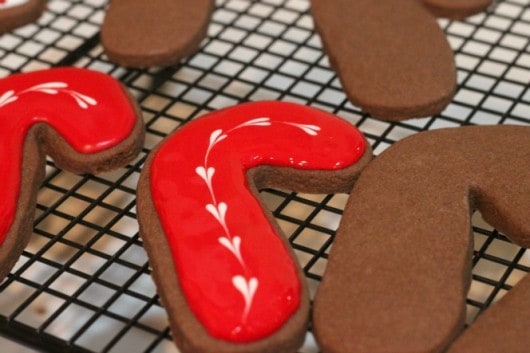 Remember when mixing red icing it dries a lot darker. Keep that in mind if you want a bright red. I added more red to the icing as I wanted it a rich dark red against the chocolate cookies when dried.

Peppermint Mocha Cut Out Cookies
Serves:
18-4 inch cookies
Ingredients
1/2 cup butter
3/4 cup sugar
1 egg
1/2 teaspoon vanilla extract
1/2 teaspoon peppermint extract
1 1/2 cups Gold Medal All Purpose Unbleached Flour
1 1/2 tablespoons instant coffee
2 tablespoons unsweetened cocoa
1 teaspoon baking powder
1/2 teaspoon salt
Instructions
Beat lightly softened butter and sugar together in mixer with paddle attachment until light and creamy.
Add the egg and mix well.
Mix in vanilla and peppermint extracts.
Add in the flour, baking powder, and coffee, cocoa and salt.
Mix until it's all combined on medium until dough pulls away from the sides of the bowl.
Roll out dough on floured surface and cut with cookie cutter.
Place cut out cookie dough on parchment lined baking sheets
Bake cookies at 400 degrees for 8-10 minutes.
Allow cookies to cool on cookie sheet for 2-3 minutes,
Transfer cookies to cooling rack.
When cookies are completely cooled.
Outline and fill cookies with royal icing *recipe in notes
While the icing is still wet place dots in the icing and drag a toothpick through the dots to create the heart design.
Practice on a piece of wax paper until you get the hang of it.
Allow icing to dry on cookies completely before stacking or placing in an airtight container at least 12 hours.
The icing will keep the cookies fresh without them going stale.
Notes
Royal Icing Recipe
This recipe easily doubles and triples depending on how many cookies you need.

General Mills asked bloggers to create a Holiday Recipe using Gold Medal Flour, all opinions are my own, those are priceless.