Raspberry Coconut Scones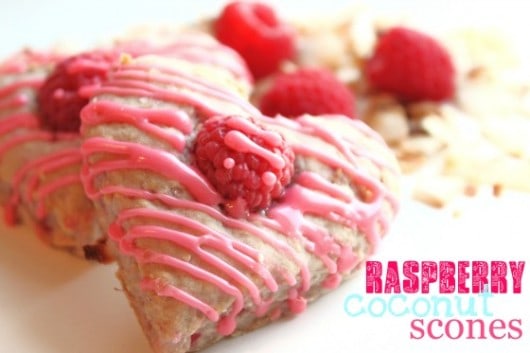 How on earth did we ever survive a day without technology such as cell phones and internet.
I remember back in the olden days we used to just dream and wish a store to carry a particular item. We'd wait and wait to see if it became trendy enough for the stores to sell the items of our dreams. Now we can go to Target, or search online at Amazon and POOF! There it is the item we've been hoping to see. Right there in front of us.
What on earth will they think of next?
I was kind of hoping the grocery delivery would become popular. You know popular enough that I wouldn't have to go anymore. After all how many times in a week is to many times to go to the grocery store. I don't see those delivery trucks driving by anymore delivering my neighbors groceries. I always just dreamed about it. I guess I never thought it was important enough to pay the extra fee and I still had no idea how they would pick out my produce, what if I wanted yellow bananas and they brought me green bananas, what would happen? Yes it's those silly thoughts that sometimes occupy senseless minutes out of the day.
I'm sure in the near future it will be just like the Jetsons and all we'll have to do is tell Rosie what we want and she'll have it in the fridge in a jiffy.
Until then I'm kind of glad to have a cell phone with me to call home and see if there was anything else on the list maybe someone added since the last time I looked, which was 30 minutes prior.
If sure would beat having to go to the grocery store three times in one day because either there were some items left off the list, or they never went on there to begin with. I would really like to stop the impulse buying. Really I'm sure I don't need all those bags of potato chips. I'm sure that is the reason I'm so dehydrated when I run. Really I wish there were water fountains along the street so I could not feel like I was going to keel over every few feet in this heat!
ok back to shopping and scones….
Well I did have everything to make scones, but I'm not going to tell you how many items I needed to go back for to make dinner!
I started using Cozi, it's a great little app on my phone so hopefully it will help me keep track of all the items I need as my phone isn't usually too far from my reach as the shopping lists often are. I can access it from my computer too. I use it for to do list too. That is until I get a Rosie of my own and no long have to do it myself.
Raspberry Coconut Scones
Ingredients
2 cups flour
1/4 cup sugar
3 teaspoons baking powder
1 teaspoon salt
1/2 cup butter (cold)
2 cups fresh raspberries
1/2 cup heavy cream
1 teaspoon vanilla extract
1/2 teaspoon raspberry extract
1/2 cup lightly toasted coconut flakes
2 eggs
Raspberry Icing: Mix all ingredients until smooth.
1 cup powdered sugar
2-3 tablespoons water
1 tablespoon corn syrup
1 drop pink coloring
1/2 teaspoon raspberry extract
Instructions
Mix together flour, sugar baking powder, and salt.
Cut in butter until mixture resembles coarse crumbs.
Add raspberries (reserving 1/2 raspberries for tops), heavy cream, extract, coconut, and 2 slightly beaten eggs.
Mix until blended.
Knead on a floured surface and cut into desired shapes.
It's sticky so add more flour as needed, so it's easy to work with.
Place raspberries 1/2 on tops of each scone.
Bake at 375 degrees for 15 to 20minutes.
Pipe raspberry icing when scones are cooled.
more raspberry treats:
Shortbread cookies with raspberry jam
Raspberry Meringue Cookies