Lemon Ricotta Cupcakes with Raspberry frosting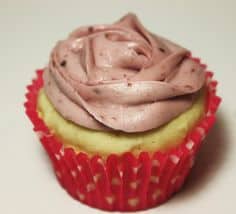 1 1/2 cups sugar (granulated sugar) place in food processor and make super fine
2 1/2 cups ricotta cheese
2 sticks melted butter (cooled)
juice and zest from about 2 med lemons (4T juice, 2T zest)
Preheat oven 350 set rack in middle of oven
Sift together flour baking powder. Cream eggs and sugar for 2 minutes until pale. Add in melted butter, lemon juice, zest, ricotta, and extracts until well mixed on medium. Stop and scrape down the sides then mix on medium for 30 more seconds.
Fill cupcakes 3/4 full and bake 20-25 minutes until tops bounce back when pressed slightly and tester comes out clean. Cool in pans 5 min. Then remove to cooling rack. Makes 24 cupcakes.
Raspberry buttercream frosting
2 tablespoons milk (if necessary)
½ cup raspberry pie filling (puree so it's smooth before adding)
(if you want to generously frost the cupcakes you may want to double this)
These are so delicious, I am so glad I made them, it was a while ago and I hadn't typed up the recipe and then had someone ask me for the recipe that ate them. Now that it was all typed up, it was ready to share. These are by far one of the most delicious items I've made to date. My family and friends agreed. This is a MUST KEEP recipe and they would all like to have them again and again.