S'mores are so fun! Just wait until you get a load of how FUN this Grilled S' more Brownie is. This is great for RV camping, a Cook-Out, a hot summer night when you want a sweet treat, minimal ingredients make for a super delicious dessert.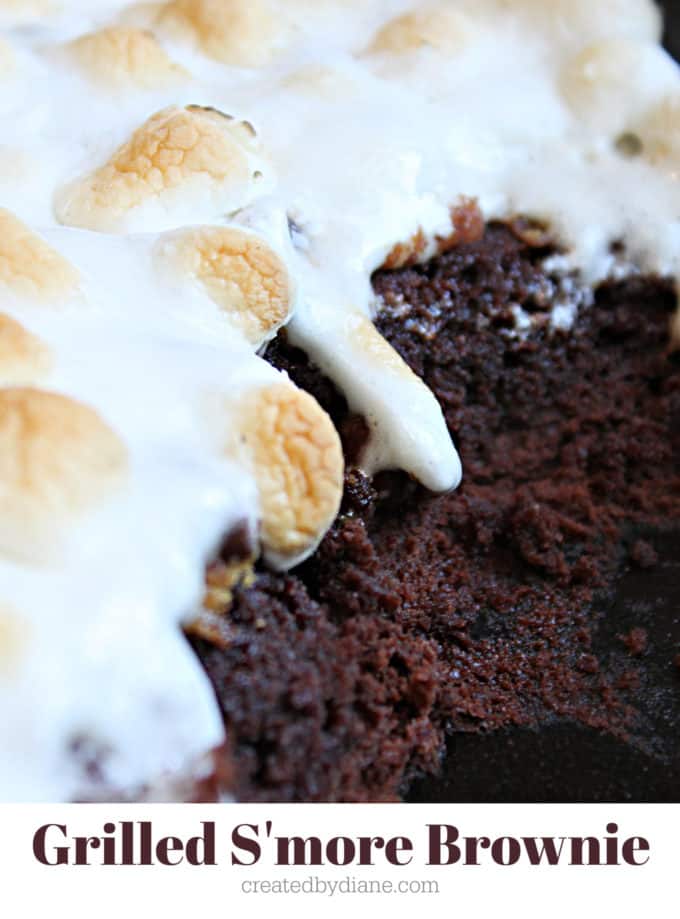 A dessert you don't have to turn your oven on for, but you can easily cook it in the oven as well.
You choose, grill or oven!
Perfect for backyard BBQs. You don't have to leave the party and everyone will enjoy a hot off the grill dessert!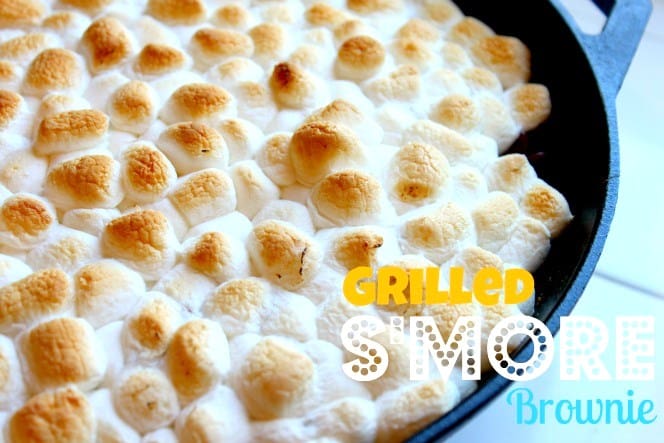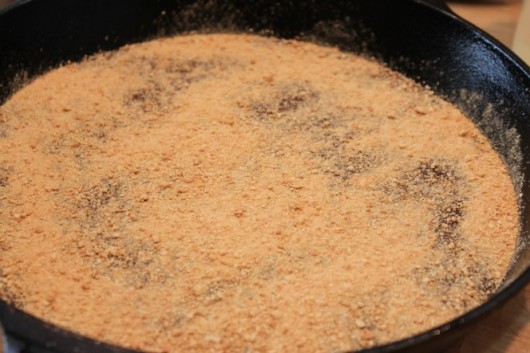 Place brownie mix into a greased skillet and top with graham cracker crumbs.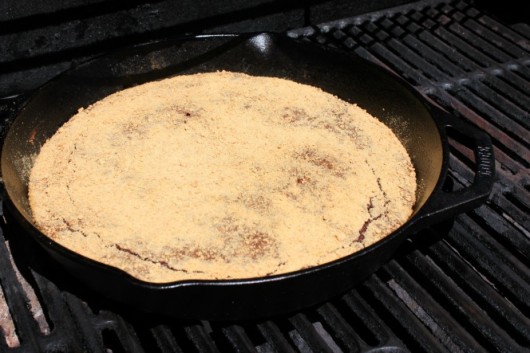 Bake it on the grill!
No heating up the house with the oven with this one, if it's too hot and you'd rather spend your time outside.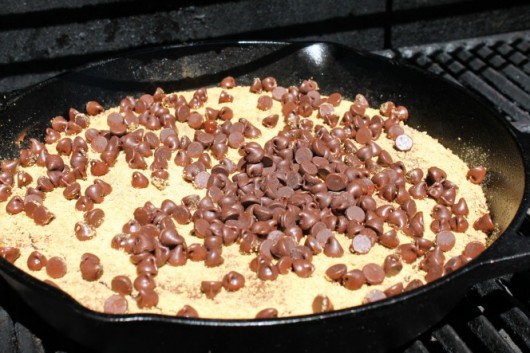 This has all the great flavors of a S' more, chocolate, graham cracker, marshmallow, hot and gooey, and irresistible.
Place chocolate chips on top of graham cracker crumbs after it's mostly baked.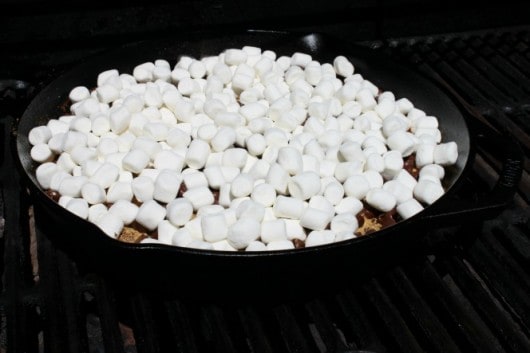 Then top it off with marshmallows. Leave enough room for them to swell.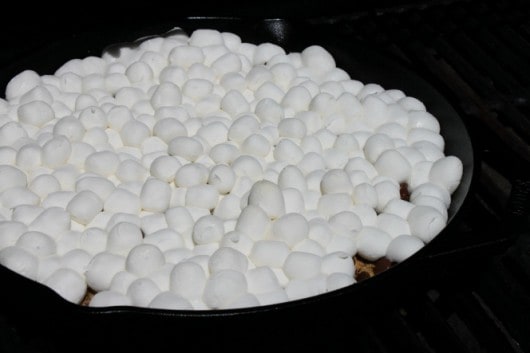 Marshmallows get nice and puffy when they are heated.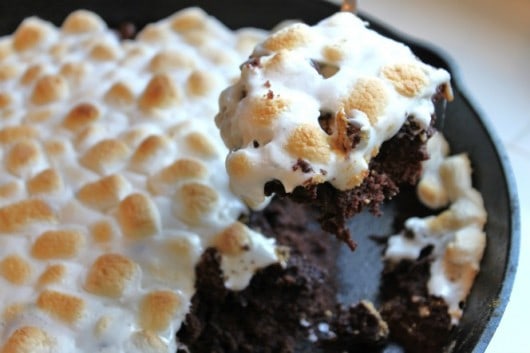 Remove from grill when marshmallows are toasted.
*If your marshmallows aren't getting golden brown, place skillet under the broiler for a minute to two. They don't take long at all to toast under a broiler, and two minutes under the broiler will most likely not heat up the whole house 🙂 or you can use a kitchen torch to toast the tops of the marshmallows.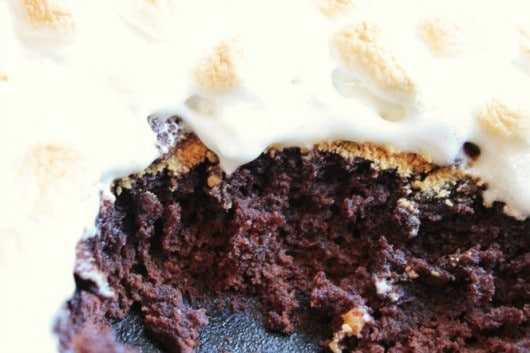 Scoop out and serve warm.

This dessert is great on it's own, or serve it up with a scoop of ice cream.
This is a dessert you'll make again and again!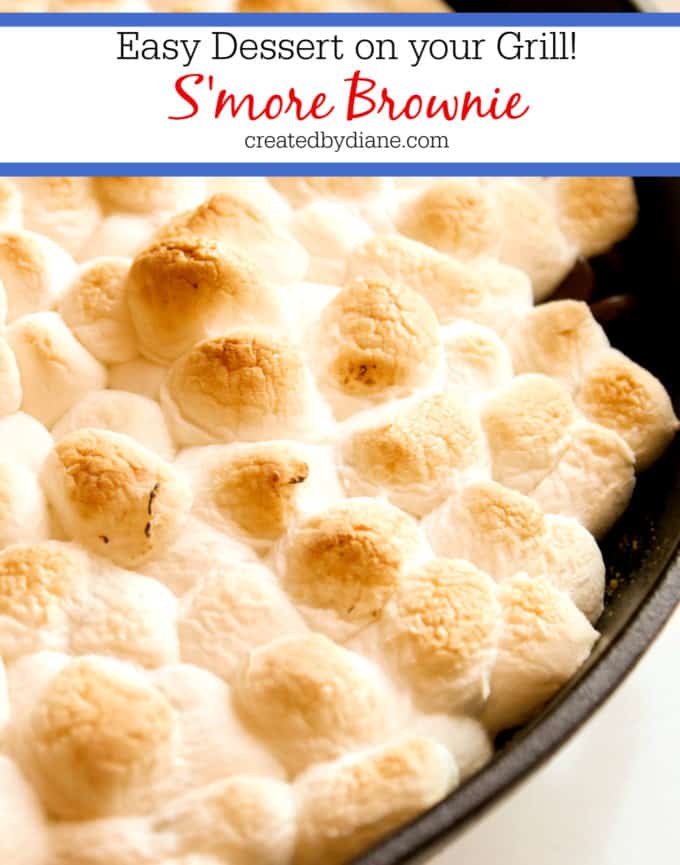 Ingredients
Brownie Mix ( I used Pillsbury) along with ingredients to prepare according to package
1/2 cup graham cracker crumbs
3/4 cup chocolate chip
1 1/2 cups mini marshmallows
Instructions
Heat Grill to 325 degrees.
Oil 12" Cast iron skillet.
Prepare brownie mix according to package directions.
Pour mix into cast iron skillet.
Place graham cracker crumbs on top of brownie mix.
Place skillet on the grill and cook for 25-35 minutes at 300-325 degrees.
Test with toothpick, don't overcook but make sure it's at more than 1/2 way cooked.
Place chocolate chips on top, spread with an offset spatula to coat brownie evenly.
Place mini marshmallows on top, be sure not to overcrowd them, they will swell and puff up when heated.
Place skillet back on the grill for until marshmallows are lightly brown about 3-5 minutes.
The skillet will stay hot so the brownie will continue to cook. Place knife along the edge to test brownie without disturbing marshmallows.
This is best served, very warm.
Don't try to cut it into pieces, the marshmallows will pull off the top.
Scoop out with a large serving spoon, scoop out the serving and remove from serving spoon with another spoon or knife.
*note- be sure temperature of the grill isn't too hot, like an oven it will burn an become dry. Try an oven thermometer if your grill doesn't have a thermometer.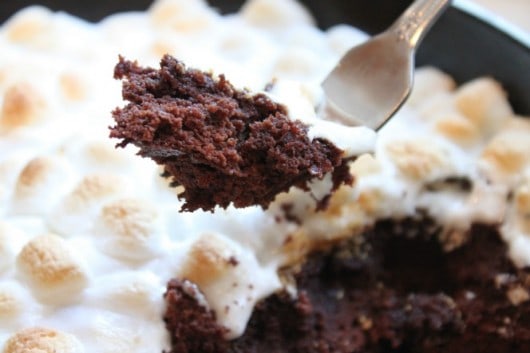 I could see this winning over all your summer nights!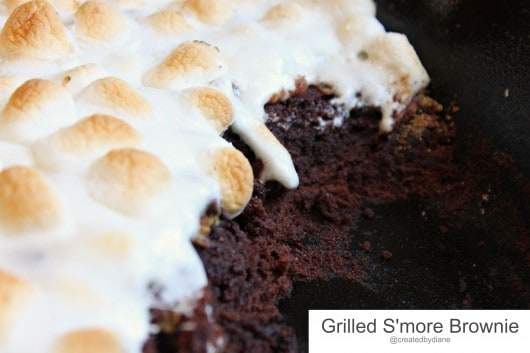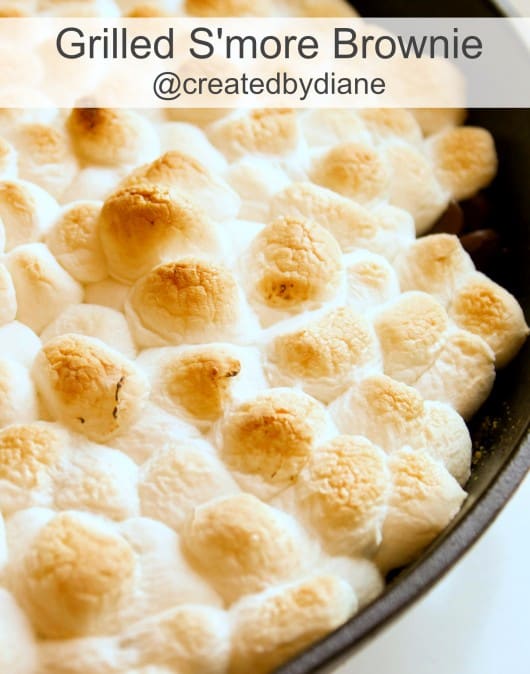 If you like S'mores you may like: