The winning combination of chocolate and coffee come together for a deliciously frosted cupcake recipe you'll enjoy again and again.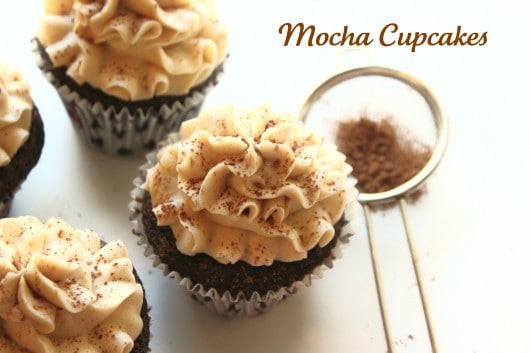 Nothing like a nice Mocha to get you going…
This may not be your ordinary Mocha, it won't spill, it's not too hot but it's just as delicious, maybe better that would have to do with the Coffee Frosting.
Coffee ice cream was a favorite of mine as a kid and I have to say one lick of this Coffee Frosting and oh the memories came flooding back.
You see we typically had ice cream in the freezer at my house when I was growing up. Everyone wanted to babysit at our house. Yes, they actually told us so. They liked that we had ice cream. (and my brother and I were easy to babysit, so I'm told) So if you want your babysitters to keep coming back apparently the trick is to stock the freezer with ice cream, or give these cupcakes a try…
If you're stocking the freezer with ice cream… I would recommend two containers of ice cream at least! One coffee, or coffee ripple or whatever they called it with the fudge swirl, and well the second container is up to you. Me, I like mint chip, peanut butter, chocolate…yea, I pretty much like them all.
That is my tip for the day.
How to keep a good babysitter…ice cream is the answer, and by the way, it's the answer to making your kids happy too, I use it all the time. Kids were mean, let's go inside and get some ice cream! Had to get a shot at the doctor, which calls for a milkshake. You see I don't always reward things with ice cream, there are moments cookies and cupcakes are required 🙂
Then again if there is no room in your freezer, make these! I'm sure the babysitter, your kids, neighbors, and friends will all come over to enjoy them.
These Mocha Cupcakes with Coffee Frosting really start with these two wonderful ingredients. I kept this really simple so no excuses. You can whip up a batch really quick and if there are any extras, just call me over I'll help you finish them.
From scratch chocolate cupcakes, replace the hot water with strong brewed coffee in this recipe here
Mocha Cupcakes with Coffee Frosting
1 box Chocolate Cake Mix
use double strength brewed coffee instead of water that is called for on the package directions.
Add the other ingredients as required on the package
To brew double-strength coffee, place two times the amount of coffee recommended. In this case, I used 4 tablespoons of coffee with 12 oz water to be sure I made enough. Then I let the coffee cool, before adding it to the rest of the ingredients.
Place cake mix, eggs, oil, cooled coffee, and cream into a bowl and mix on medium for 30 seconds or until all ingredients are combined. Place 3 tablespoons batter into each cupcake liner. Bake according to package directions.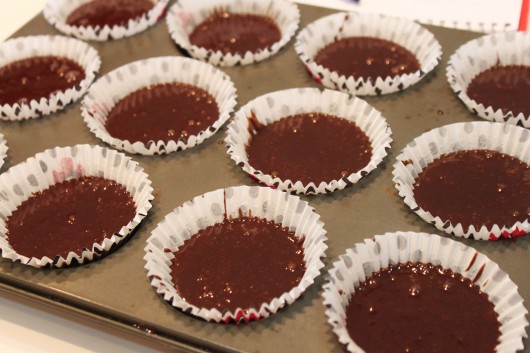 I used white liners with brown polka dots, oh how I love all the cute cupcakes liners you can find everywhere.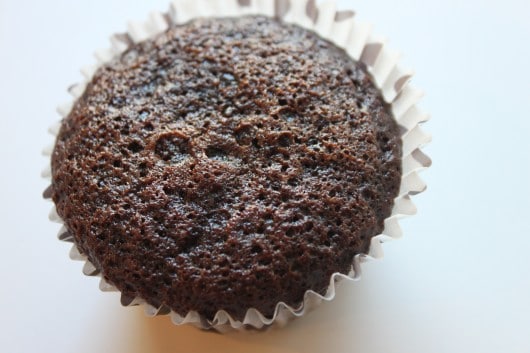 I love how these cupcakes have a brownie-like top when baked.
Coffee Frosting –enough to spread on cupcakes with a spatula (double this recipe to swirl on cupcakes)
1/2 cup butter
2 cups powdered sugar
2 tablespoons coffee
2 tablespoons heavy cream
1 teaspoon vanilla extract
Beat butter with powdered sugar, add in coffee, and cream, and vanilla.
Spread on cooled cupcakes.
Add more powdered sugar for thicker frosting if needed, add a tablespoon at a time.
Dust cupcakes with powdered cocoa to garnish.
*Alternatively, you can use 1 teaspoon instant coffee mixed with 1 teaspoon hot water to allow the coffee to "melt" so it mixes in smoothly.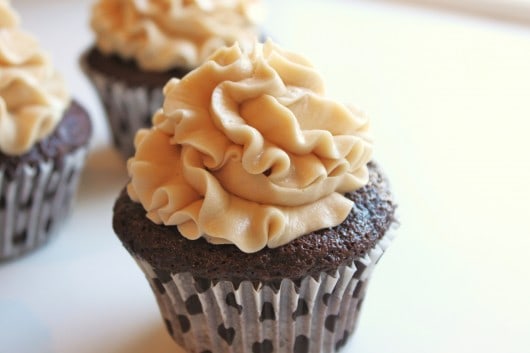 Here is my quick video on how to frost these cupcakes