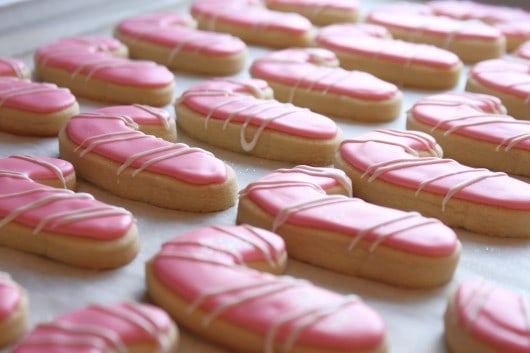 Peppermint Candy Cane Cookies with Peppermint Icing
Candy canes are so popular at Christmas times so no better time for me to try a new cookie and icing flavor than now. Even the sound of pink peppermint brings on a smile. I made these cookies for the Food Blogger Cookie Swap. Lindsay and Julie came up with a really fun idea this year. Connecting food bloggers with cookies. Everyone who signed up bakes three dozen cookies. You are to make a new recipe or a recipe you haven't published yet. Then send one dozen cookies to three recipients that they paired you with. You will, in turn, receive one dozen cookies from three other bloggers. What a great way to get to know six new bloggers as well as all the others who signed up to join in the fun. There were 625 participants. They are already talking about next years swap!
I sent cookies to Melissa, Kelly, and Julie. It was fun getting to know Melissa and Kelly through their blogs, before sending them cookies. I know Julie, she not only is one of the people who started this cookie swap. We're met in real life and I think of her as my friend. It was fun to send her cookies, you see I don't often send out cookies to people I know across the US. I am always afraid they will break or get lost in the mail or won't taste any good when they arrive. Julie assured me they arrived safely.
I received White Chocolate Cranberry Oatmeal Cookies from Bianca, White Chocolate Peppermint cookies from Melissa and Raisin and Chocolate Rugelach from Lenore. I will add the links to their cookies when they post them.
Peppermint Candy Cane Cookies with Peppermint Icing (printable)
1 cup butter
1 ½ cup confectioner's sugar
1 egg
1 teaspoon peppermint extract
1 teaspoon vanilla
2 ¾-3 cups all-purpose flour
2 teaspoon baking powder
1 teaspoon salt
Cream together butter and confectioner's sugar. Add to this the egg and flavorings. Sift together flour, baking powder, and salt, adding this mixture one cupful at a time to the wet ingredients. Mix until the dough forms a ball on the paddle. Roll out on a floured surface and cut into desired shapes.
Bake at 400° for 7-8 minutes.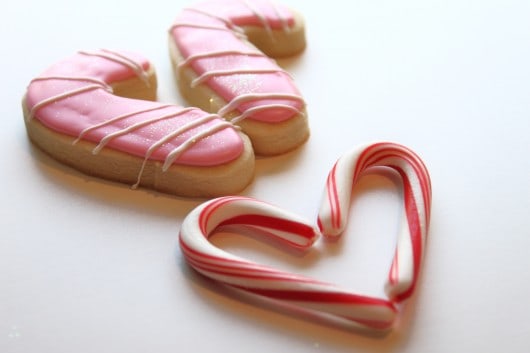 Peppermint Icing
1 cup powdered sugar
1 Tablespoon corn syrup
2-3 Tablespoons water
½ teaspoon peppermint extract
3 drops soft pink color
Mix sugar with corn syrup and water along with extract and food coloring until icing is smooth. Pipe onto cookies using a #3 tip.
I put some edible glitter on the cookies to make them shine!
Let icing dry before packaging at least 12 hours.