I love salsa!
Just about as much as I like chips,
and if you know me….
you know I can't pass up chips!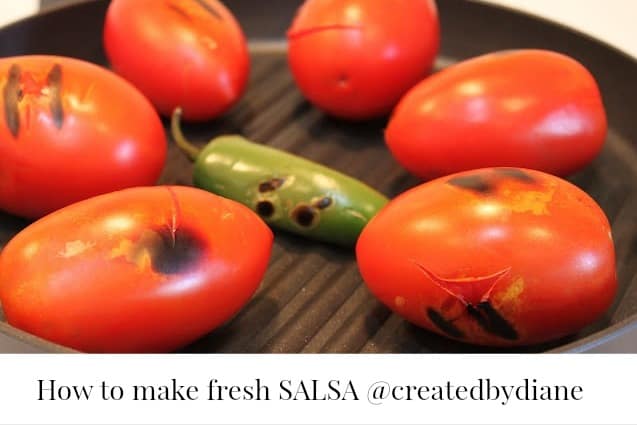 Making fresh tomato salsa isn't hard.
 I roast the tomatoes and a jalapeño pepper on a grill pan or outdoor grill
I dice the jalapeño,
cut up the tomatoes,
  add 1/2 white onion diced,
a bunch of fresh cilantro chopped
lime, juiced
and a dash of salt
I typically use 6 tomatoes to one jalapeño pepper for a mild to medium salsa.
Makes Taco Tuesday even better!
I love the small tacos,
simple and delicious.
Grilled chicken, white onion, cilantro.
Blue corn chips (YUM!)
Simple white rice with black beans.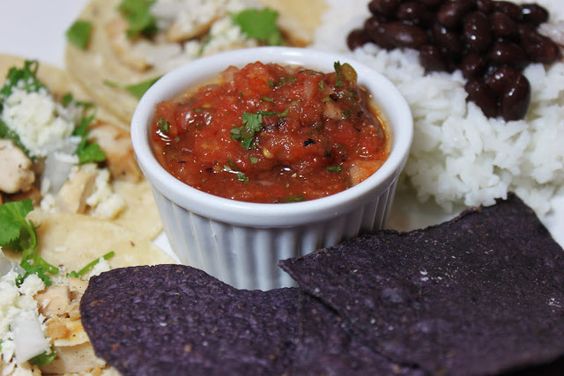 How to make fresh salsa
fresh easy table salsa in minutes.
Author:
Diane Schmidt Created by Diane
Ingredients
1 jalapeno
6 roma toamtoes
1/4 onion diced
a bunch of fresh cilantro chopped (1/2 cup)
lime, juiced
1/4 teaspoon salt
Instructions
On a hot skillet or grill pan, roast the tomatoes and jalapeno.
You'll want these blisterd and black, it'll add flavor to the salsa.
in a food processor puree all the ingredients until semi-smooth.
refrigerate for an hour.