Pasta with Chicken in Lemon Wine Sauce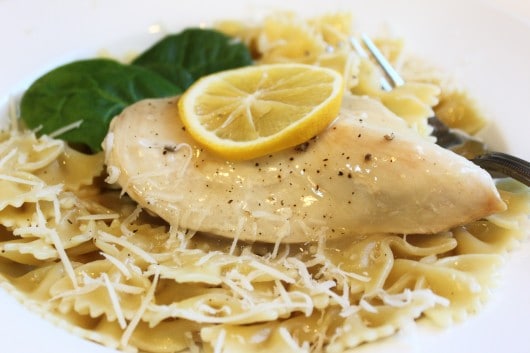 It's beginning to look a lot like summer, the temperatures are climbing. The flowers are still in full bloom and the lemons are in an abundance from my moms tree. I love lemons and think I enjoy it on most food items. Lemon cookies, Lemon Scones, I will share with you soon a lemon coconut bread I just made, I'm still hoping to add a video to the post. In the meantime, here is a go to meal for me. Pasta with Chicken in Lemon Wine Sauce.
It took my kids some time to get used to all the lemony recipes, but now they are on board and love them. They even like spicier foods now, hurray!
While the pasta is cooking I pan cook chicken breasts on medium heat, once they are half way done cooking I add the lemon wine sauce to the pan to finish cooking them.
Lemon Wine Sauce
1/2 cup chicken stock (mixed with 2 tablespoons corn starch)
1/2 cup white wine
juice of two lemons about 1/2 cup
pinch of salt
black pepper
sometimes I add a tablespoon of butter to make the sauce a little bit richer, but not always.
Pour sauce over chicken,cover on med to low heat until chicken is fully cooked.
Serve over hot pasta and top with grated cheese.