Pumpkin Pecan Friendship Bread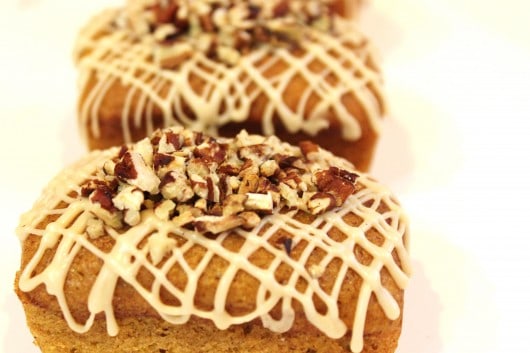 Mini Pumpkin Pecan Bread
It may not be Fall, (or it might be depending on when you're seeing this post)
but pumpkin is always a favorite around here…
This is just one more variety of Friendship Bread I've made.
I've posted about the Cinnamon and Chocolate Coconut friendship breads and just couldn't hold off until Fall to post this!
I combined all the varieties on this printable Friendship Bread page.
For this version:
I replaced the oil with 1 cup pumpkin puree and added ½ cup chopped pecans.
Sprinkle a mixture of cinnamon sugar in the greased pans and on top of batter.
Icing for Pumpkin Bread: ½ cup powdered sugar, ¼ tsp pumpkin pie spice mixed with 3 teaspoons water, add more water for smooth consistency if desired and a few toasted pecans on top.
I baked these mini loafs at 325 degrees and began checking them at 25 minutes. I didn't want these little guys getting dry!