Amish Friendship Bread Starter will start you well on your way to baking some of the most delicious bread and giving the gift to others to bake is great around the holidays!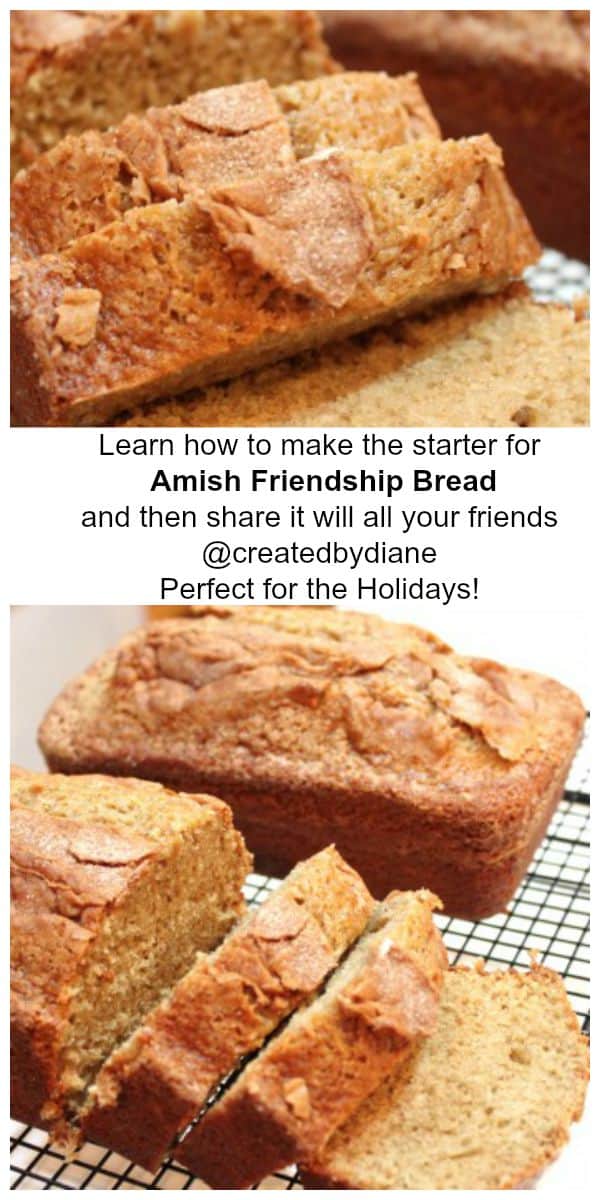 Have you heard of Friendship Bread, or Amish Friendship Bread?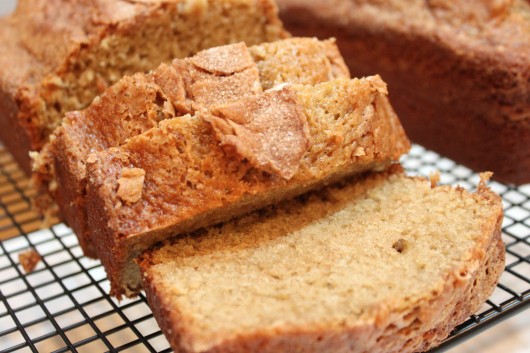 I had heard about it a few years ago, but didn't really know what it was.
Recently a friend of mine gave me a gallon sized bag with a mixture in it.
It was the magic ingredients to make Amish Friendship Bread.
Every time I think of this bread it really does warm my heart, to have such great friends.
Since I can't stop by all you homes and give you a bag to start, I will tell you how you can do it. Even without a friend giving you a the starter bag.
Start with
1package active dry yeast
1/4 cup warm water
1 cup flour
1 cup sugar
1 cup milk
Mix yeast and warm water and let sit ten minutes. Then add it to a gallon size bag with the flour, sugar, and milk. Mix thoroughly. That is you starter. The instructions are as follows. (this is a sourdough sweet bread starter) This is the only time you will need to use active dry yeast, unless you give all your starters away.
Day 1 is the day you make your starter or the day you split you starter and begin again.
Day 2 squish and mix the bag
Day 3 squish and mix the bag
Day 4 squish and mix the bag
Day 5 squish and mix the bag
Day 6 Add to the bag 1 cup flour, 1 cup milk, 1 cup sugar, seal. Mix and squish the bag.
Day 7 squish and mix the bag
Day 8 squish and mix the bag
Day 9 squish and mix the bag
Day 10 BAKING DAY. Mix and divide the starter and prepare to bake.
*note:  open the bags periodically to release the build-up of air.Pour the bags contents into a large bowl.
NOTE*** leave the starter at room temperature to grow.
Add 1 ½ cups flour, 1 ½ cups milk, 1 ½ cups  sugar. Measure out 4 separate batches of the starter. each in a Gallon ziploc bag.  Each receiving one cup. One bag is for you to keep so that you may begin again. Give the other three to friends with a copy of these instructions.
The remaining mix in the bowl is what you will be baking with add to it
3 eggs
½ cup oil
1 cup sugar
1 tsp vanilla
1 ½ tsp baking powder
½ tsp salt
2 cups flour
Grease two loaf pans. * Divide batter evenly between the two pans. Bake at 325 degrees for one hour. After baking allow bread to cool in pans 10 minutes, then turn onto cooling rack. It's so hard to wait until it's cooled. That delicious cinnamon sugar smell has been filling the kitchen for an hour, so go ahead and have it warm!
By keeping a starter for yourself, you will be baking every 10 days. You can wrap and freeze the loaves. The starter is also freezable, I prefer to freeze it on day 10 as then when thawed, iit's ready to be added to, then split and baked.
You can give the starter with a loaf of bread if you can bare to part with one.
*For the Cinnamon Sugar Bread add:
2 teaspoons cinnamon to batter. Mix 3 tablespoons cinnamon with 3 tablespoons sugar and spread into greased loaf pans, After putting batter in pans, dust top with cinnamon sugar.
I changed the recipe from what was given to me seeing as it called for instant vanilla pudding mix and I figured if this was really from the Amish, they would not be using such an item. I baked it both ways and really did prefer it without it. Besides who want to prepare something for 10 days from scratch and add packaged ingredient that doesn't need to be there.
I made other flavor combinations of this recipe and will be sharing them with you as well. I left the recipe above for a basic sweet bread.
Printable Amish Friendship Bread Instructions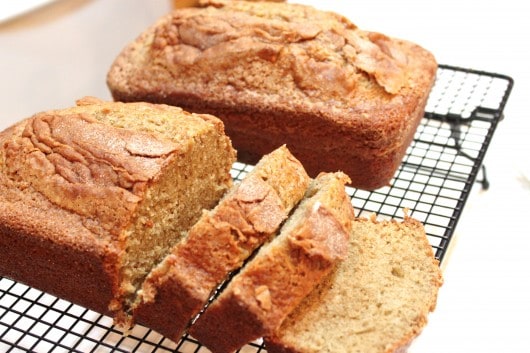 I did want to mention, I did freeze some starter bags on day 10 instead of baking them, to see  how it would bake up, and the results were great. I wouldn't freeze it on an earlier day, the yeast will not have grown enough and I tried it and it didn't rise as nicely. Should I even let you in on how many bags I have in my freezer now…hmmm why don't you guess. I figured anytime I want some delicious sweet bread, I'll just take a bag out of the freezer. Thaw it and have some in no time at all.
I baked a batch from the frozen bag of starter with very good luck. The starters I created from that, I froze a couple and baked one. I am looking forward to seeing how it will be after the starter is frozen again. Looks like it time to get more out and bake.