Eggnog Cupcakes with eggnog frosting, this shortcut recipe will have everyone thinking you slaved over dessert for hours, but it's really simple.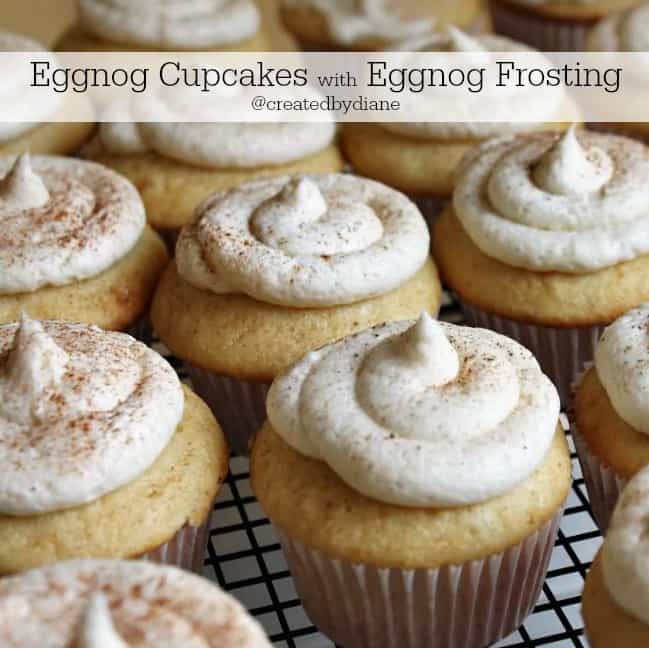 How can this simple looking cupcake be "to die for" you ask, let me just say that they were devoured!
Devoured by people who would rather be caught dead than to take a drink of Eggnog.
Yes, they don't even like Eggnog and they LOVED these Eggnog Cupcakes.
I happen to like Eggnog, I remember making it as a kid (no rum in those days). Mixing it up with the old beater my mom had, the kind you turned and turned to beat eggs.
These cupcakes were quick and easy.
The addition of Eggnog in these cupcakes is fantastic!
If you like Eggnog, you are sure to like these, If you don't like Eggnog these may surprise you.
I couldn't believe how quickly these disappeared.
The easy and simple recipe is sure to be a crowd-pleaser for this holiday season and for years to come!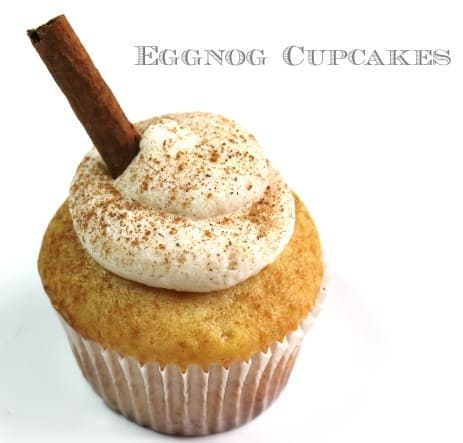 Eggnog Cupcakes
delicious eggnog flavor cupcakes are sure to be a hit this holiday and for years to come
Author:
Diane Schmidt, Created by Diane
Ingredients
16.25 box white cake mix (betty crocker or similar)
replaced the 1 1/3 cups water with 1 1/3 cups purchased low-fat Eggnog (you can make homemade eggnog using this recipe)
1 teaspoon cinnamon
1 teaspoon nutmeg
2 Tablespoons Rum (used Bacardi Gold)
I used three whole eggs (not just the egg whites as the instructions said)
then follow the rest of the directions on the box.
Instructions
Mix according to package directions.
Bake at 350° or 325 for dark pans for 16-18 be sure to check your cupcakes early, they can easily be over-baked and then they taste dry.
Eggnog Frosting
Creamy and delicious eggnog frosting recipe perfect for vanilla, chocolate, or eggnog cupcakes
Author:
Diane Schmidt, Created by Diane
Ingredients
1/2 cup butter
1/2 cup shortening
4 cups powdered sugar
3 Tablespoons low-fat Eggnog
1 Tablespoon Rum (used Bacardi Gold)
1/2 teaspoon cinnamon
1/2 teaspoon nutmeg
Instructions
Beat butter and shortening until smooth
then add powdered sugar, eggnog, rum, cinnamon, and nutmeg.
Place the frosting in a piping bag with an 804 tip. (or similar) frosting cupcake and add a dash of cinnamon and nutmeg to the top of each cupcake.
NOTE*** I recently made these without the shortening and left the 4 cups of powdered sugar with great results the frosting was thicker and tasted great.
The cupcakes were very moist and not "box" tasting at all 🙂