Eggnog Scones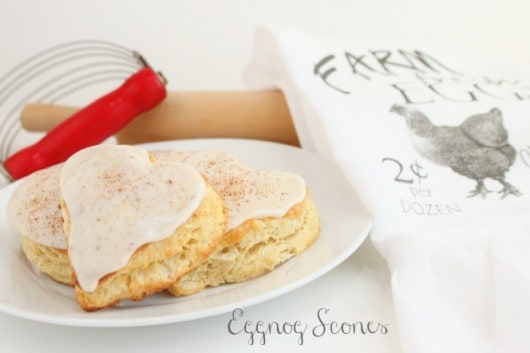 The Holidays are upon us now. No better way to get ready, than some warm and delicious scones with a flavor made for holidays.
Eggnog!
Oh these will be made again and again this season, I can tell already.
Especially since the first batch went so fast as did the second!

Eggnog Scones
Ingredients
2 cups flour
1/4 cup sugar
3 tsp baking powder
1 tsp salt
1/2 cup butter
1/2 cup eggnog
1 tesapoon vanilla extract
1/4 teaspoon eggnog extract
1/8 teaspoon nutmeg
1/8 tesaspoon cinnamon
2 eggs
Instructions
Mix together flour, sugar, baking powder and salt. Cut in butter until mixture resembles coarse crumbs. Add eggnog, extracts, nutmeg and cinnamon along with the eggs. Mix until blended. Knead on a floured surface then cut into desired shape. Bake at 400 degrees for 15 minutes until golden brown.
Notes
Eggnog Icing Mix 1 cup powdered sugar with a tablespoon water and a tablespoon corn syrup along with two drops eggnog extract and a pinch of nutmeg and cinnamon.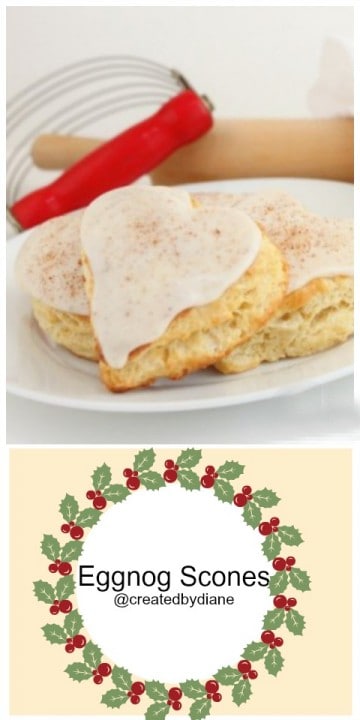 Don't forget about these easy and delicious Eggnog Cupcakes too!