Pretty Pink and white snowflakes! A delicious sugar cookie with icing as pretty as a real snowflake.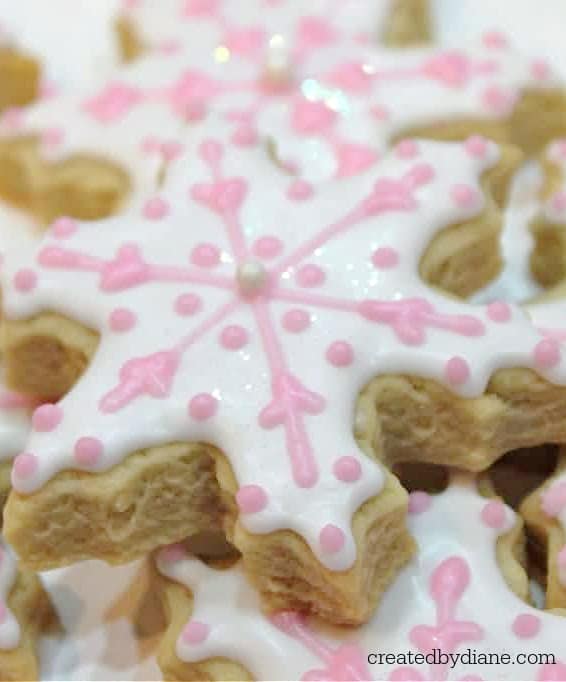 These were falling into the hands of some very sweet friend of mine today, who I hope have a wonderful Christmas!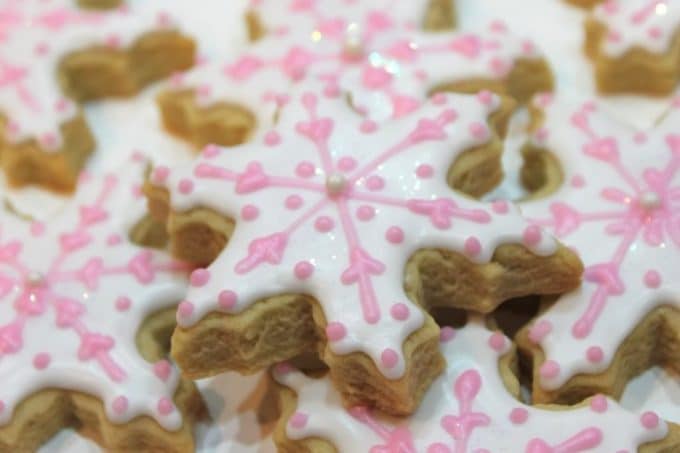 My kitchen looked like a pretty snow storm!
These snowflakes even received a touch of edible glitter,
which you can just about see,
it doesn't show up well in photographs but is very sparkly and fun!
A white large nonpareil in the center topped them off.
I was surprised that the large nonpareils were not hard to bite into,
I always think the larger round sprinkle decorations would chip a tooth 🙂 but not these.
I first outlined the cookies with white icing, then filled them each in so they were all white.
Next, I piped on the pink icing, and then added edible glitter and a white nonpareil to the centers.
Printable Cookie and Icing Recipe
There are so many options on these cookies, if you want them to be a peppermint flavor, add a teaspoon to the cookie dough and a teaspoon to the icing recipe, and WHAMO you have a peppermint cookie.
I prefer to make them vanilla myself.
I have lots of Christmas Cookies… and many are in the snowflake shape.
Reindeer Snowflake
Snowman Snowflake
Red Velvet Snowflake