Enjoy this fun twist on the classic s'more with all the same great flavors but in a hot fudge sundae, it's so good you'll want S'more!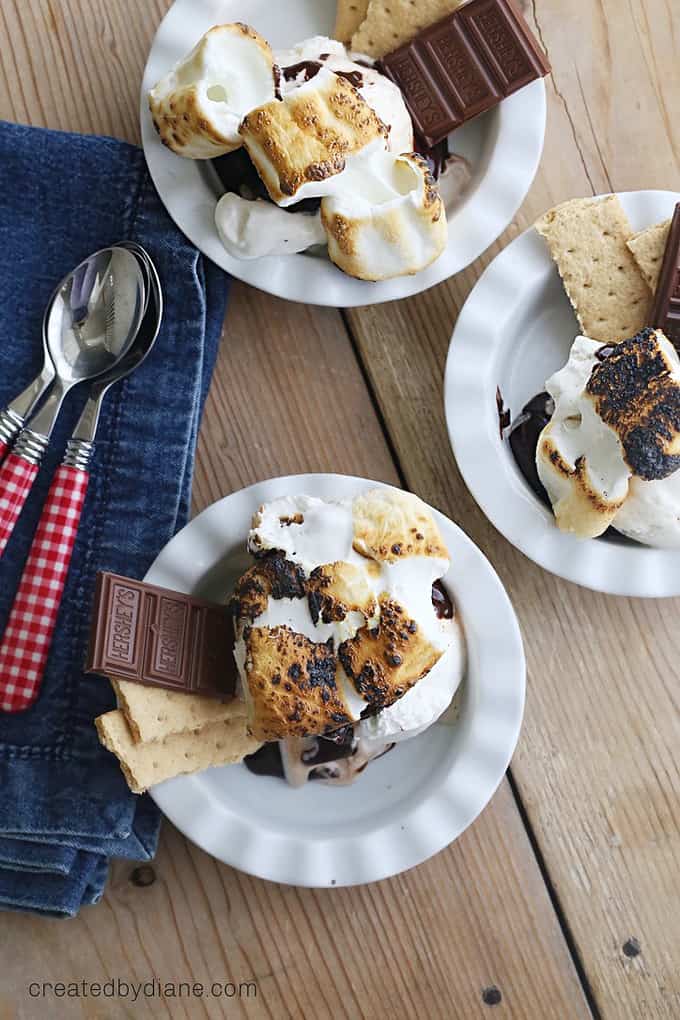 No need to wait to go camping to enjoy the great tastes of a S'more all kicked up and fabulous in this S'more Hot Fudge Sundae. 
You can toast the marshmallows however you'd like, on an open fire on the grill, fire pit, or on a gas stove. 
It's funny how sometimes in the heat of the summer you want a summery treat but it's TOO hot outside to think of sitting outdoors, that happens here when it's 100+ degrees, so sit in the air-conditioned house, grab some s'more staples and enjoy… and if you want you can cuddle under a blanket to make it seem more like camping if you'd like, no judgment!
In minutes you could be enjoying this fun sundae.
If you're a huge hot fudge fan like I am, be sure to get my homemade hot fudge recipe here.
The winning S'more flavor combo of toasted marshmallow, chocolate, and graham cracker will win you over in this deliciously fun S'more hot fudge sundae!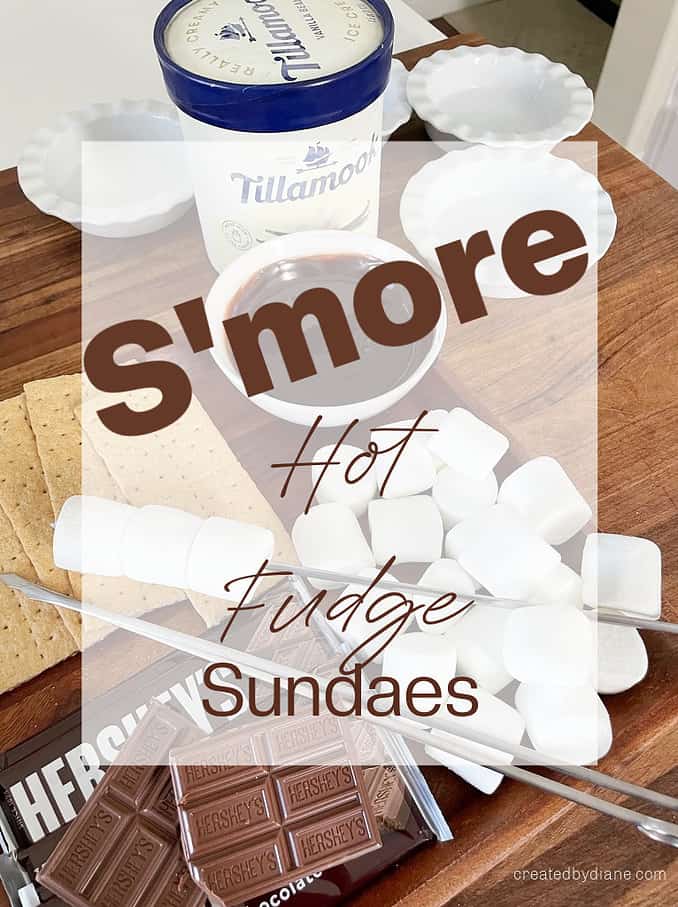 Some fun swaps for this dessert are:
swap chocolate chips for chocolate bars
swap teddy graham cookies for graham crackers
swap chocolate ice cream for a richer chocolaty dessert
swap mini marshmallows for larger marshmallows (toast them under the broiler)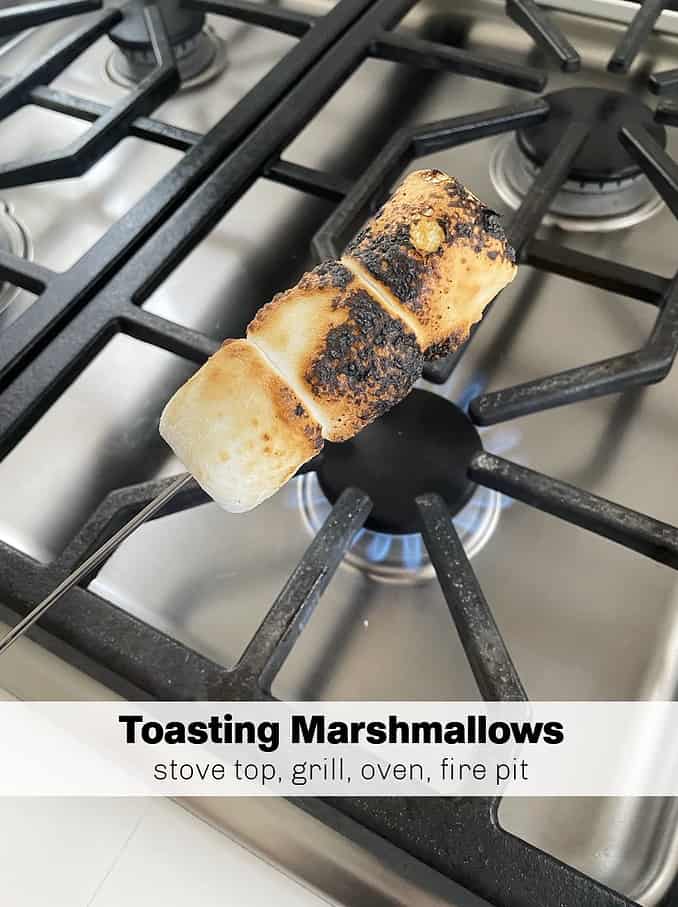 Use a metal skewer to toast marshmallows. Thread each skewer with 3 marshmallows, and toast them open on an open flame or in the oven under the broiler. Have a piece of foil nearby to place them on and reduce mess as toasted marshmallows can get sticky.
Use a fork to slide the toasted marshmallows off the stick for less mess.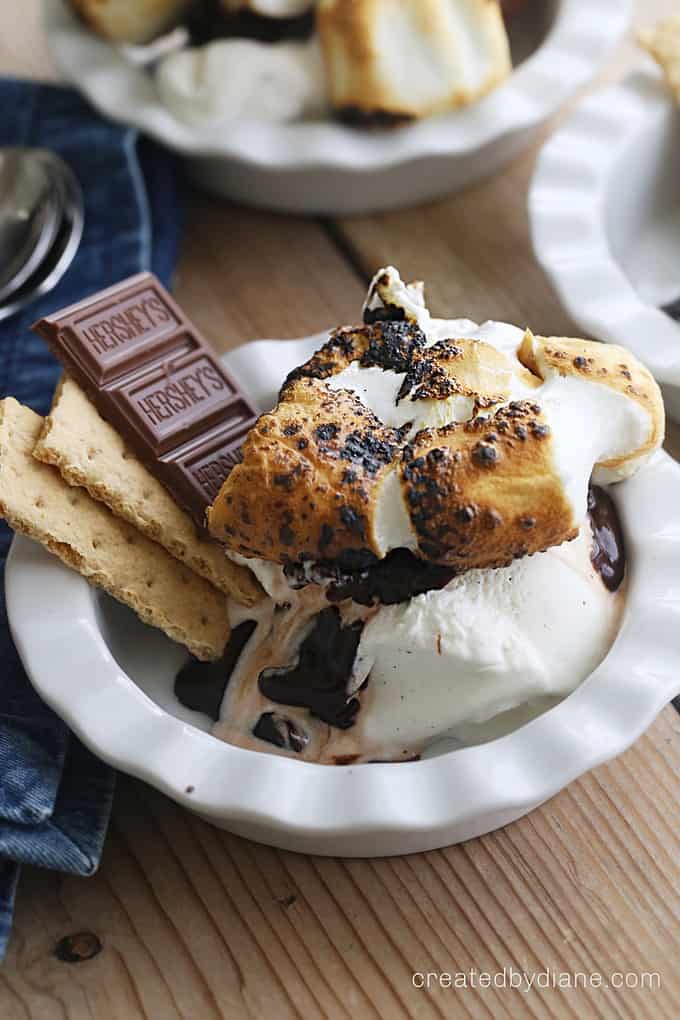 If you want to turn this into a brownie hot fudge sundae check out this fun brownie recipe, or bake up a batch of brownie cookies and make ice cream sandwich cookies with toasted marshmallows!
And this is the perfect rainy day sundae, often a rainy day will change plans, but with this treat it won't matter, rain or shine you can still enjoy the feeling of making outdoor s'mores but no need to get caught in the rain!

S'more Sundae
S'more hot fudge sundae with hot fudge, toasted marshmallows, graham crackers ice cream, add some whipped cream and a cherry to make it even fancier.
Author:
Diane Schmidt, Created by Diane
Ingredients
3 marshmallows
2 tablespoons hot fudge
2 graham crackers
4 bricks of chocolate bars
Instructions
Gather all ingredients.
Skewer 3 marshmallows, turn on your flame (fire pit, grill, gas stove)
toast marshmallows getting them that warm toasty golden color.
heat the hot fudge, and pour it over a scoop or two of ice cream, Add some pieces of chocolate bar, and graham crackers and place the toasted marshmallows on top.
Add whipped cream and a cherry to make it even fancier!