If you like mint… think creme de menthe no peppermint, these Andes mint cookies will sure win you over.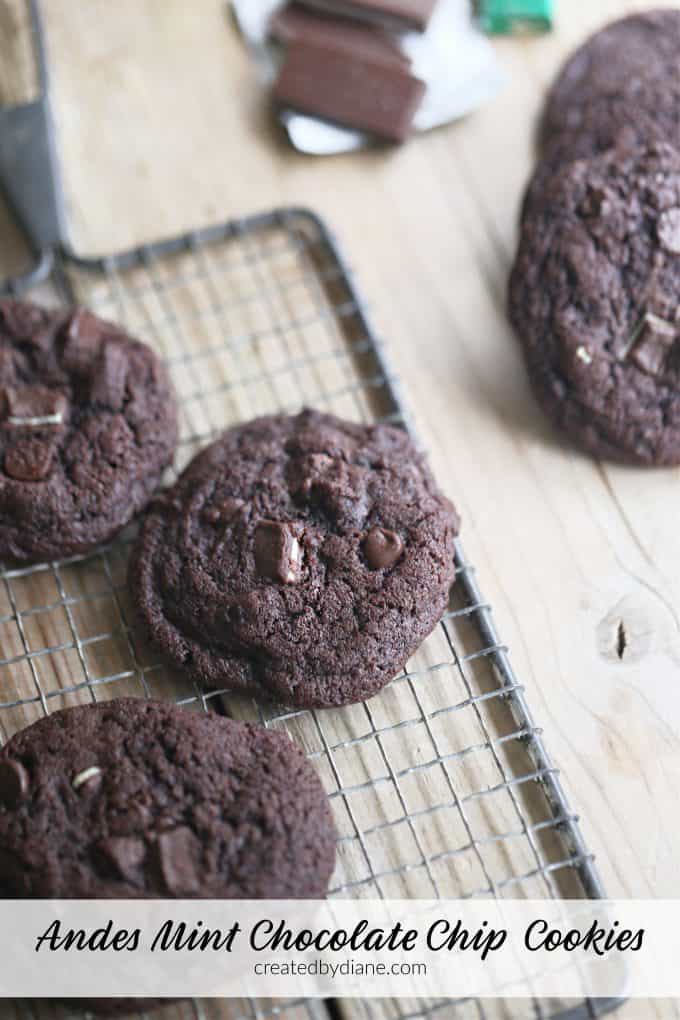 There are a variety of mint flavors the two most common are peppermint and cream de Menthe, peppermint is stronger think… candy canes,
creme de menthe is often referred to as "green" mint, like in mint chip ice cream, shamrock shakes, the famous thin mint girl scout cookies, and one of my all-time favorite cookies, mint meringues.
These crispy and chewy rich delicious chocolate cookies filled with mint flavor, chocolate chips, and Andes candies. To say they are loaded with flavor is an understatement.
Creme de menthe flavor (I used super concentrated flavors, you can use any creme de menthe flavor you have or like the less liquid added to the recipe the better in cookies)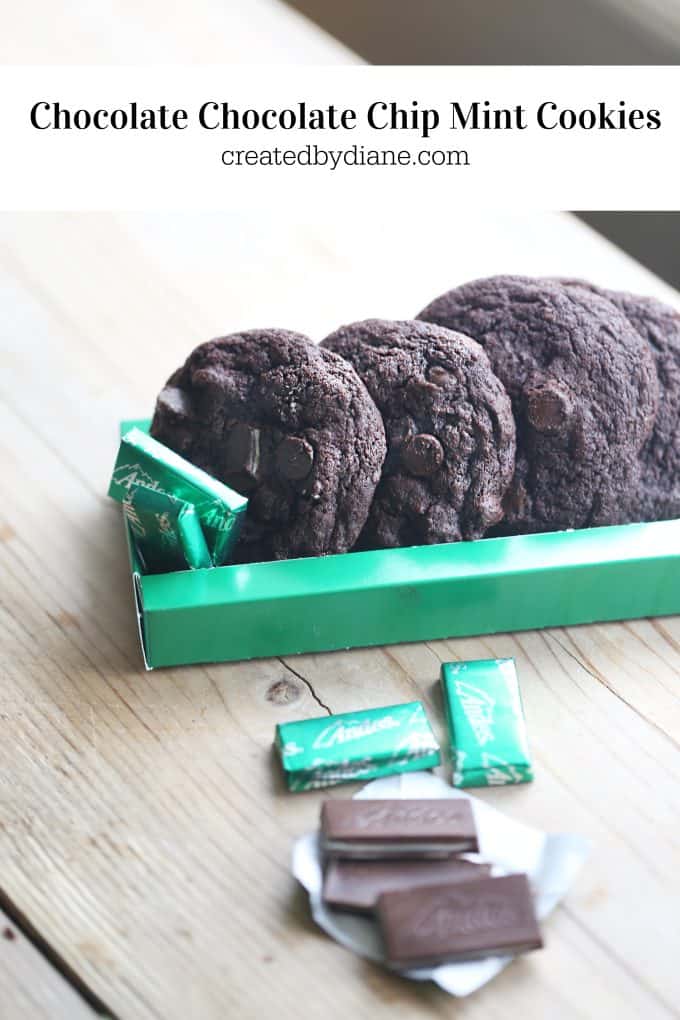 I recall seeing Andes candies in the candy dish around holidays when I was a kid, I loved how they snapped in half if you put the hole candy in your mouth…
but the love of mint doesn't end there, I often asked for mint chip ice cream, we were known for having plenty of ice creme in the freezer when I was growing up. Years later someone who baby sat for me when I was young said her and her sister would fight over who go to sit for us, they said we were easy to sit for, I just wanted to brush their long hair, and they knew there would be ice cream to enjoy in the freezer. They were right, I was all about brushing someones long hair, seeing as my mom kept my hair pretty short, like a pixie for quite a few years, it wasn't until I was older did I have longer hair to my shoulders. 
I bet those baby sitters would have waned some of these cookies, they're filled with mint chip flavor and the texture is outstanding.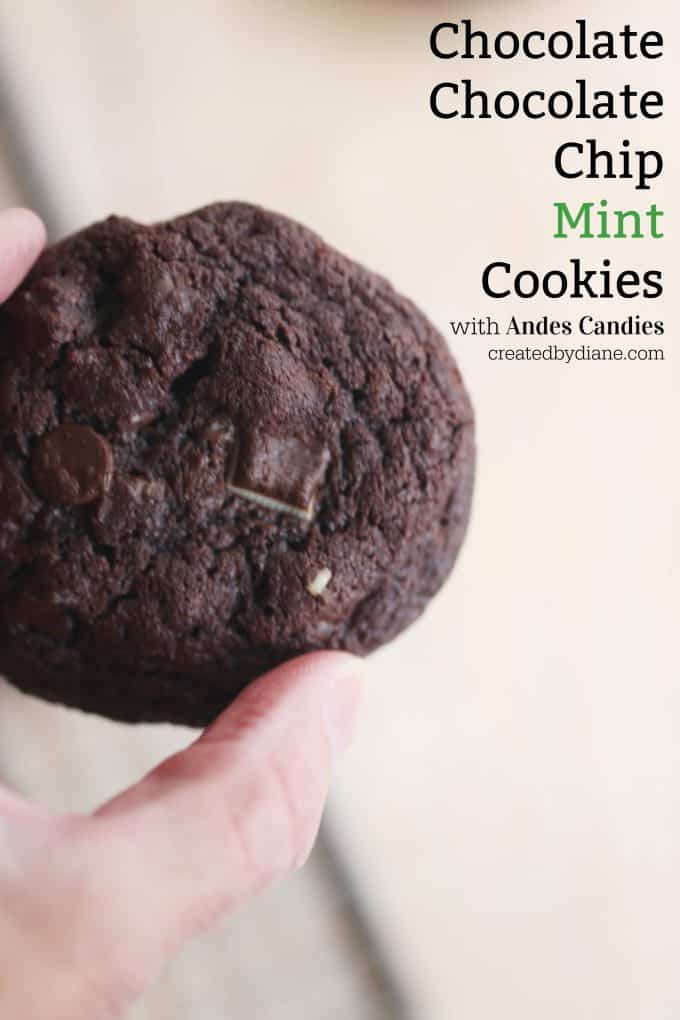 This mint chocolate chip cookie recipe is simple and you can simply add in the mint flavor if you don't have the Andes candies. 
Ingredients
all-purpose flour
cocoa – used Hershey's special dark
baking soda
salt
butter
granulated sugar
brown sugar
 eggs 
creme de menthe (or mint extract) not peppermint
chocolate chips
20-Andes candies (optional) but add a nice sweet creamy chocolate mint flavor
When it comes to the chocolate chips the sky is the limit, I added I used a variety of mini, regular-sized  special dark, and larger dark choc chips, as well as chocolate chunks… along with the Andes candies chopped.
scroll down for the printable recipe…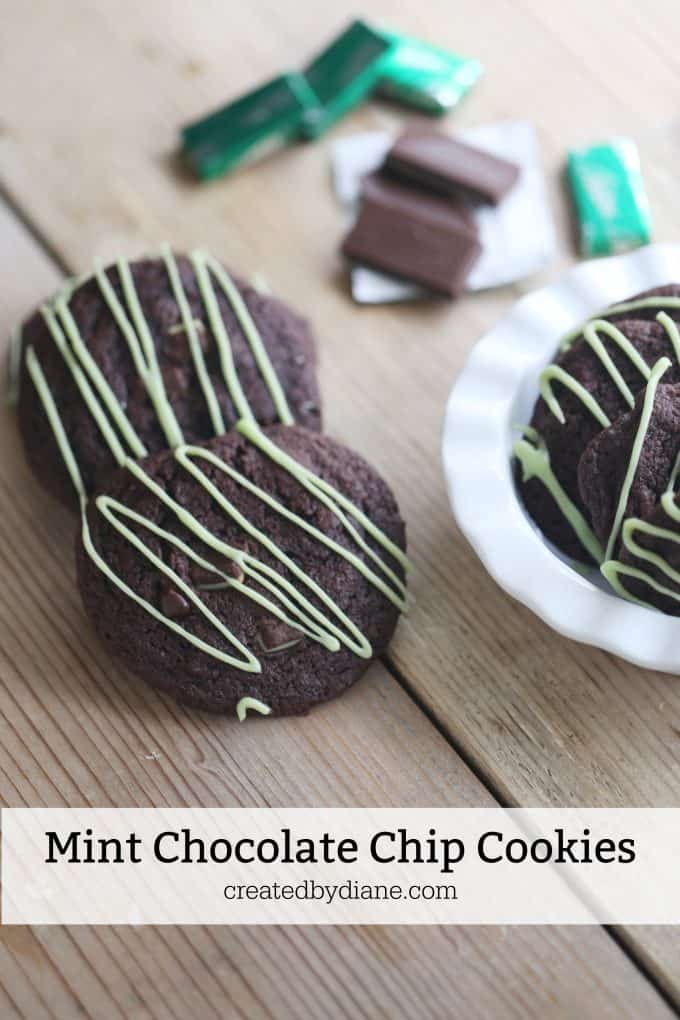 As soon as I spot of box of Andes candies, i just can't resist… tell me I'm not alone!
Dress up these cookies with a nice green int icing by adding a drop of creme de mint flavor to powdered sugar and water with a tiny drop of green color, then pipe or drizzle it over these chocolate chocolate chip mint cookies.
Looking for more mint cookies?

Try these mint chocolate chip cookies, they are fun not only because they are green, the added icing and sprinkles are irresistible.
Chocolate Chocolate Chip Mint Cookies
Mint chip has met its match in cookies with these crispy and chewy chocolate chocolate chip mint cookies, they are full of flavor and texture any mint chip fan will love.
Author:
Diane Schmidt, Created by Diane
Ingredients
1 cup (2 sticks) butter, room temperature
3/4 cup granulated sugar
3/4 cup brown sugar
2 cups all-purpose flour
1/2 cup cocoa (I used dark chocolate cocoa, specifically, Hershey's, Special Dark)
1 teaspoon baking soda
1/2 teaspoon salt
2 eggs
1 teaspoon vanilla
6 drops Creme de menthe or mint extract (not peppermint)
2 cups chocolate chips (i used a variety of mini, regular chips, and chunks along with the Andes candies)
20- Andes Candies, unwrapped and chopped into pieces
Instructions
Preheat oven to 375°.
In a large bowl beat butter with both sugars until smooth, add in one egg at a time, and mix well,
Add in the flour, cocoa, salt, baking soda, vanilla, and mint.
Mix until fully combined, add in chocolate chips and chopped mint candy (reserves some if you want pieces on tops of the cookies.
Scoop out 2 tablespoons of cookie dough and place 2 inches apart on parchment-lined baking sheets.
Bake12 per cookie sheet.
Bake at 375° for 12 minutes or until the edges are set and crisp.
Allow cookies to cool before moving.
Don't place cookie dough on warm cookie sheets, it's best to use separate cookie sheets for each dozen baked.
Icing recipe is in notes, if applying icing allow cookies to cool completely before applying.
Notes
green mint glaze icing:
1 cup powdered sugar
1 tablespoon water
1 drop mint flavor (creme de menthe or mint, not peppermint)
1 small drop green color
Mix well until smooth and desired consistency, add more water to thin out icing to drizzle.