Salads have become meals… and in my book, that's a GOOD thing! This Grilled Chicken Caprese Salad is bound to be your new favorite meal with fresh basil to make it over the top amazing.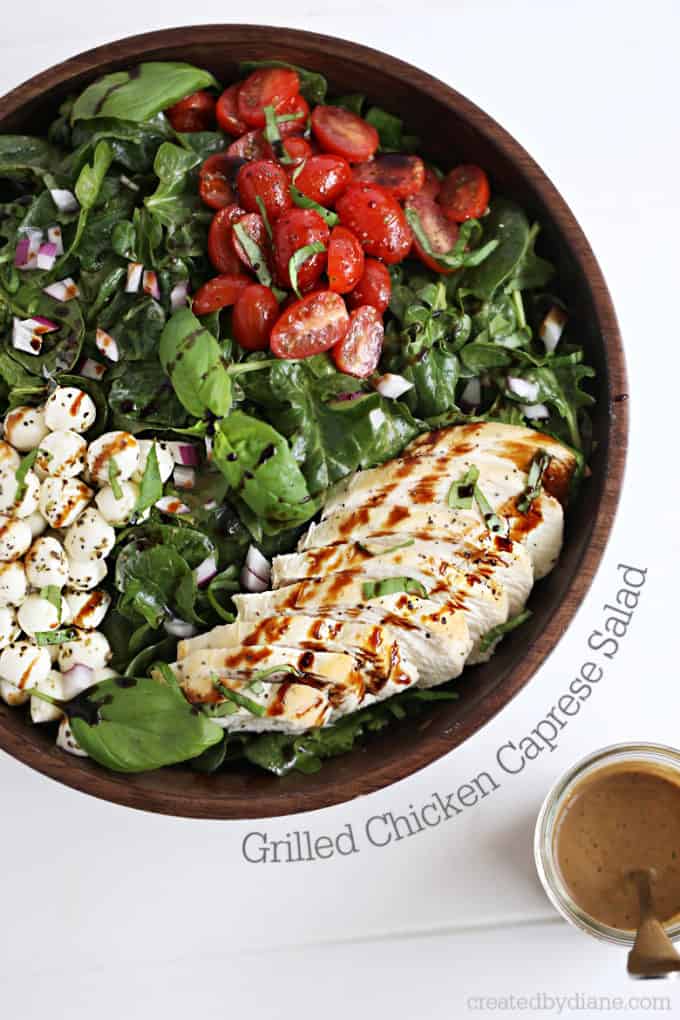 Get ready for your brand new favorite go-to salad!
I love the flavors as of a great Caprese… tomato, mozzarella, and basil with balsamic…
this salad kicks it up a few notches,
it all starts on a great bed of fresh spinach,
with basil mixed in, to give it a fresh minty type of flavor.
I'm a huge fan of mozzarella, any shape or size will work, I used small pearl-sized mozzarella,
this salad is topped with small fresh mozzarella balls… burrata would be another delicious choice. 
The dressing recipe is simple, easy to make, and thick and delicious. It's a small batch, so you'll have enough for a week or so.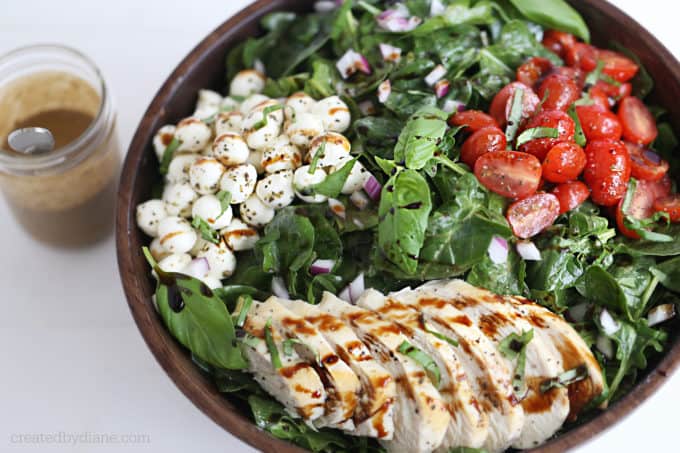 Now, I like a salad like the next person. But this salad is WAY more than just a salad, it's
full of delicious flavor, 
tastes so fresh,
is wonderfully filling,
and can be made in minutes!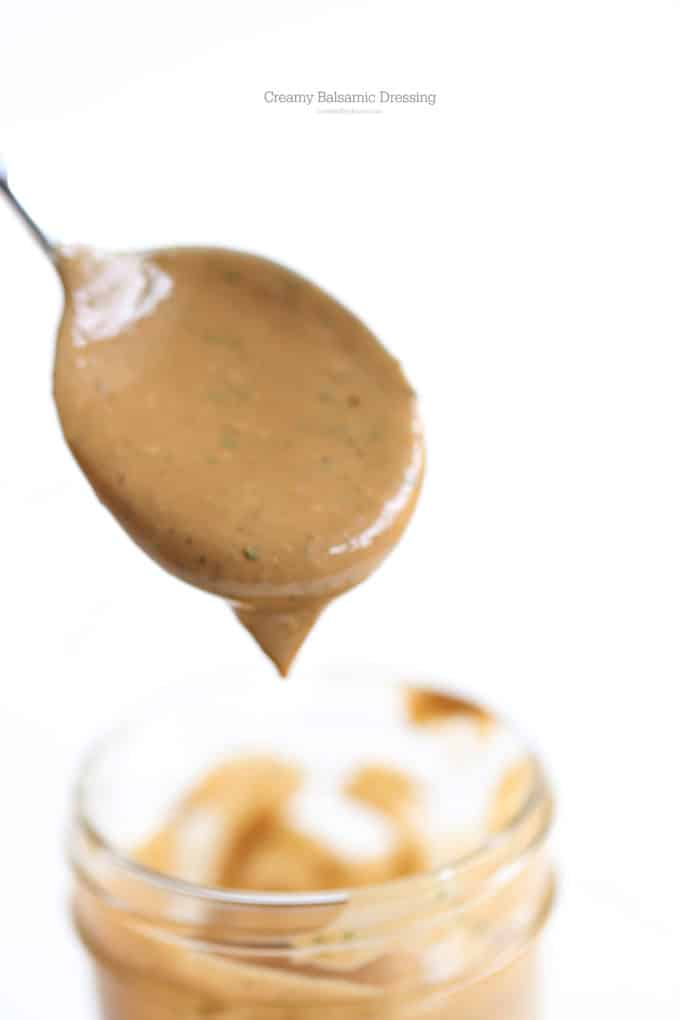 OMG… the dressing,
this creamy balsamic dressing is so thick and delicious and won't run off the salad like regular balsamic dressing would.
The dressing only takes a minute to make, it tastes great, and if you have any leftover, you'll be dipping veggies in it all week long. It's also great drizzled over some cooked tri-tip (steak).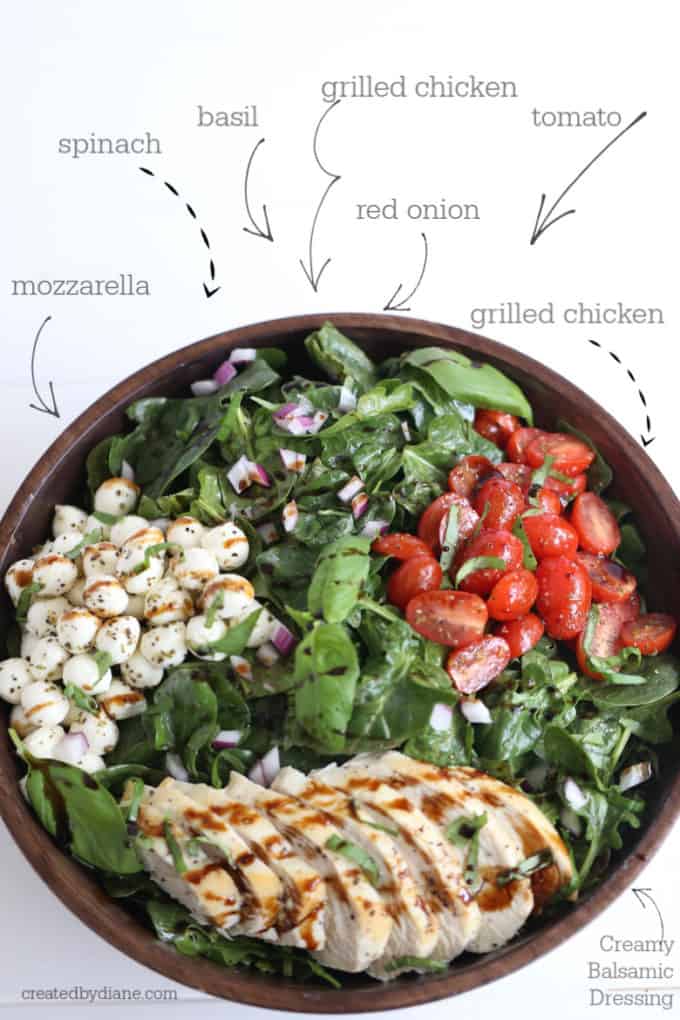 All great things!
Just look at all those delicious ingredients… 
serve this without chicken if you're looking to make this a dinner salad and want to serve it with an entree.
It's the perfect salad if you ask me, filling enough you won't be hungry in an hour. Great for a spring or summer lunch with friends. And it can be ready in minutes, given you have the chicken, but it will be ready in 30 minutes if you need to cook the chicken to make this.
What other greens could be used?
You could use romaine, or spring mix for this salad both would taste great. Even baby arugula would add a great bite to this salad.
What else could I add to this salad?
A few items that would be great in this salad are garlicky croutons, avocado, and if you want to turn this into a pasta salad, chop up some arugula instead of spinach if you'd like, add the chopped basil it'll give it great flavor,  add the remaining ingredients to a pound of cooked cooled pasta, refrigerate it for at least 30 minutes and you'll have a complete meal, perfect to take to the beach, a party, or to enjoy for lunches all week.
Did you know… the Caprese salad was created to represent the Italian flag of green, white, and red. The basil, Mozzarella, and tomato are the perfect trio!
This recipe calls for cooked chicken, any type of cooked chicken will work. I baked boneless skinless chicken breasts in a cast-iron skillet for 25 minutes. Check out his post on how I cook chicken. This is a great time to use leftover cooked chicken or rotisserie chicken. I've added links to other chicken recipes you might like.
Grilled Chicken Caprese Salad
Author:
Diane Schmidt Created by Diane
Ingredients
4-6 cups fresh spinach
1 cup small mozzarella balls ( tiny pearl size)
1 cup grape tomatoes, cut in half lengthwise
1/4 red onion, diced
8 leaves fresh basil, chopped
2-4 tablespoons, creamy balsamic dressing (recipe below this recipe)
12oz. grilled chicken
Instructions
Make the dressing: toss the tomatoes and the mozzarella balls into dressing so they're nicely coated (you'll need a tablespoon for each)
Fill a salad bowl with spinach and chopped basil, toss with a tablespoon of dressing to coat everything well.
Top with tomatoes, mozzarella, grilled chicken, and onion.
Drizzle salad with a little more dressing if needed.
Creamy Balsamic Dressing
Creamy Balsamic Vinaigrette Dressing
Author:
Diane Schmidt Created by Diane
Ingredients
1/2 cup oil (I use avocado oil, vegetable oil or light olive oil can be used)
1/4 cup balsamic vinegar
5 leaves fresh basil
1 teaspoon dijon mustard
1/2 teaspoon dry oregano (or fresh)
1/4 teaspoon salt
1/8 teaspoon pepper
Instructions
place all items in a tall container and blend with an immersion blender until thick and creamy, alternatively, you can add all items except oil into a food processor or blender and then blend and drizzle in the oil until thick and blended.