This pancake bundt cake recipe is a game changer. I'm not the only one who buys the big bag of Krustez pancake mix at Costco, so anytime you want you can bake a bake from it… clever, right!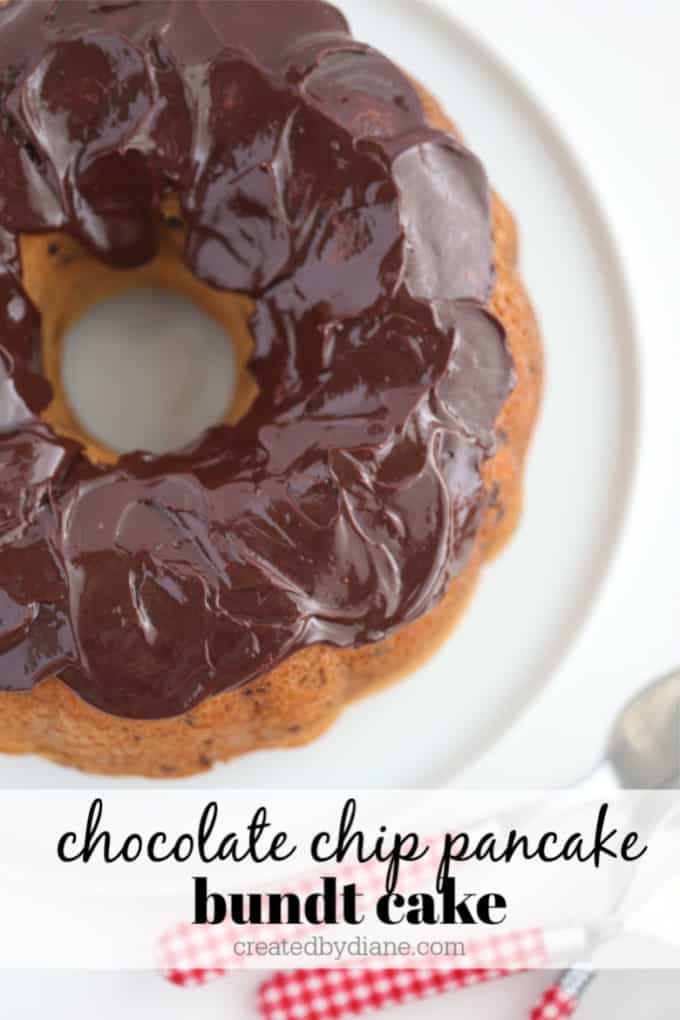 I made this delicious cake using pancake mix, and you won't believe how easy it is. It tastes like chocolate chip pancakes! 
Chocolate chip pancakes are always a good idea, just ask my kids.
If asked if they want pancakes, they always say yes… with chocolate chips.
And they are full of good ideas. Who doesn't like chocolate chip pancakes… I know I do.
This bundt cake is just as delicious, it's made with pancake mix, full of mini chocolate chips and topped with a simple chocolate ganache.
With minimal ingredients needed, you'll be slicing up a piece to enjoy in no time.
I've used pancake mix to make cakes before and even filled it with ice cream, see… more good ideas for you!
This pancake mix cake will make it into your regular rotation I'm sure. It seems everyone is searching for items to make with pancake mix lately. THIS is a great solution!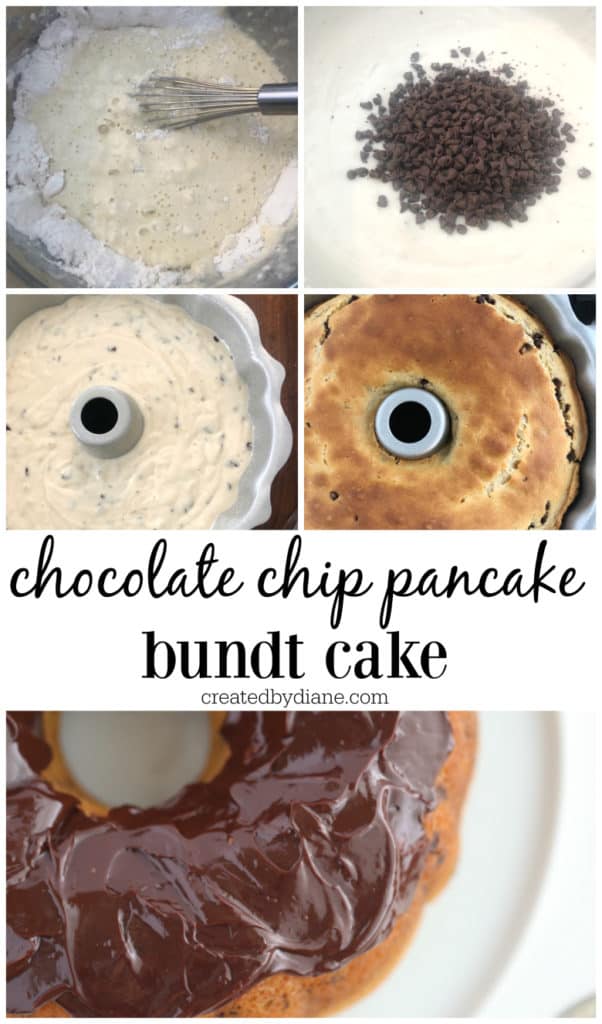 Is pancake mix and cake mix the same?
They aren't exactly the same, but similar to flour, leavening agent, salt, and sugar. And all pancake mixes don't taste the same, just like can mixes, there are differences. I use Krusteaz brand of pancake mix with great results for this cake.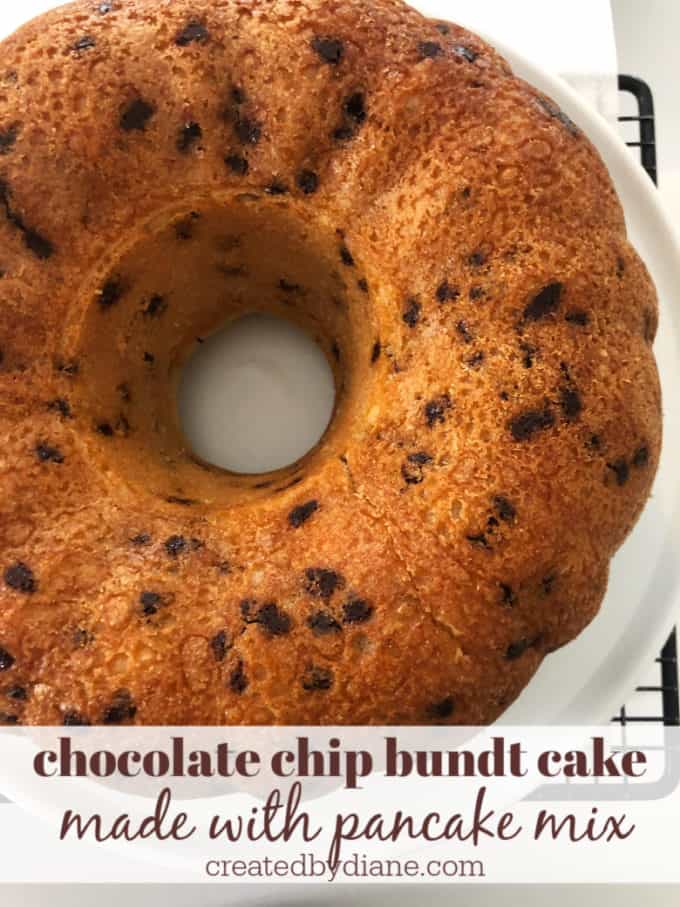 I used 1 cup of mini chocolate chips, you can use larger chips if you prefer, but I wouldn't' add more than a cup, larger chocolate chips are heavier and if more is added they will most likely sink to the bottom when baking.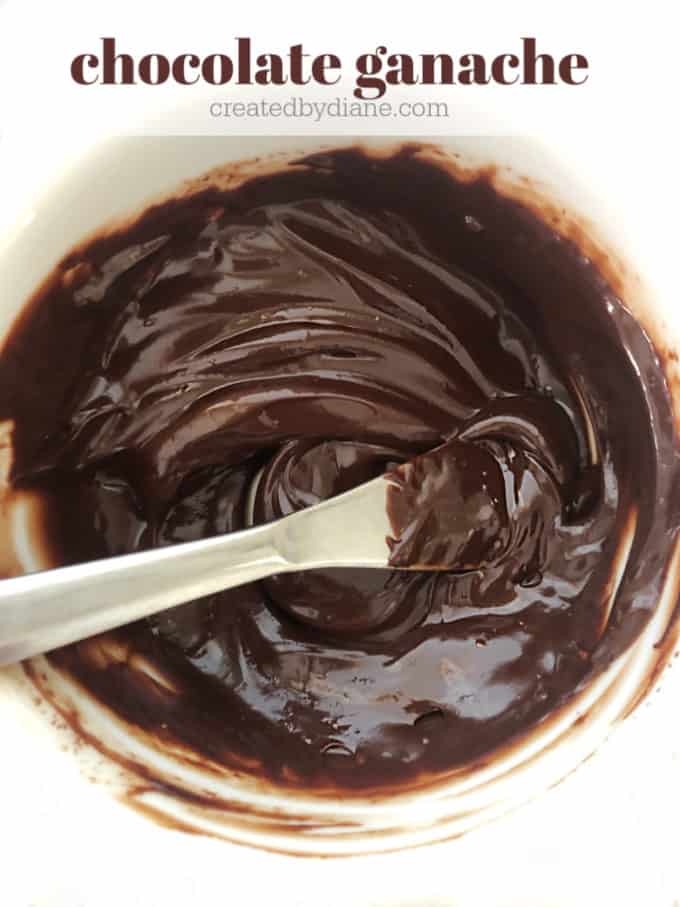 And now for the chocolate topping…
It's chocolate Ganache!
Chocolate Ganache, is not hard to make and this method is so simple, just heat heavy cream in the microwave then pour it over chocolate chips, then mix it smooth. Chocolate ganache is a rich delicious topping that is shiny and smooth tasting. Just about the perfect topping to add to a delicious cake.
Chocolate ganache is what truffles are made of, but instead, you allow it cool, scoop it, then refrigerate the balls and then cover them in melted chocolate or cocoa powder.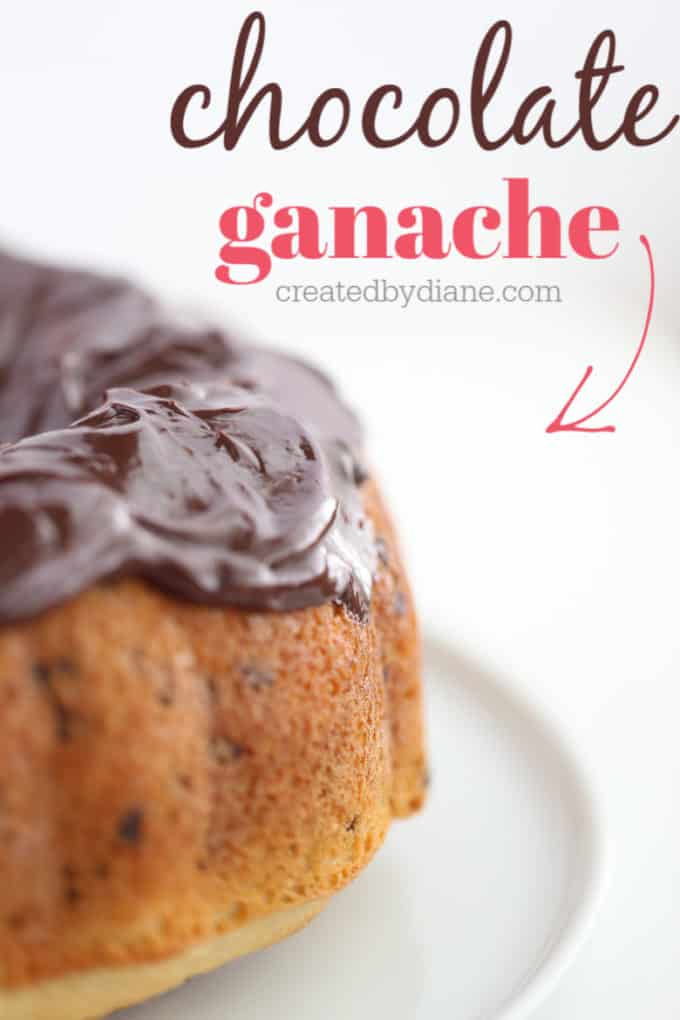 Alternatively, you can serve the cake without the chocolate on top, you can serve it as is, or sprinkle on some powdered sugar or use a simple sugar glaze. 
If you want a glaze icing mix 1 cup powdered sugar with a tablespoon or two of hot water, drizzle it over the top of the cake and let it dry. (If you want to completely cover the cake in glaze icing, you can double the portions).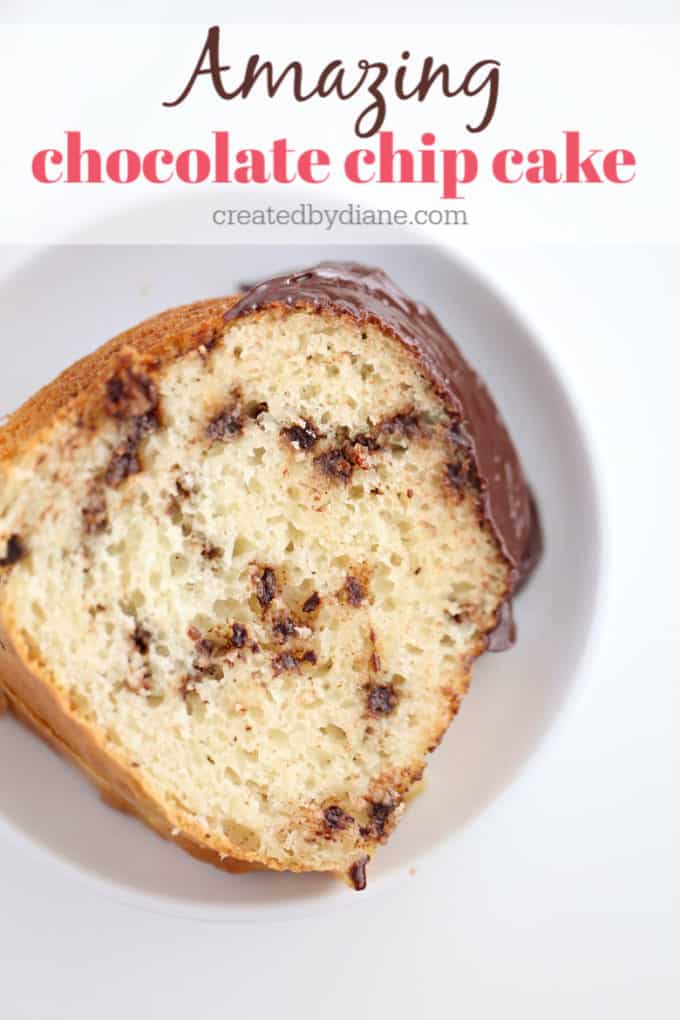 Oh and if chocolate chips are your favorite be sure to check these other great chocolate chip recipes…
More: Pancake Mix Recipes
Chocolate Chip Pancake Bundt Cake
a delicious and simple chocolate chip cake made out of pancake mix, topped with chocolate ganache.
Author:
Diane Schmidt Created by Diane
Recipe type:
Dessert, Breakfast
Ingredients
4 cups pancake mix (I use Krusteaz)
2 cups water
2/3 cup milk
1 tablespoon white vinegar
2 large eggs
1 tablespoon vanilla extract
1 cup mini chocolate chips (I used mini Nestle chocolate chips)
Ganache
1/3 heavy cream
1/2 cup chocolate chips (I used 60% cacao Ghirardelli chips)
Instructions
Preheat oven to 350°.
Prepare bund pan with baking spray or shortening and flour (or pancake mix)
Mix milk with vinegar and let it curdle while you begin preparing cake mix.
In a large bowl add pancake mix, water, the milk mixed with vinegar, eggs, and vanilla.
Whisk everything together until the batter is smooth and well blended.
Stir in the mini chocolate chips (you can use larger chips if you prefer).
Place the batter into the prepared bundt pan.
Bake for 35-40 minutes or until a toothpick comes out clean.
Allow the cake to cool for 10 minutes, then turn the cake out onto a cooling rack and allow it to cool further.
Ganache
Heat the milk in the microwave for 20-25 seconds or until it's hot.
Place the chocolate chips in a bowl, pour the hot milk over the chocolate chips give the milk a minute to warm up the chips, then begin stirring the mixture until it's well blended and smooth.
Spread the ganache over the top of the cake and serve.