This chicken is tender and delicious and cooked in a skillet, then topped with a creamy cilantro sauce giving you "unboring" chicken!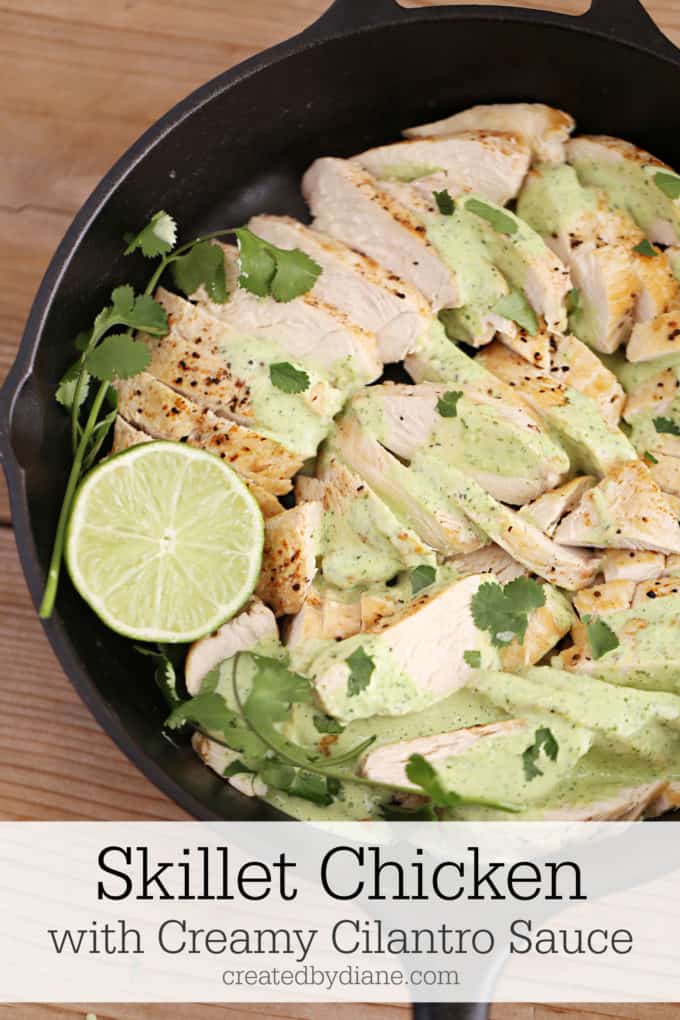 I'm all about 2 things… simple and delicious!
I love simple meals, that are full of flavor and this chicken is quick and easy and the sauce takes only minutes and is full of flavor.
When boneless skinless chicken breasts are cooked and turn out tender, juicy, and have a great texture there is only one thing I like to add…. a great sauce!
I'm a sauce person, meaning I LOVE sauces on my food. This creamy cilantro sauce only take s a minute to make and it's so flavor-packed everyone will think you slaved over it!
I lobe cooking in a cast-iron skillet, the food gets a nice sear on the outside that ensures it holds in the juices and the result is tender tasting chicken.
To add amazing flavor to the chicken there is a trio of deliciousness that ensures the chicken will not be plain and will make your mouth water for more.
The magic trip of dry spices on this chicken is:
garlic powder
smoked paprika
lemon pepper 
now you may have had these individually but mix these together and WOW what a great flavor!
Then add to this dish the delicious sauce… yum!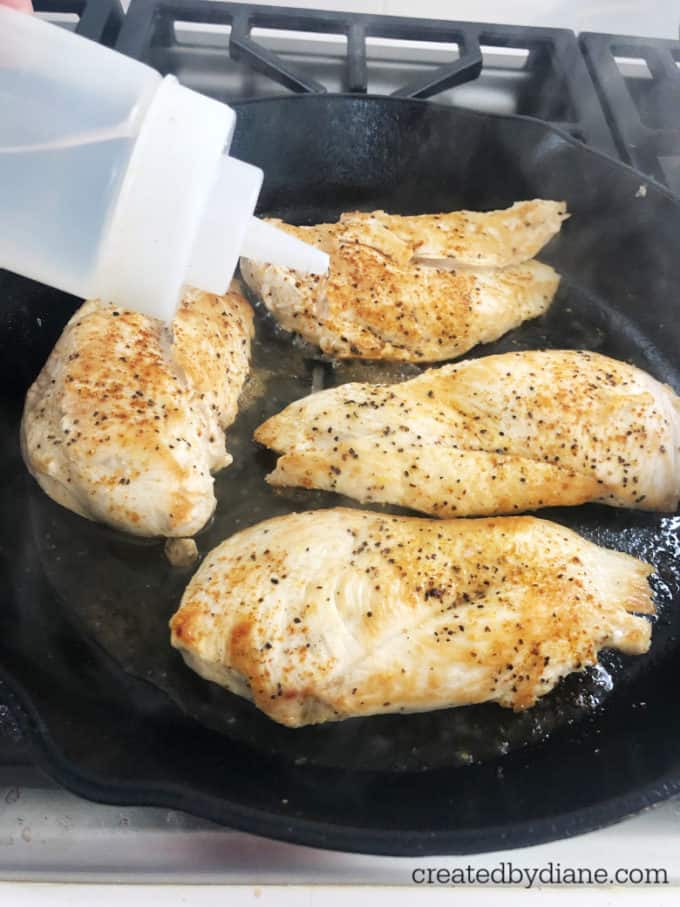 After both sides of the chicken have a golden brown color, the pan will be hot enough to add some water, then when the lid is placed on top to hold in the steam, ensuring the chicken will be juicy when it's finished cooking. 
The best way to test if the chicken is done cooking is to use a thermometer, guessing usually results in overcooking it, cutting into the chicken will let the juices run out of the chicken, and that will result in sin a dry piece of chicken. Chicken thickness varies, so be sure to KNOW exactly when it's done. I use THIS thermometer and I love how fast this thermometer is. I now give this thermometer as a gift to many, and everyone just loves it and comments how they all wish they'd had it sooner, just as I've said.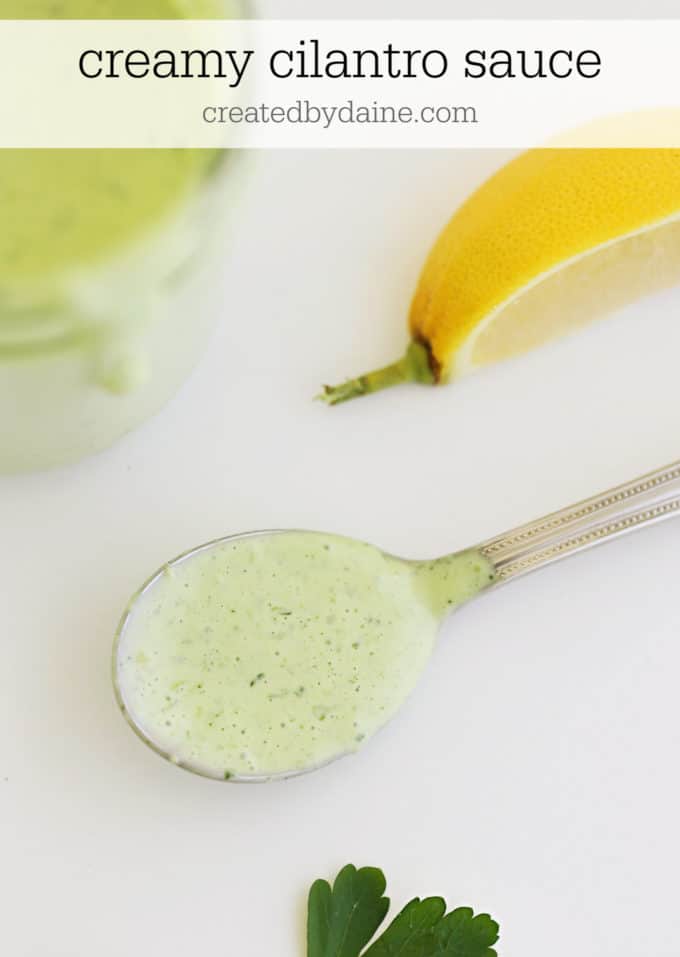 The sauce is made simple by blending the ingredients and drizzling in the oil if you use a blender or food processor, I typically use an immersion blender and put all the items in at once, as the immersion blender whips air from the bottom into the sauce, it creates a thick creamy sauce, great for this chicken, sandwiches, vegetables and great to dunk bread into as well.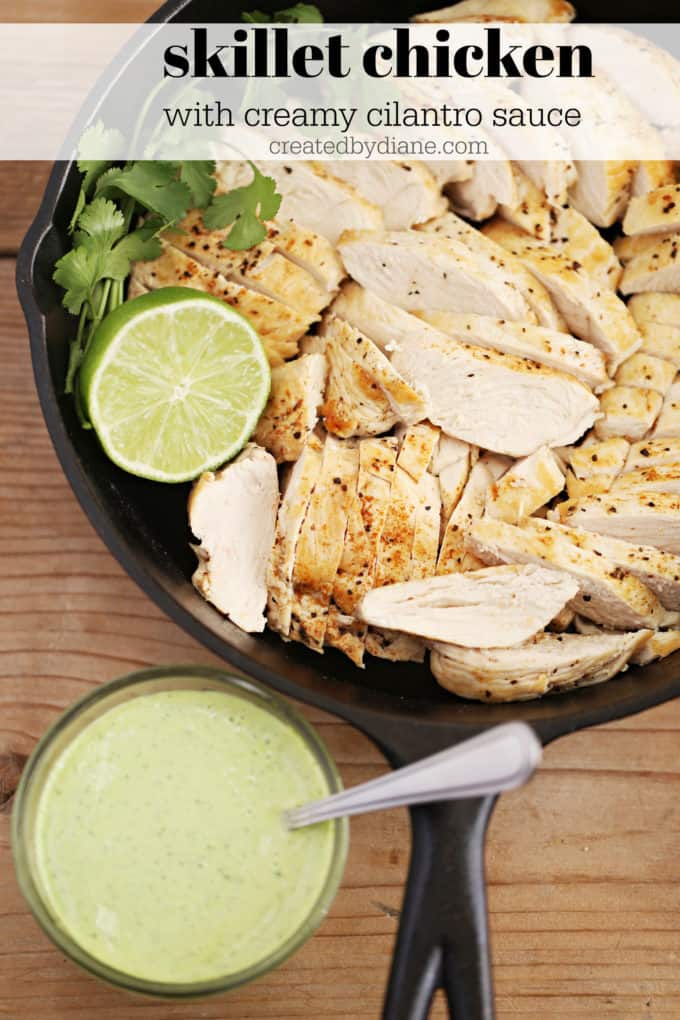 I've made the sauce with lime and lemon, depending on what I had on hand. I most often use lime, but recently used a lemon off my lemon tree, both delicious.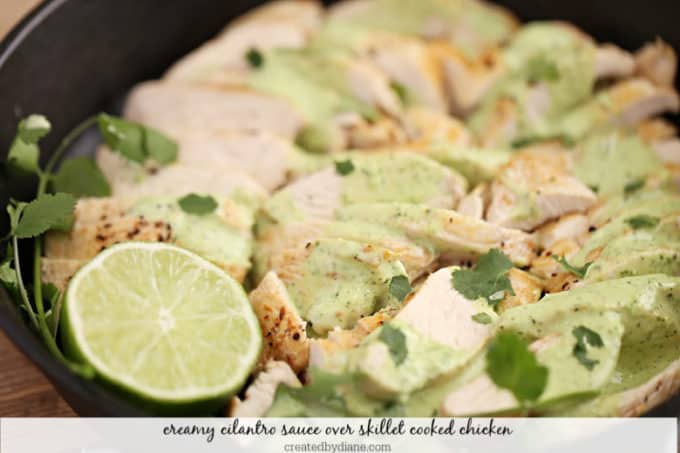 This is another great sauce, it's my cilantro lime sauce, it's so tasty, although it's not creamy it's full of flavor and would go with this dish well too.
Skillet Chicken with Creamy Cilantro Sauce
a deliciously tasty citrus flavored chicken that is moist and juicy and cooked in a skillet then topped with a creamy cilantro sauce.
Author:
Diane Schmidt Created by Diane
Ingredients
2 lbs boneless skinless chicken breasts
1/4-1/2 teaspoon granulated garlic powder
1/4-1/2 teaspoon smoked paprika
1/4-1/2 teaspoon lemon-pepper seasoning
1 tablespoon oil
2 tablespoons water
sauce
1 egg
1/3-1/2 cup avocado oil or vegetable oil
1 cup cilantro, chopped
3 green onions
1 lime, juiced (or lemon)
1/2 teaspoon salt
Instructions
I use an immersion blender, you can also make this in a blender or food processor, being able to drizzle the oil in as it mixes creates a really creamy sauce and it thickens as it blends add oil until it's the thickness you like. The egg oil and acid combined to create a deliciously creamy sauce.
I cut my chicken, so it wasn't so thick.
Coat chicken evenly with seasonings
Heat a skillet on the stove (I use cast iron) add the oil, place the chicken in the pan.
After a minute or two (when the bottom of the chicken is slightly crisp and golden) turn the chicken over.
Place a cover over the chicken and cook for 2 minutes.
Add 2 tablespoons water to the pan and cover, turn the heat to medium.
You can turn the chicken again if needed.
The chicken is done when it reaches 165°.
Remove the pan from the stove and allow the chicken to rest for 5 minutes.
Slice the chicken and pour the sauce over the chicken and serve.