It's a butter-pecan bonanza!   
The rich delicious flavors of butter pecan in delicious cookies.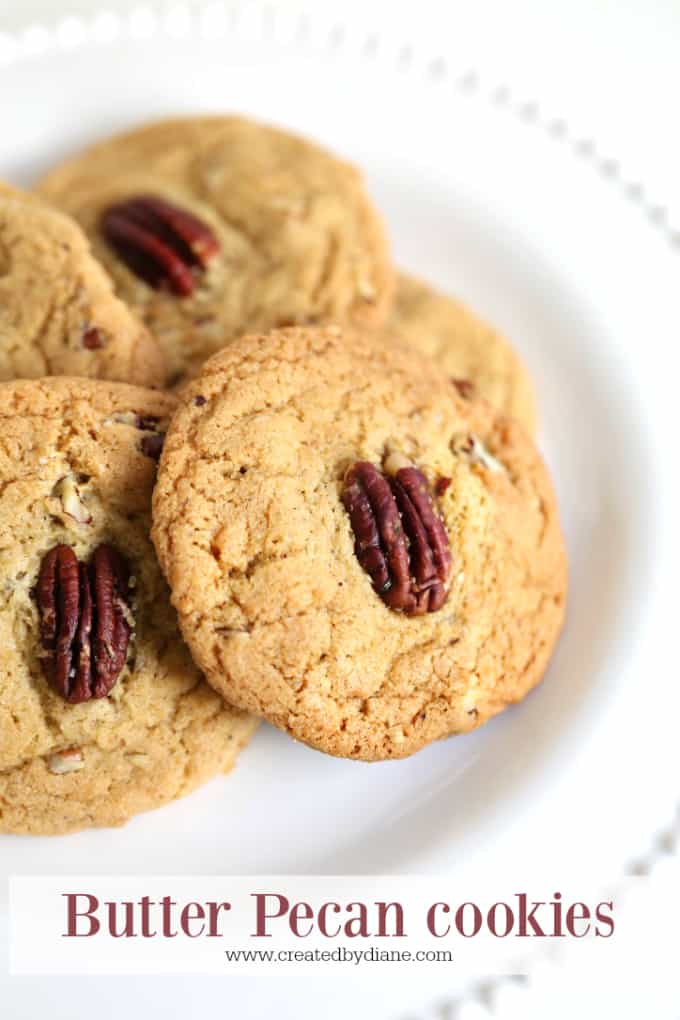 I don't recall when I was first introduced to butter pecan.
I'm sure it was in ice cream form. It was one of my dad's favorite flavor when I was growing up.
I recall opening the freezer many times and seeing the tub in there. It wasn't a go-to flavor for me as a kid, but in my teen years I worked at an ice cream shop and it became one I liked.
I like it even more now!
I recall making the ice cream in the ice cream shop and the butter flavor that went into it reminded me of buttered popcorn, it's no wonder I loved it. I love buttered popcorn!
And if you love it too and ever happen to be in a salt water taffy shop… check out the buttered popcorn taffy, it's also my favorite.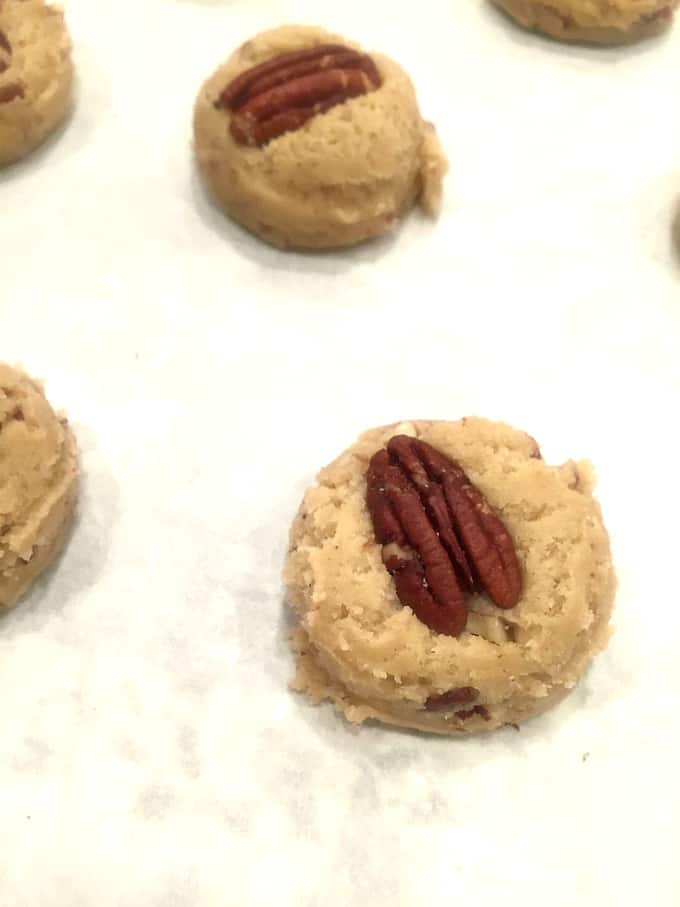 On top of each cookie dough portion gently press a whole pecan on top, the cookies will bake up and look so pretty.
These cookies are full of chopped pecans too. I'm nutty that way and couldn't resist adding lots of nuts in these cookies!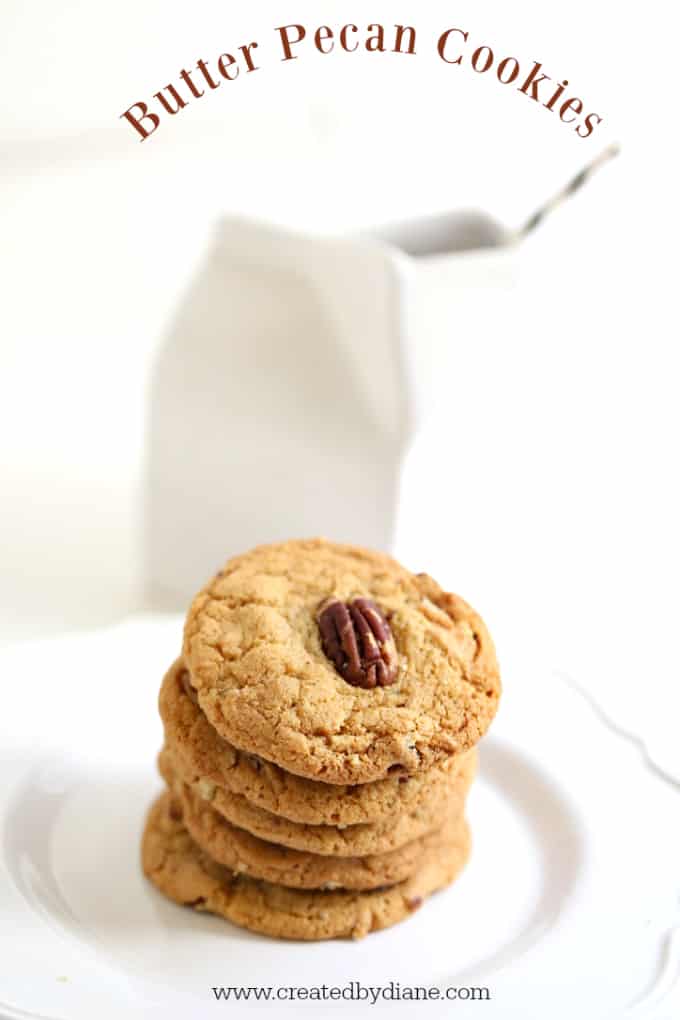 Bake up a batch of these beauties and pour some milk and enjoy.
I love how crispy and chewy these cookies are. These are not an overly moist cookie, don't over bake them, they will be puffed up slightly when they come out of the oven, the bottoms should be golden, and slightly firm in the edge. They will cool down and flatten some.
Crunchy and nutty… WINNER!!!
Tell me if you have a memory of butter pecan, I'd be interested in hearing it.
Butter Pecan Cookies
Ingredients
1/2 cup butter
1/2 cup sugar
1/3 cup brown sugar
1 egg
1 teaspoon butter vanilla flavor (butter rum extract or butter flavor will work too)
1/2 teaspoon vanilla extract
1/2 teaspoon nutmeg
1 1/4 cups flour
1/2 teaspoon baking soda
1/4 teaspoons salt
3/4 cup chopped pecans
24 whole pecans
Instructions
Preheat oven to 350°
In large bowl of a mixer beat butter and sugars.
Add in egg and extracts white nutmeg and mix on medium-low to combine
Mix in flour, baking soda, and salt on medium until mixed.
On low mix in pecans.
Place 2 tablespoons sized balls of cookie dough 2 inches apart on parchment-lined baking sheets. Top with a pecan, lightly pressed into the top of each cookie.
Bake for 10-12 minutes. Remove when centers look slightly soft but edges are golden and getting firm.
Allow cookie to cool completely on baking sheets.
If you love cookies like I do be sure to get my FREE Cookie Guide HERE