It's no secret I love salty sweet things… and these cupcakes are a perfect salty sweet dessert.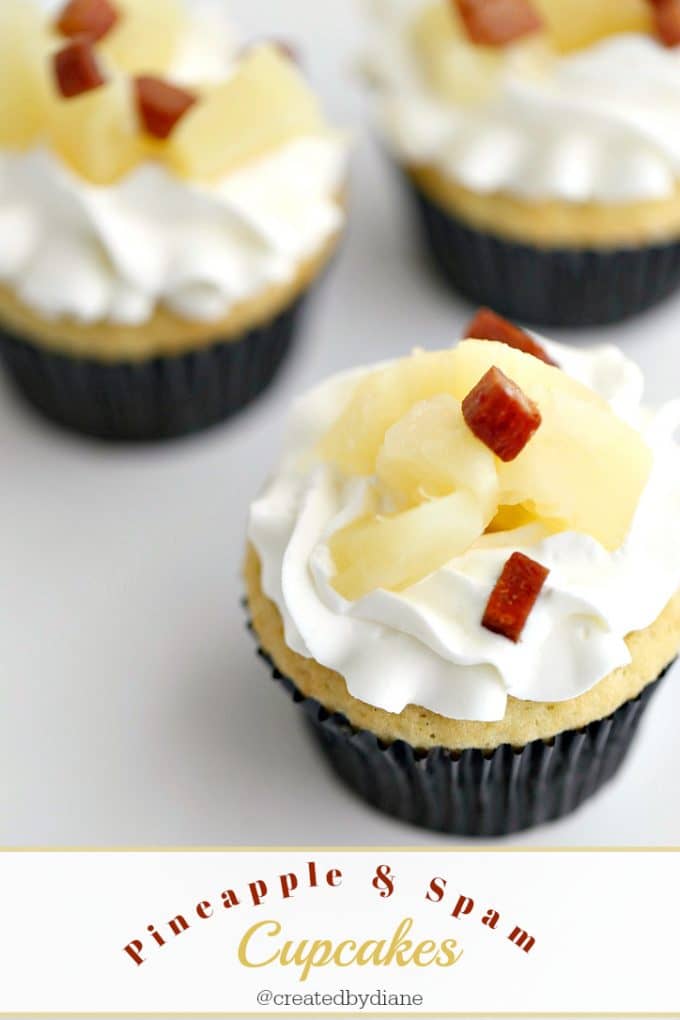 Now if you don't like salty sweets just skip the spam…
but if you do like spam,
go right ahead and give it a try, you may find you LOVE it!
Let's talk about Spam… I grew up in NJ and never ate spam, not until about 2 years ago. Someone gave me a can to try after hearing how much I love pork roll. Now if you know anything about NJ you know it's famous for many things, and pork roll is one of them. Sure lots of other GREAT things come from NJ, but really one of my favorite breakfasts is pork roll, egg, and cheese on a hard roll. I live in Southern California now, and believe it or not there is a place nearby that ACTUALLY sells pork roll… oh thank goodness, now I don't have to wait until I visit NJ to enjoy one of my all time favorites. The only pork roll I've ever eaten is Taylor Pork Roll, I hear there may be other brands now, but Taylor Pork Roll from Trenton is the original. If you happen to be in NJ or have pork roll, go right ahead and substitute pork roll for the spam in these!
These cupcakes are
sweet
creamy
salty
fruity
unique!
My brother and I would grill up some pork roll and eat it on a hard roll with mustard… not sure if I could describe how wonderful it tastes, but all I know is do NOT miss trying pork roll if you have the chance.
Now Spam is known far and wide and I have no idea how I never had the opportunity to try it until recently but I'm glad I have. Now I don't need to travel an hour to get something close to my favorite… pork roll. Spam is not the same, but it's similar. It's firmer and has a really delicious unique flavor, but spam is sure similar.
I like spam really crispy!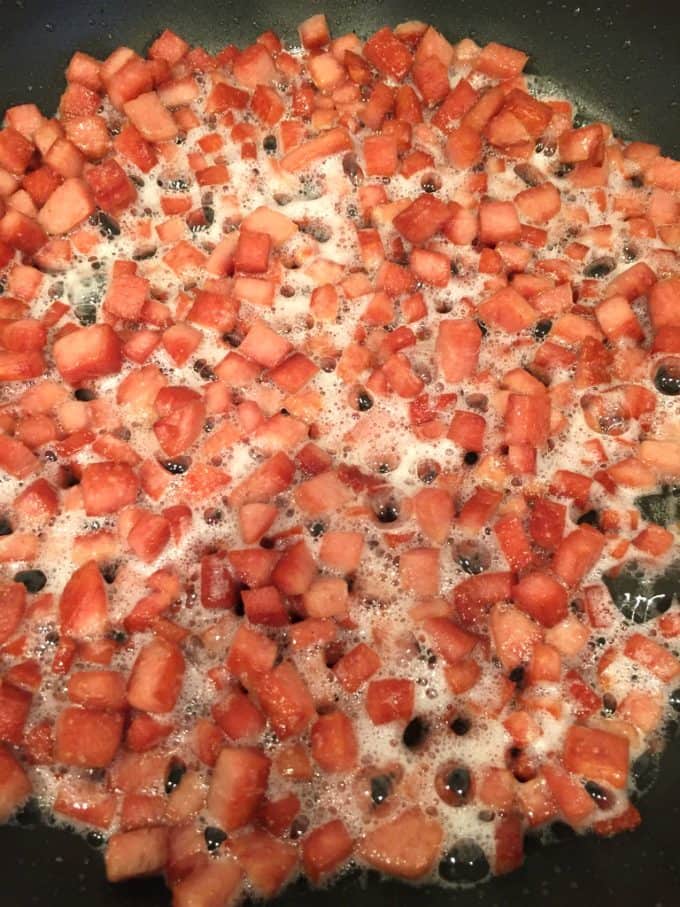 Dice the spam and cook it in a really hot skillet, and keep turning the pieces over until it's all crisp. Add a little coarse salt if you prefer. Then blot it with paper towels as it cools. Be sure the spam is completely cooled before you put it on the cupcakes or the whipped cream will melt.
Now while I was in Hawaii, WOW there is SPAM Everywhere! They sell flavors of Spam there that I have never seen anywhere. So these cupcakes are a really fun twist on a tropical combination.
You can use fresh pineapple or canned. Just cut the pieces small so you can pile them into the center of a whipped cream circle without them falling off the edges. Then drop on some crispy spam and you're good to go.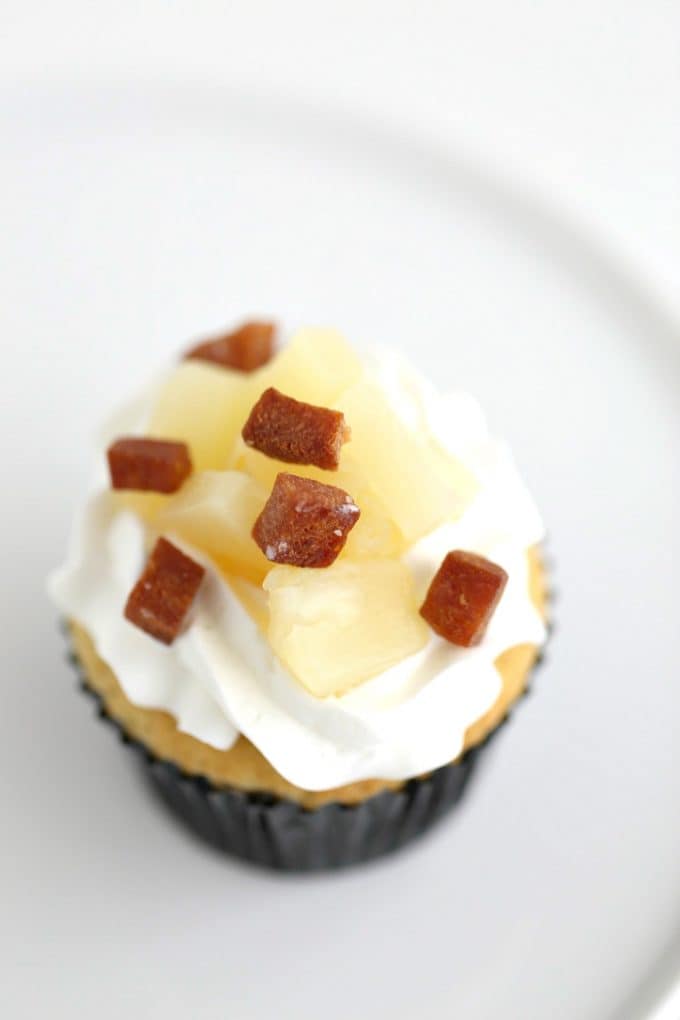 Pineapple Spam Cupcakes
Ingredients
1 cup sugar
2 eggs
1 1/4 cup flour
1 1/2 teaspoons baking powder
1/2 cup milk
1/4 cup melted butter
2 tablespoons oil
1 teaspoon vanilla extract
pineapple, chunks cut smaller and drained on paper towels
spam, diced and cooked crisp
1-pint heavy cream
1 tablespoon granulated sugar
Instructions
Cook the spam while the cupcakes are baking.
Preheat oven to 375°
In a medium bowl whisk sugar with eggs until completely combined.
Add the flour, baking powder, milk, butter, oil and vanilla and whisk for one minute until well blended.
Place 3 tablespoons of batter into 12 cupcake liners in a cupcake pan.
Bake for 18 minutes or until a toothpick comes out clean.
Let cupcakes cool in pan for 5 minutes then place them on a cooling rack until they are completely cooled.
Whip the heavy cream with a whip (by hand or with an electric whisk and add the tablespoon of sugar.
Place the whipped cream in a piping bag with a star tip I used a 2D tip.
Swirl the whipped cream on the outside edge of the cupcake leaving the center empty, Add pieces of pineapple and spam.
Notes
I used about a 1/2 a 14 oz can of pineapple and 1/4 can of spam, I used the rest of those two ingredients and made my
Luau Fried Rice
When I cook the spam, I do add some coarse salt so that the pieces have a nice contrast with the pineapple on the cupcake.
If you really like things salty sweet you can shake some coarse salt on top of the pineapple too.