The temperatures are rising, and this cake has spring written all over it! This blueberry and apricot cake is filled with the delicious flavor of apricots, blueberries, and cream cheese frosting, and is drizzled with white chocolate.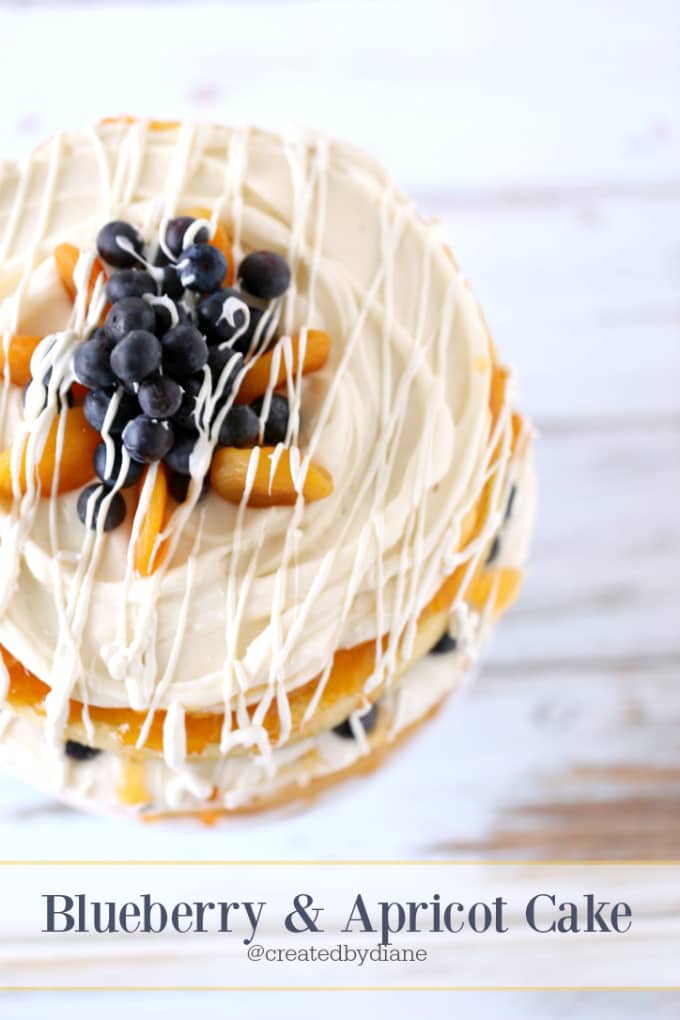 Layer cakes automatically qualify as "special" to me, because they look so impressive, even though they're deceptively easy to make.
I love the rich creaminess and tang of cream cheese frosting and always associate it with spring. I think that's because cream cheese frosting and carrot cake go so well together, and that's a pretty traditional springtime cake.
This is a moist vanilla cake that's not too dense, yet holds up well to the cream cheese frosting. Did I say how much I love cream cheese frosting?
Did I say how much I love cream cheese frosting?
The real surprise flavor in this cake, though, comes from spreading each layer of cake with apricot marmalade. It adds moistness and a bit of "zing!" to each bite.
But the deliciousness doesn't stop there….
Now it's time to add a generous layer of cream cheese frosting to each layer and fresh blueberries.
Because this is a "naked" cake, no need to frost the sides after assembling each layer. This makes putting the whole thing together just that much faster and easier.
Add some beautiful color and freshness with a fruity "bouquet" of more blueberries and dried apricots on top. Very springy!
The final touch… add a pretty lacy layer over the whole cake with a drizzle of white chocolate.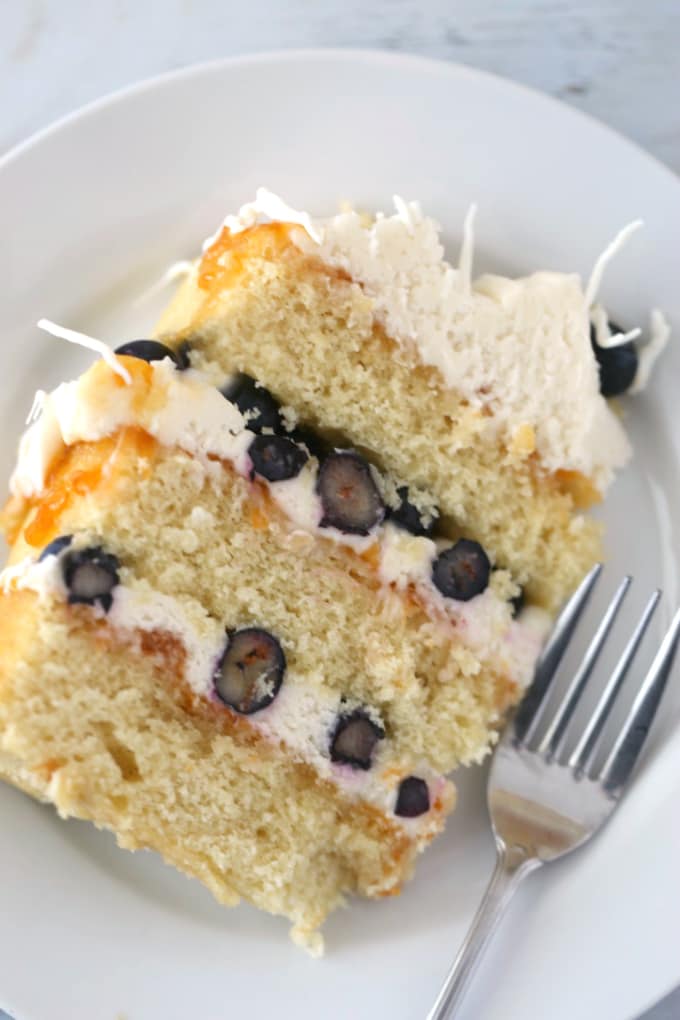 Mmmmm, serve this cake anytime, but this would make a special Easter cake as well. Best of all, it's creamy, fruity, delicious… and so pretty!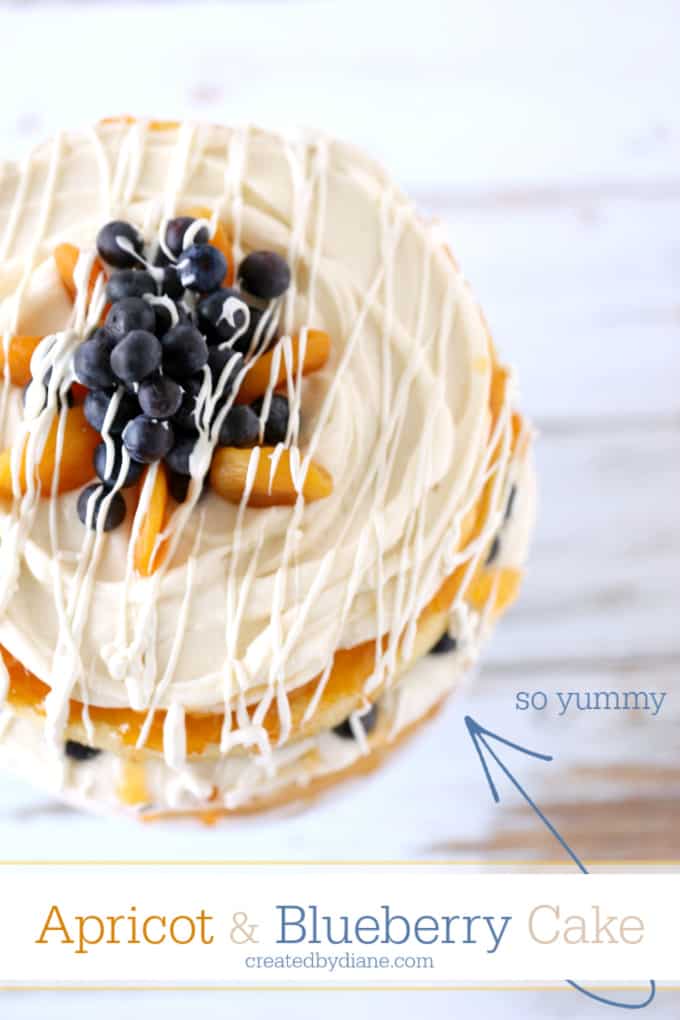 Blueberry Apricot Cake
Ingredients
2 cups sugar
4 eggs
2 1/2 cups flour
1 cup milk
1/2 cup melted butter, cooled 5 minutes
1/4 cup oil
2 teaspoons vanilla bean paste/extract
2 1/2 teaspoons baking powder
1 12 oz. jar apricot jam (I used mostly all the jam)
1 8 oz package blueberries
1/2 cup white chocolate (melted when you are ready to decorate cake)
6-8 dry apricots
1 batch cream cheese frosting
Instructions
In a large mixer bowl beat sugar with eggs, until well mixed.
Add in flour, baking powder, milk, melted butter, oil, and vanilla.
Mix until creamy.
Place batter into 3 - 8 inch round baking pans that have been sprayed with a baking spray.
Bake at 350 degrees for 18-20 minutes or until a toothpick comes out clean.
Allow cakes to cool for 5 minutes, then turn them out onto a cooling rack.
When the cake is completely cooled.
Spread some apricot jam onto each layer as you stack it up, then add a layer of cream cheese frosting and blueberries.
Do that to two layers, on the top add the dry apricots with some blueberries in the center and then drizzle some white chocolate over the top of the cake.
Chill cake to set up the layers firm.
Slice and enjoy!
Notes
Cream Cheese Frosting
1 cup butter
1-8 package cream cheese
4-6 cups sifted powdered sugar (depending on how firm you want the frosting, I usually add 5 and see how thick it is)
1 teaspoon vanilla extract
2 tablespoons heavy cream