Peppermint and chocolate and colorful sprinkles, perfect!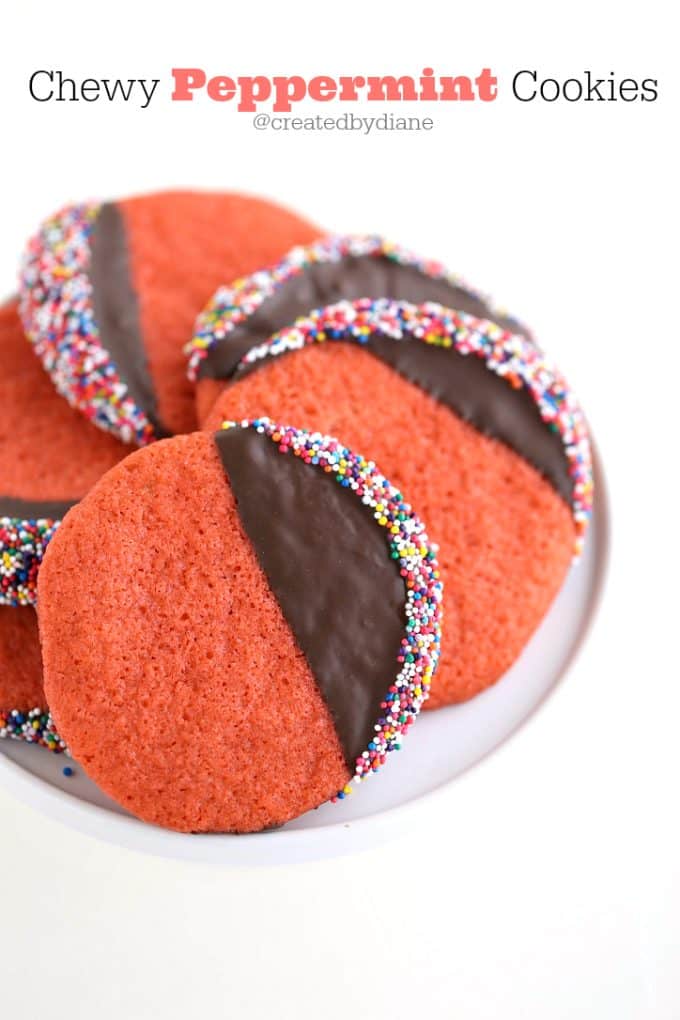 These cookies are full of delicious peppermint flavor without being OVERLY pepperminty…
the dark chocolate is just the perfect dip for these,
or is it the sprinkles….
they are just TOO Cute!
I just love how colorful these are and can't you just imagine them on your holiday cookie tray brightening them up in all their prettiness!
These cookies turn out thin, which I happen to love so much since the chocolate and sprinkles side is a little crunchy.
You can decorate them with any sprinkles you may have these tend to remind me of eating snow caps, tell me you remember snow caps, I haven't had a box of them in years, they oh they were always my favorite! I recall getting them many times at the movies. They were so fun to eat…
along with the buttery popcorn of course!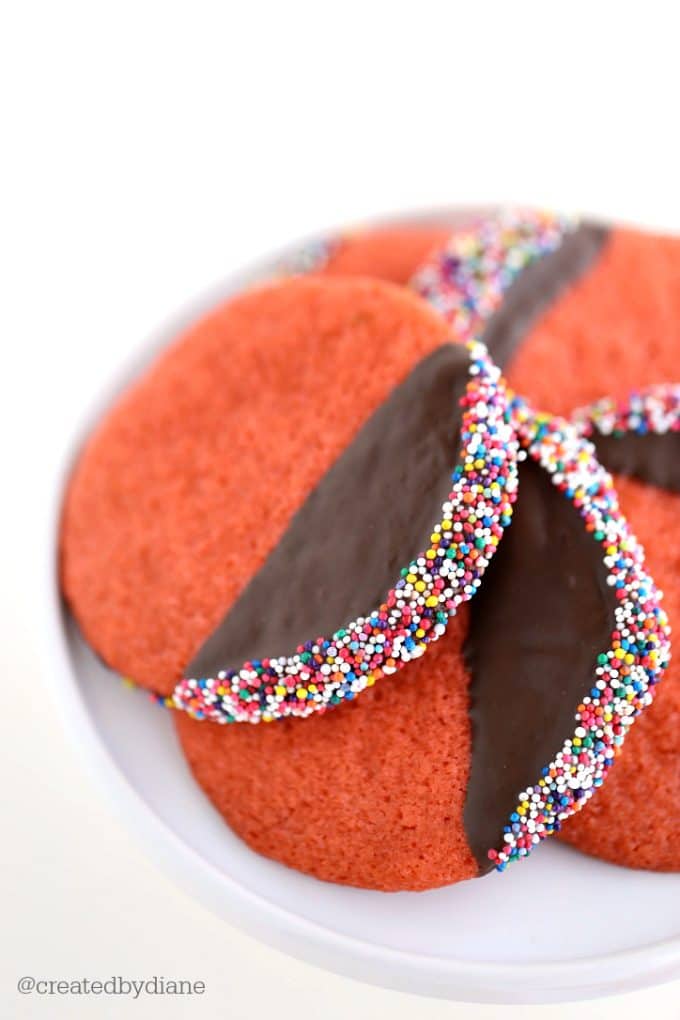 These cookies have a great peppermint patty quality to them, it's like all my childhood favorite flavors wrapped into one cookie. They are super fun. I just love rainbow sprinkles and the crunch of these is just perfect over the silky dark chocolate and chew peppermint cookie.
Now the great part is you can adjust the flavor of these to your liking, I like peppermint, but I don't like when it over powers the chocolate, so I used 1/2 teaspoon peppermint extract, go right ahead and use 1 teaspoon if you are a huge peppermint fan and want that flavor to knock your socks off!

Chewy Peppermint Cookies
Ingredients
1/2 cup butter
1/4 cup sugar
1.4 cup brown sugar
1 egg
1/2 teaspoon vanilla
1/2 teaspoon peppermint extract
3-4 drops soft pink food color (I use Americolor Coloring)
1 cup flour
1/2 teaspoon baking soda
Topping
1/2 cup dark chocolate candy melts
1/4 cup nonpareils rainbow sprinkles
Instructions
In large mixer bowl beat butter with sugars.
Add in egg and mix completely.
Then add in vanilla, peppermint, and pink coloring and mix in well.
Mix in flour and baking soda.
Scoop 2 tablespoons of dough onto parchment-lined baking sheets and bake for 9-11 minutes. Allow the cookies to cool on the baking sheet.
Then melt the chocolate and dip the edges of the cookies into the chocolate and then sprinkles.