Strawberry Lemonade Scones are just the most delicious refreshing flavor sones ever!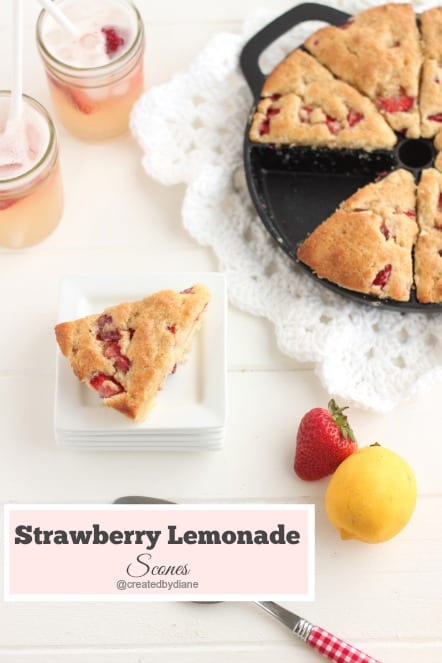 Afternoon tea is getting a fun summer update today.
You know I'm typically all about tea but today calls for strawberry lemonade,
a perfect match to these scones fit for royalty. Join me for a tea party!
No matter how hot it is outside, this updated afternoon tea will be just perfect.
Sweet and tangy ice cold strawberry lemonade is definitely on the menu, and, well,
it wouldn't be afternoon British tea for royalty without delicious scones.
These will be my new go-to scone for entertaining; the flavors are so fresh and delicious.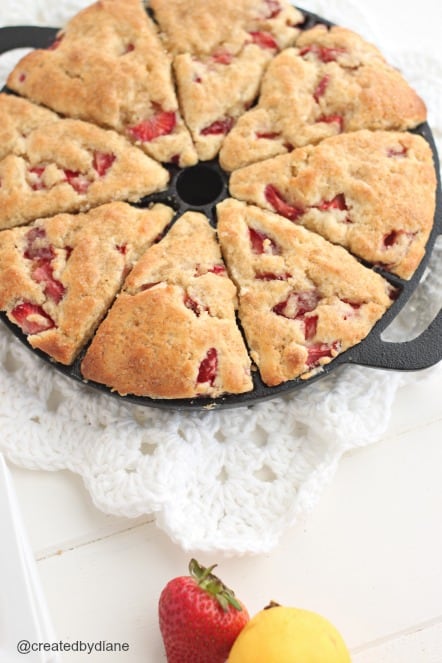 These scones have a really nice crust on top from Tate+Lyle® Organics Turbinado Raw Cane Sugar
Just one bite and you will taste all the deliciousness.
The slightly sweet and tangy taste of these strawberry lemonade scones should be at every afternoon tea.
I think we should call the UK and let them know what they are missing out on.
After all, they have been holding out on the fact that Tate+Lyle® Sugars have been gracing Britain's finest tables for over 130 years. I'm glad they are sharing them with us, so I think it's only fair to do the same and share our newfound foodie yumminess with them. Don't you? Tate+Lyle® Sugars have a unique texture and distinct flavors; their natural and organically grown sugars are perfect for adding an inspiring taste to recipes and beverages or for a glistening sweet crunch as a topping.
Strawberry Lemonade Scones
Ingredients
1 1/4 cup flour
1/4 cup plus 1 tablespoon Tate+Lyle® Organic Turbinado Raw Cane Sugar
1 1/2 teaspoons baking powder
1/2 teaspoon salt
1/4 cup unsalted butter (cold)
1/3 cup heavy cream
1 cup fresh strawberries diced
zest of 1 lemon
1 tablespoon fresh lemon juice
1/2 teaspoon lemon baking emulsion (or lemon extract)
2 eggs
Instructions
Preheat oven to 400 degrees
In medium bowl mix flour, sugar, baking powder and salt together
With a pastry cutter, cut in ice cold butter into flour mixture until it resembles coarse crumbs
In small bowl mix heavy cream, eggs, lemon juice and lemon extract
Then add mixture to flour bowl and blend
Stir in strawberries gently
press dough into cast iron scone pan and sprinkle the remaining 1 tablespoon of sugar on top of scones or roll out with a little flour and cut into triangles and bake on a parchment lined baking sheet
Bake for 12-15 minutes or until toothpick comes out clean
This is a sponsored post by Tate and Lyle Sugar, all opinions are my own.