Oh do I have a fun recipe for you, it's STOVETOP COOKIES. This recipe is just perfect for when you want to make cookies, but don't want to heat up your oven, don't have an oven, or want to make a fun cookie that needs o frosting, just drizzle on some syrup and you're all set to satisfy that sweet tooth. Great for RV Camping as you can make them on the stove. Yep, stovetop cookies, totally yummy!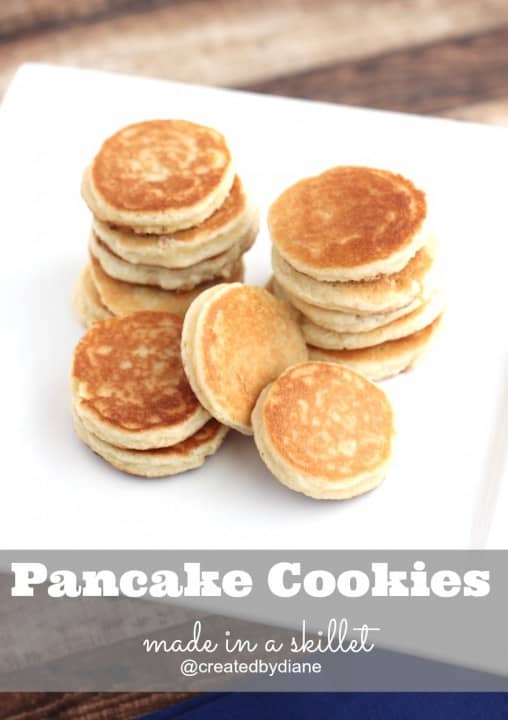 When you think of cookies
you don't typically think of making them on the stovetop.
These cookies will have you getting out your skillet, just to give them a try.
They are sweet and delicious and look exactly like pancakes.
How fun is that?
Pancake COOKIES…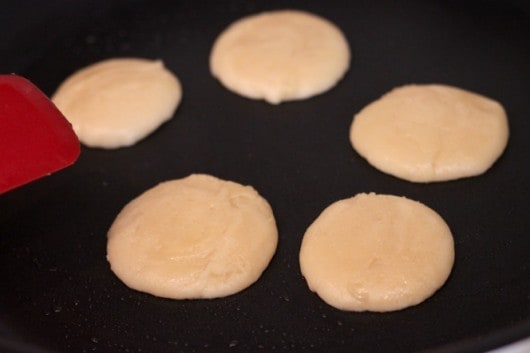 Mix up the batter, grab your skillet and let's get cooking!
Place 1-2 tablespoons of batter on the skillet over medium heat,
cook until golden on both sides and the center is cooked.
About 2 minutes per side.
To serve them, enjoy them warm or cooled, and if you want a sweet topping to add some syrup for a delicious and simple dessert.
More pancake recipes:
I make TONS of pancake and here is my recipe for traditional pancakes
If you're a huge pancake fan be sure to check out my pancake cupcake recipe.
This easy funnel cake recipe will have you enjoying boardwalk and fair foods all year long.
If you have pancake mix these recipes are a must make:
These will fool anyone into thinking they are pancakes, and they taste great drizzled with maple syrup too.
Pancake Cookies made in a skillet
Ingredients
½ cup butter melted and cooled
1¼ cup sugar
2 eggs
½ teaspoon vanilla extract
1 3/4 cups flour
¼ teaspoon baking powder
2 teaspoons water
Instructions
beat butter and sugar
add in eggs and vanilla
mix in flour and baking powder
stir in water until the batter is smooth and creamy
place 1-2 tablespoons of batter on a heated skillet on medium heat
cook until both sides are golden and the center of cookies is fully cooked
Notes
I lightly oil the pan with a silicone brush. Even no-stick pans need to be lightly oiled for the first batch, but I do not find that I need to re-oil the pan each time after that.