Grab some pancake mix, and let's get baking the most delicious sweet pancake bread ever!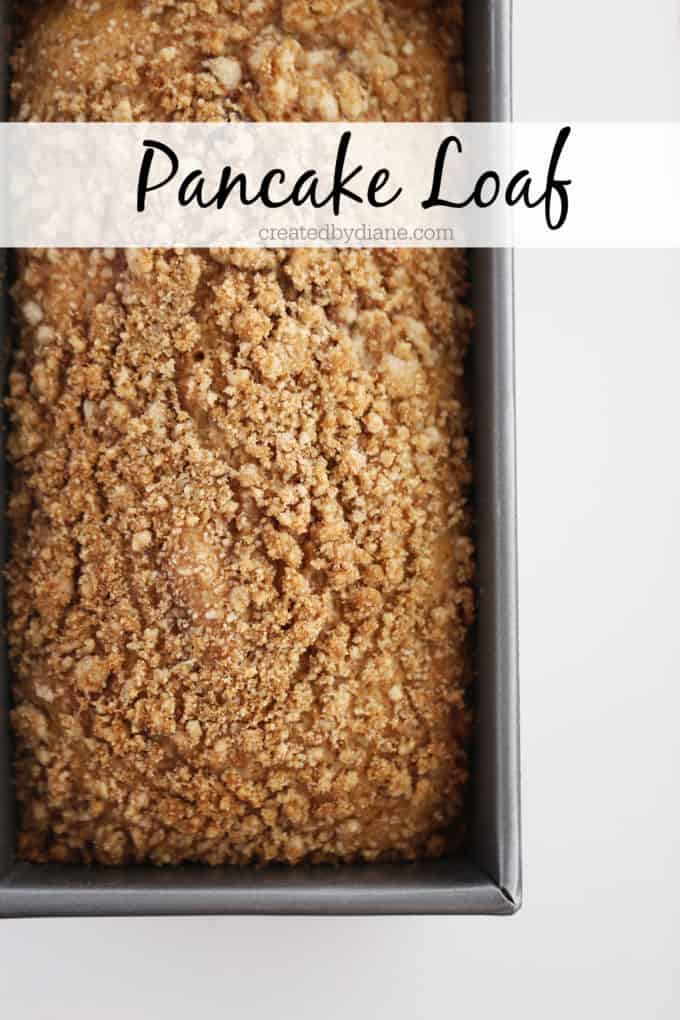 I have a weakness for crumb topping and this delicious cinnamony-sugary topped loaf is bound to be your new favorite.
As I mentioned it all starts with pancake mix, it's a great shortcut and it also means, it's breakfast food! YAY, I love when that happens.
I had the biggest sweet tooth when I was a kid and oh how I would have loved this for breakfast, and to me, it would far surpass cereal 🙂
It takes minutes to put together, and there is one great thing about loaf cake, it stays warm for a while, so you can enjoy slice after slice and it'll still be warm as you reach for more.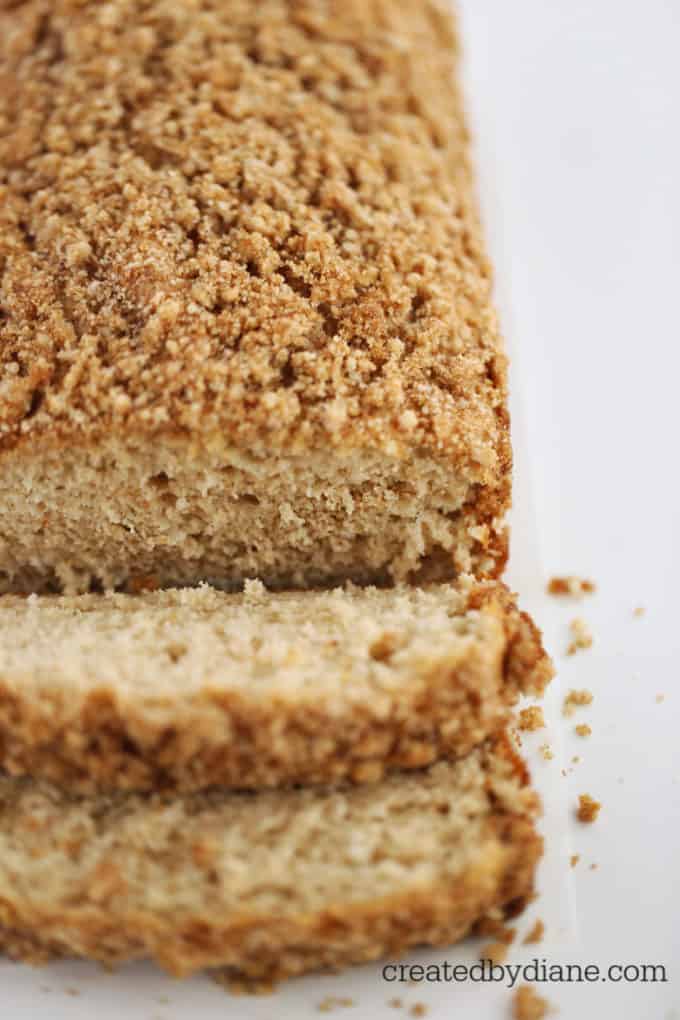 You can enjoy this with your favorite cup of tea or coffee, and it makes a great size loaf so there will be plenty for everyone to have at least 2 pieces!
Both pancakes and waffles are known as quick bread, they rise based on baking powder or baking soda. It also means they are fast to make and don't need yeast or time to rise or rest. Which makes using a prepared pancake mix a simple step towards a great tasting breakfast cake.
I used Krusteaz brand pancake mix, it's readily available. I typically buy a large bag at Costco. But I've made cakes with other brands of pancake mix with great results, so I'd venture to say use what you have, it will most likely work. It may not be exactly the same as mine, but it will bake up a sweet cake.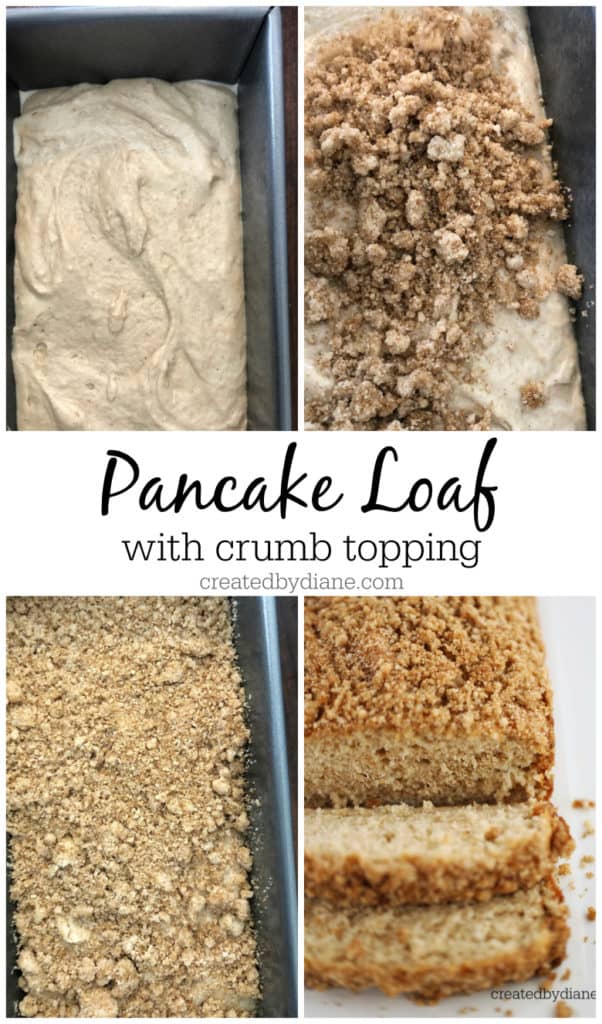 The crumb topping is the best…
I mixed some flour, granulated sugar, brown sugar, and cinnamon together in a bowl with a fork, and spread it on the top of the cake batter just before putting it into the oven. OMG, I love this crumb topping!
Is this a Pancake Mix Coffee Cake?
Yes, and no… Yes, it's similar to a coffee cake, but no coffee in it. True, but you can add the flavor of coffee to it if you'd like. Just add a tablespoon of instant coffee to the melted butter and mix it until smooth, then add to the remaining mix.
I used this loaf pan, it's 10×5 and cakes bake up beautifully in it. You can use an 8.5x 4.5 it will bake up to the top in that size pan.
What other pan sizes can I bake this in?
You can bake it in just about any pan size, adjust the baking time accordingly. Be sure when using a different size pan you fill it 2/3 full, to allow for how much the cake will rise when baked. Reduce the baking time if you use more shallow round baking pans, start testing at 20 minutes. 
If you're looking for a super thick crumb topping, double the crumb topping recipe given.
What can I put on this?
You can slather on some butter or cream cheese if you'd like, but it's delicious on its own as well.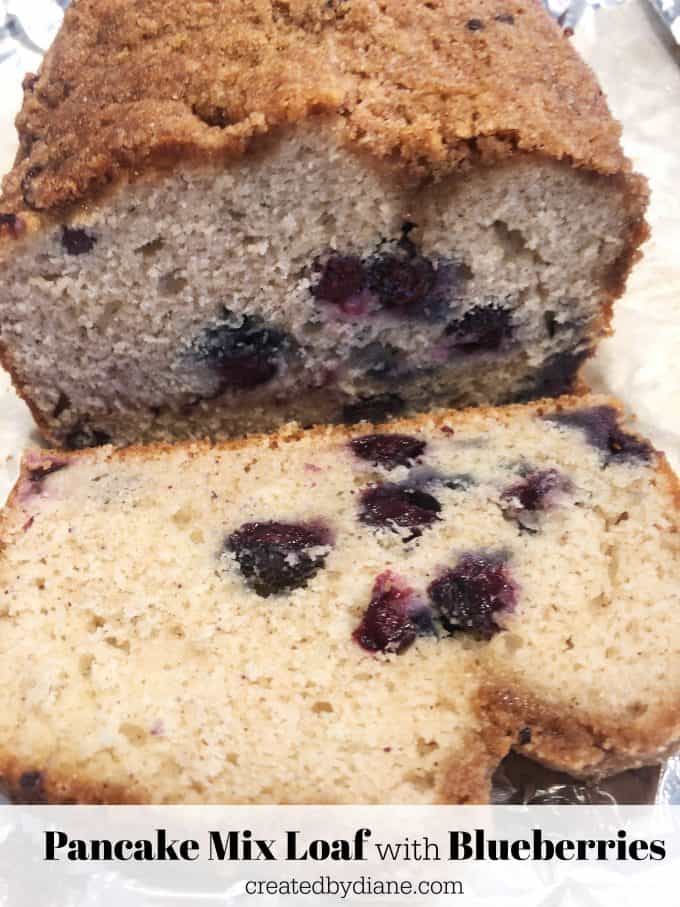 And if you want a fruity options add in a cup of blueberries to the batter.
Pancake Loaf
A delicious breakfast cake made with pancake mix, and a delicious cinnamon-sugar crumb topping to make this over the top irresistible.
Author:
Diane Schmidt Created by Diane
Ingredients
2 -1/2 cup pancake mix (I use Krusteaz Brand)
1- 1/3 cup water
1 large egg
3 tablespoons butter, melted
1/4 teaspoons ground cinnamon
1/4 teaspoon maple extract (vanilla if you don't have maple)
Crumb Topping
1/4 cup flour (or pancake mix)
1/4 teaspoon cinnamon
2 tablespoon granulated sugar
2 tablespoons brown sugar
2 tablespoons butter
Instructions
Preheat oven to 350°
Prepare a loaf pan (mine is 10x5, 8.5x4.5 will work too) with a baking spray or grease and flour pan.
In a large mixing bowl add pancake mix, water, egg, butter, cinnamon, maple extract and whisk until the batter is well mixed. It may have a few small lumps, but otherwise well combined.
Pour the batter into the prepared pan.
In a small bowl mix the topping: flour, cinnamon, sugar, brown sugar and butter with a fork, and spread it over the batter in the pan.
Bake at 350° for 35-40 minutes, or until a toothpick comes out clean.
Allow the loaf to cool for 10 minutes, then turn out onto a cooling rack, or alternatively you can slice it and serve it out of the loaf pan. If you do cut it in the pan using a plastic knife so you don't scratch the pan.