How to freeze avocado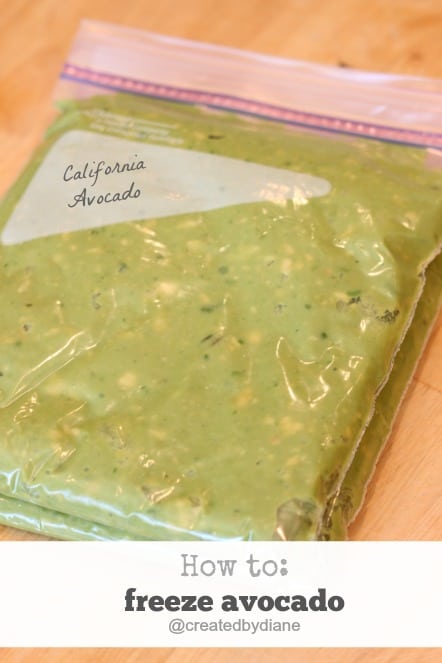 Ok I admit it, I'm not the best planner,
but who can be, ALL the time.
I can't anticipate friends inviting me over or stopping by.
Who can plan for that?
Who can plan for exactly when the avocados you bought would be ripe and will it coincide with the day you want to make something with them. Like guacamole.
I may not be able to help anticipate it, but when guacamole is involved there are sure to be plenty of smiles.
If by chance you make a big batch of guacamole once I tell you how to freeze it to have it at the ready anytime and you want to enjoy it and well, you don't have 10 people stop by, invite me over I'd love to put my feet up and enjoy some with you.
California Avocados are in season from Spring to Fall. When I see those beauties at the store all big and ripe I tend to buy LOTS of them. Some I use right away and some I freeze. Because I've been known to buy 6 or 12 of them and forget we won't be home to enjoy them.
For those unplanned times when I need something delicious that is ready in minutes. Maybe your and your neighbors end up hanging out because it's such a nice night and the summer heat is not quite killing you yet. You will be able to dig out a bag of frozen avocado and in minutes have some delicious guacamole, or maybe you want to make some pasta and enjoy a delicious Avocado Cilantro Lime Sauce on it…. or maybe you'd like to enjoy a fun Margarita and avocados and Margaritas go so well together it only seems natural to have these items on hand. I've even added avocado to margaritas, take a look at my Avocado and Strawberry Margaritas.
I have noticed on Holiday weekends there tends to be some great deals on avocados too, so I really stock up then, and knowing how to freeze them is great especially then.
When making guacamole for a crowd how many avocados do you need?
the rule of thumb is 1/2 an avocado per person when preparing avocados for a crowd, be it guacamole, or avocado toast.
How to Freeze Avocados: For every avocado add the juice of 1/2 of a fresh lime for each avocado.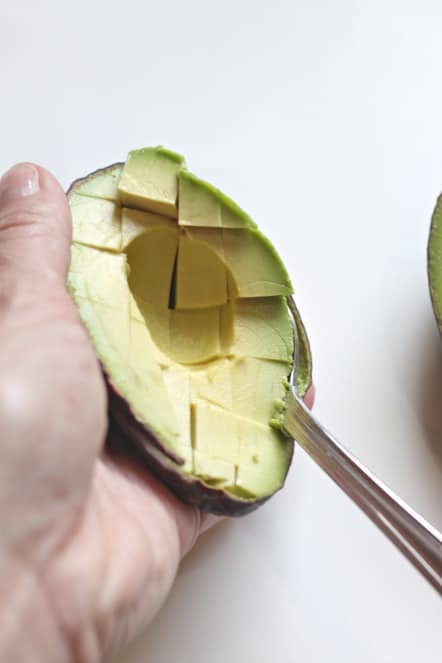 1) Slice each avocado, take out the pit, cut the avocado into small pieces and scoop it out of the skin.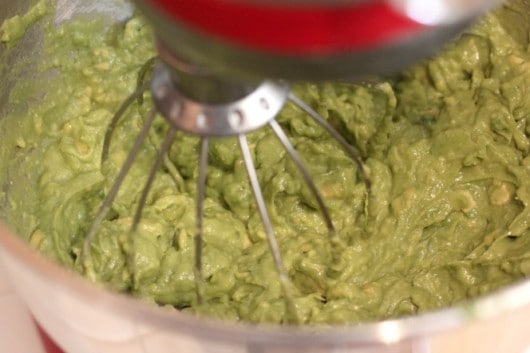 2) I place the avocado and lime juice in my Kitchen Aid Mixer and set the speed to 4-5 (medium) and really in about 10 seconds it's ready. Just be sure it's thoroughly mixed and that the lime juice is completely mixed in with the avocado, that will prevent the avocado from turning color. If you prefer it silky smooth mix it a little longer. It doesn't take long for the ripe avocado to become creamy and mix together with the lime juice. I don't tend to mix it until it's ultra smooth, because I like small pieces of avocado in my guacamole.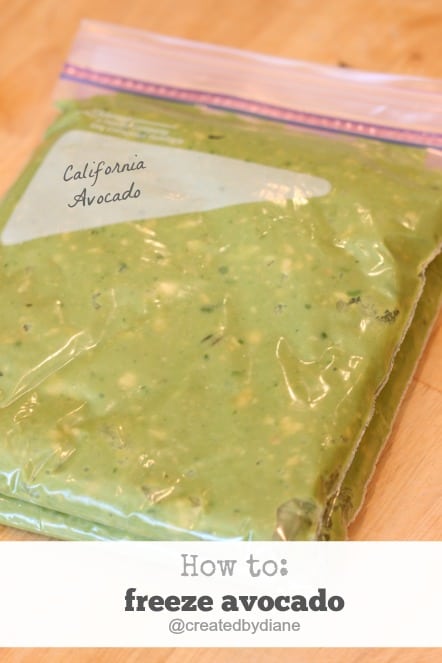 3)Place the avocado mixture in a freezer bag and press out all the extra air so the avocado fills the bag, lay the bags flat and smooth them out before placing them in the freezer.
To thaw out avocado, place bag in cold water until thawed, change water frequently to thaw faster.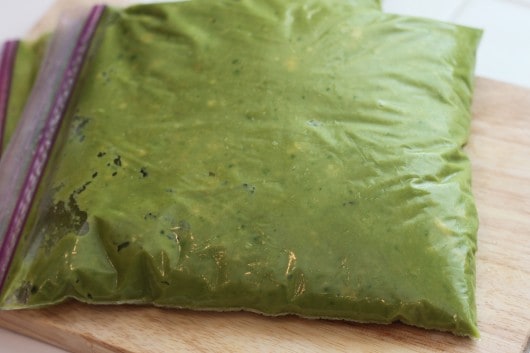 I had these bags of avocados frozen for a month and they defrosted easily and tasted as great as the day I put them in the bags.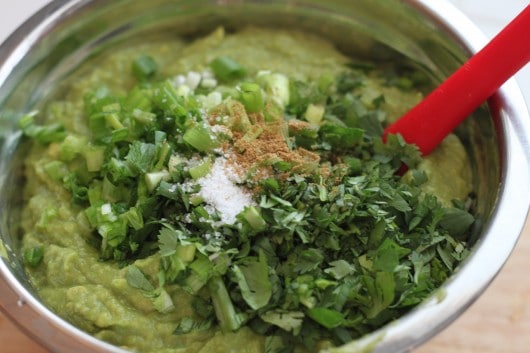 Mix avocado with scallions and cilantro a little cumin and salt for a quick and delicious guacamole, or use it in recipes that call for avocados. No one could tell these avocados were frozen, WHOO HOO, great tasting guacamole in minutes. Let the party begin!