Chocolate Chip Mint Cut Out Cookies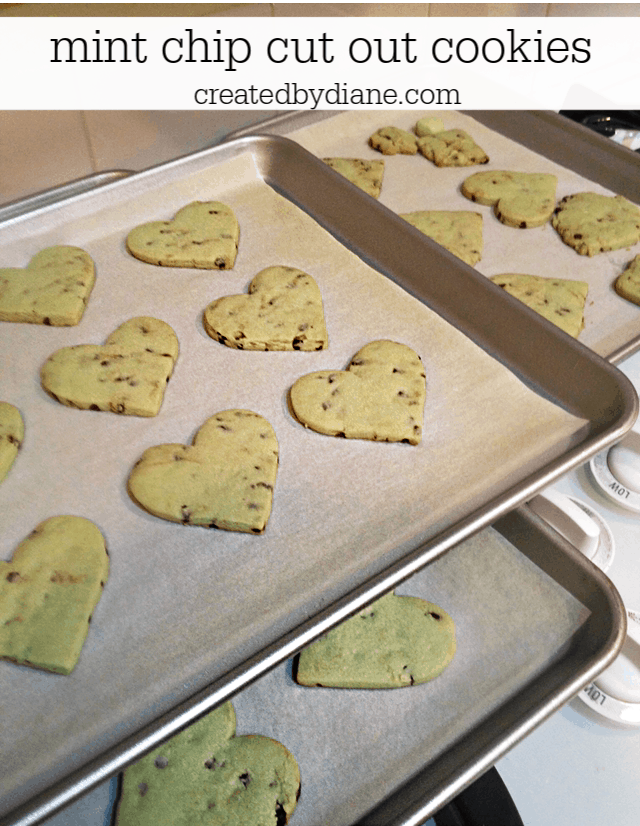 I'm not sure what it is
but as soon as March rolls around,
all things GREEN and MINT seem to consume my thoughts!
After all St. Patrick's Day is right around the corner,
I really miss watching the parade I used to see years ago. It's still going on in the town I would see it, but I'm MILES from there now.
Good memories!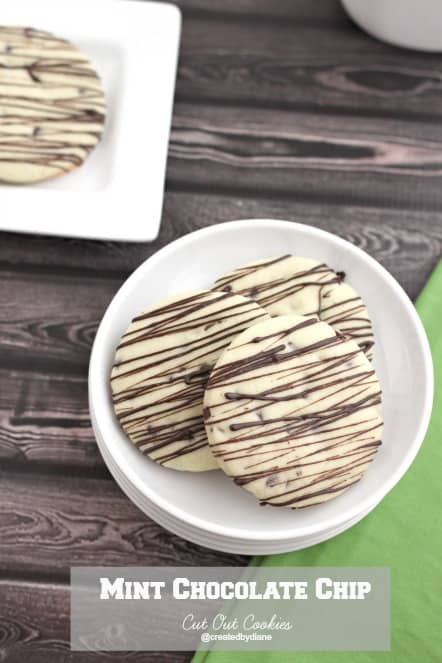 Thin Mints are at every corner you turn, like it or not. I've been bombarded with a stand selling them at every store I go to for weeks.
Soon they will be gone and well, if you want a mint fix, you can give these a try!
You can add as much green food coloring as you'd like to these to get them as green as you'd like.
I'm a huge mint chip fan… but keep in mind, mint chip is not flavored with peppermint, it's flavored with a smoother creme de menthe. Use a concentrated Creme De Menthe Oil (or extract) for these cookies, it's available on Amazon here.
Chocolate Chip Mint Cut Out Cookies
Ingredients
1 cup butter
1 ½ cups powdered sugar
1 egg
10 drops creme de menthe flavored extract or flavor oil
a few drops green coloring *I usually add 6+ this time I used 2 and it wasn't enough green for me, once baked the green fades. If you'd like "greener cookies add 6+ drops coloring.
1 teaspoon vanilla extract
3 cups all-purpose flour
2 teaspoons baking powder
1 teaspoon salt
1 cup mini chocolate chips
Instructions
Preheat oven to 400°
Cream together butter and powdered sugar.
Mix in egg mint flavor, green coloring, and vanilla.
Blend in flour, baking powder and salt, and mini chocolate chips.
Mix until the dough forms a ball.
Roll out on a floured surface and cut with a cookie cutter,
Bake at 400° for 7-9 minutes.
Notes
Drizzle melted dark chocolate candy melts over cookies.
Use icing or corn syrup to apply sprinkles.
Allow chocolate or corn syrup to dry completely before stacking cookies.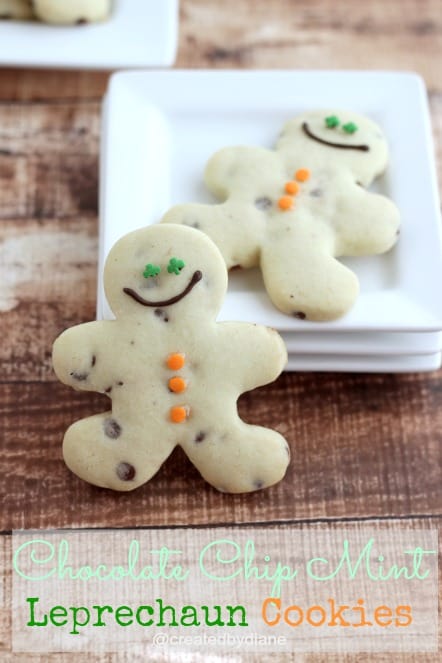 If you are celebrating all things IRISH this St. Patrick's Day these cute little Leprechaun Cookies will make a fun treat.
*I usually add 6+ drops food coloring, this time I used 2 and it wasn't enough green for me once baked, the green fades. If you'd like "greener cookies add 6+ drops coloring.
To decorate the Leprechauns, I used a drop of corn syrup on a toothpick to stick the sprinkles on. Alternatively, you could use icing. The eyes and mouth are melted chocolate, and I stuck the shamrock sprinkles onto the dots for eyes for them to stand off the cookie, 3D "like". They almost seemed to twinkle!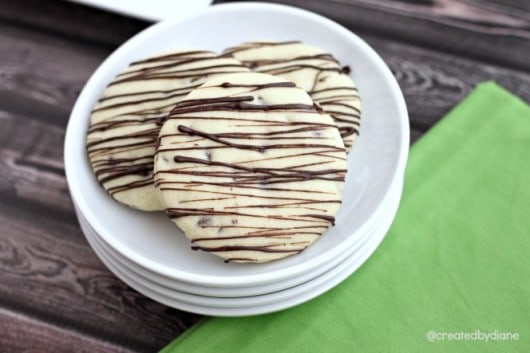 I think I need to dunk these into a dish of mint chocolate chip ice cream!