Valentine Pretzel Toffee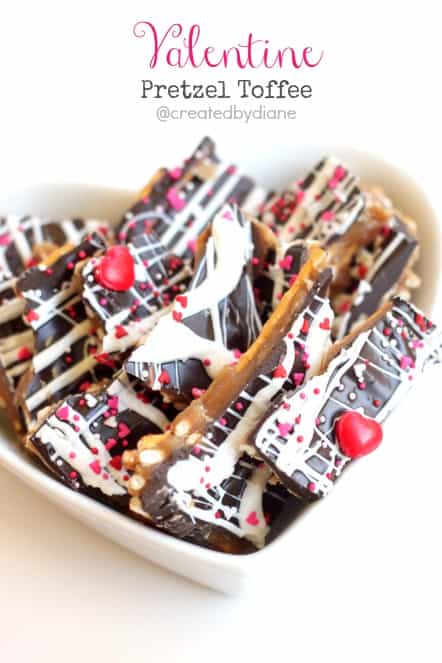 It's February is upon us and that means all things pretty, heart shaped, pink and red are upon us.
This is one of these recipes you will want to have on hand,
trust me!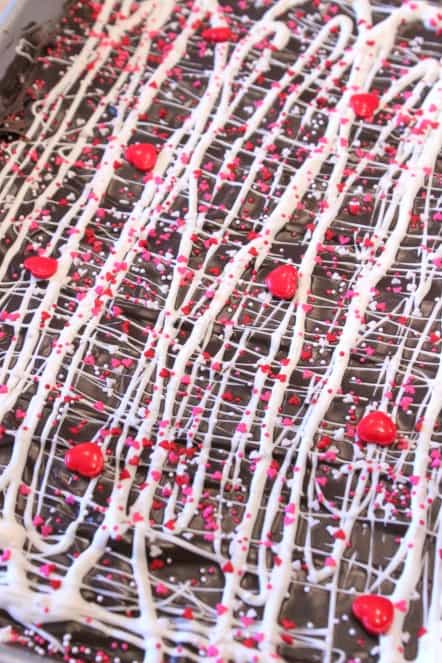 You'll want this around, if you love someone you'll want to share this with them,
if someone breaks your heart, you will definitely want this around to comfort you and remind you that the heart heals…
sometimes it heals quickly, sometimes it takes longer….and sometimes not, but this i
it all depends on the break,
…it breaks my heart to see that no one but me put the dishes away today.
Really I thought someone else would do it and WOW was I disappointed. So maybe 5 pieces was needed to help me get past it while I put the dishes away myself and then was able to move on with my day.
You will want to print this recipe out until you memorize it. You may need to make many batches, all depends on your heartbreak. As you can believe I could go through many batches, since I seem to always have PLENTY of dishes to do and maybe no one else has noticed this!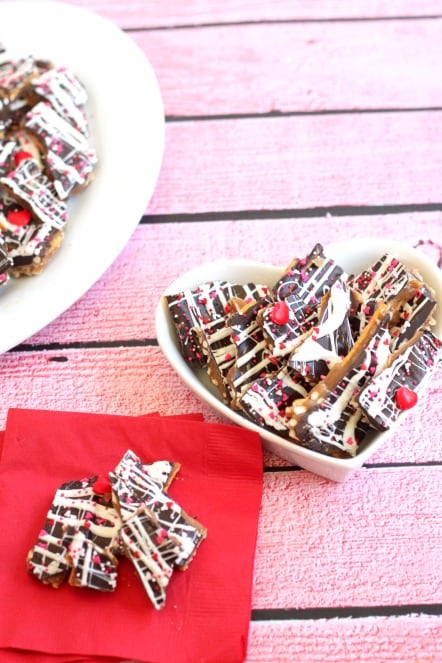 This really is so fast and easy to make, you can easily double the recipe for a larger batch.
Valentine Pretzel Toffee
Ingredients
8 oz pretzel sticks
10 oz Dark Chocolate (I used Merkins Melting wafers)
1/4 cup white chocolate (melting wafers)
1 cup butter
2 cup sugar
2 tablespoons Valentine Sprinkles
Instructions
Lay pretzels flat on a 1/4 sheet pan.
Boil butter and sugar until it reaches 298 degrees on a candy thermometer.
Pour toffee over pretzels and spread smooth with an offset spatula.
Chop chocolate and place over hot toffee, it will melt as you spread it evenly with an offset spatula.
Heat the white chocolate in a microwave proof bowl and drizzle on top of chocolate.
Shake sprinkles on top of chocolate.
Let the chocolate and toffee cool completely before cutting. You can put the tray in the fridge to set it up faster if you are in a hurry.
Cut or break apart toffee and get everyone addicted to this, it will only take one piece I'm sure!