Since Red and Green are the colors of Christmas, I thought it only fitting that deviled eggs get a Christmas kick by making Red and Green Colored Deviled Eggs.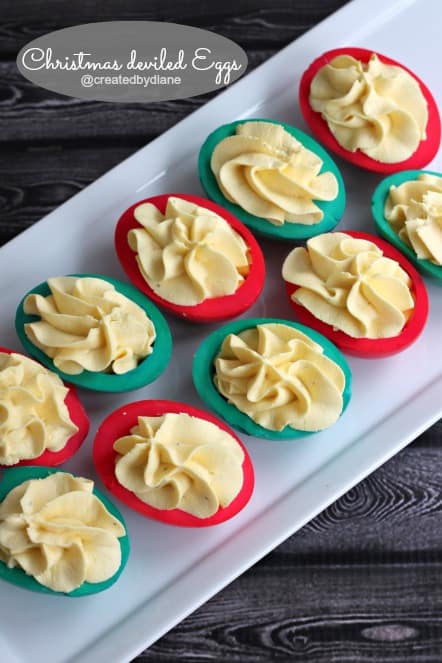 Eggs have LONG been a staple at Holiday tables,
Easter, Fourth of July, Thanksgiving, Christmas…
and there is no better time to dress them up than Christmas,
I dyed the white part of the eggs, red and green and I know that there is one person in particular who will be eating the majority of these.
I had no idea how much my son liked deviled eggs until we went to a party a few years ago and he ate 12 of them! Luckily the person who made them had LOTS more so he proceeded to eat more when the next tray came out.
So now when the Holidays roll around, I make them a bit more colorful.
I made red, white and blue deviled eggs for the 4th of July. They were a hit and so I decided to make some more for Christmas, but red and green of course.
Although it does seem like blue is the new color of Christmas, with lots of blue lights and decorations that seem to have multiplied, but for me it's red and green and gold and silver too….oh I should have made GOLD eggs,that would be fun. But then there is the goose, wrong story (ha, ha)
Here are step by step instructions on how I dye the eggs along with my favorite "lightened up healthier" deviled egg recipe.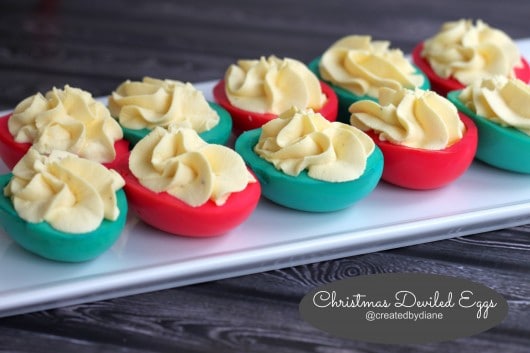 It's looking VERY festive.
How's everything coming along in your kitchen?